Saturday 31 July 3:30pm-6:30pm
'There are two racisms: the racism that discriminates, and the racism that kills.' – A. Sivanandan.

Questions of race, racism and decolonisation have come to the mainstream in Western yoga communities over the last few years, largely due to the extraordinary efforts of South Asian, Black, queer and female teachers. But underlying assumptions about what yoga is and where it comes from often remain rooted in far-right Hindu nationalist narratives and (self–)Orientalism – even, perhaps especially, in many antiracist yoga spaces. Texts emerging from casteist, patriarchal traditions, like the Yoga Sutras of Patanjali and the Bhagavad Gita, are placed at the centre of modern yoga and used as inspiration for calls to progressive political action; but many of these calls go no further than encouraging education, advocacy for inclusion, and individualised responsibility.

This workshop is a space for exploring and energising possibilities. What would it look like to organise, to build power and networks of support, as well as educating or advocating? Who are our ancestors and comrades in this work – communities of contemplative practice and care who were/are actively resisting unjust and violent states? Diversity, equity, and inclusion might be valuable goals, but what about working towards a more radical transformation of our world? What about resistance, solidarity, and liberation?
Hindu fascist yoga?: historic and political contexts to modern postural yoga.
Drawing on Mark Singleton's Yoga Body and Elizabeth De Michelis' A History of Modern Yoga, we'll sketch out an understanding of modern postural yoga – the practice done at studios and retreat centres around the world – as an early 20th century innovation, inspired as much by Western gymnastics as by any South Asian physical or spiritual traditions. Drawing on insights and evidence from critical yoga studies scholars, we'll explore how dominant narratives about the 'roots' of yoga, even in popular progressive spaces, can centre orthodox, oppressive pre-modern traditions, and (more importantly) reinforce the soft power propaganda projects of the violently regressive Hindu far right that's currently in government in India.

Spiritual liberation, political liberation: introducing some radical ancestors.
Focusing on traditions with links to modern and pre-modern yoga, we'll celebrate the memory of radical spiritual ancestors and predecessors, broadening the landscape and sinking alternative roots to our practice. Adapting to the experiences of those in the room, we'll focus on traditions often erased in contemporary Western yoga discourse such as Islamic tantra among medieval Isma'ilis, early Sikh communes and open kitchens, and the biggest religious movement of the 20th century, Ambedkar's anti-caste Dalit Buddhism.


Educate, agitate, organise: where do we go from here?
Taking inspiration from the ancestors discussed before, and from contemporary political and spiritual movements, we'll dream, discuss, and even lay foundations for strategising. What can we learn from contemporary Buddhist socialists, or engaging critically with Thich Nhat Hanh's 'Engaged Buddhism'? How about the Quakers? Again drawing on the experiences, experiences, and communities of those present, there'll be the opportunity to explore the disability, racial, and economic justice oriented Healing Justice movement, the new wave of trade union organising among yoga teachers in New York, the UK and Germany, and potential future paths for us as individuals and as a community of yoga practitioners and teachers.
Who is this workshop for?
This workshop is for anyone interested in the radical politics of yoga and related traditions – yoga teachers and practitioners, as well as practitioners, educators, and generally interested people from other contexts! It's suitable as an introduction to race and yoga in the West, and for those invested in yoga race discourse who are keen to broaden the horizons of the dominant discourse, or experience a highly accessible introduction to critical yoga studies and political action beyond education.
We believe in the importance and value of this workshop, and would like to offer a scaled pricing system, which enables attendees to pay which tier feels most appropriate for them. Please note there are NO further discounts available (i.e. no student discounts, etc).
Community Price £29
Standard Price £39
Supporter Price £49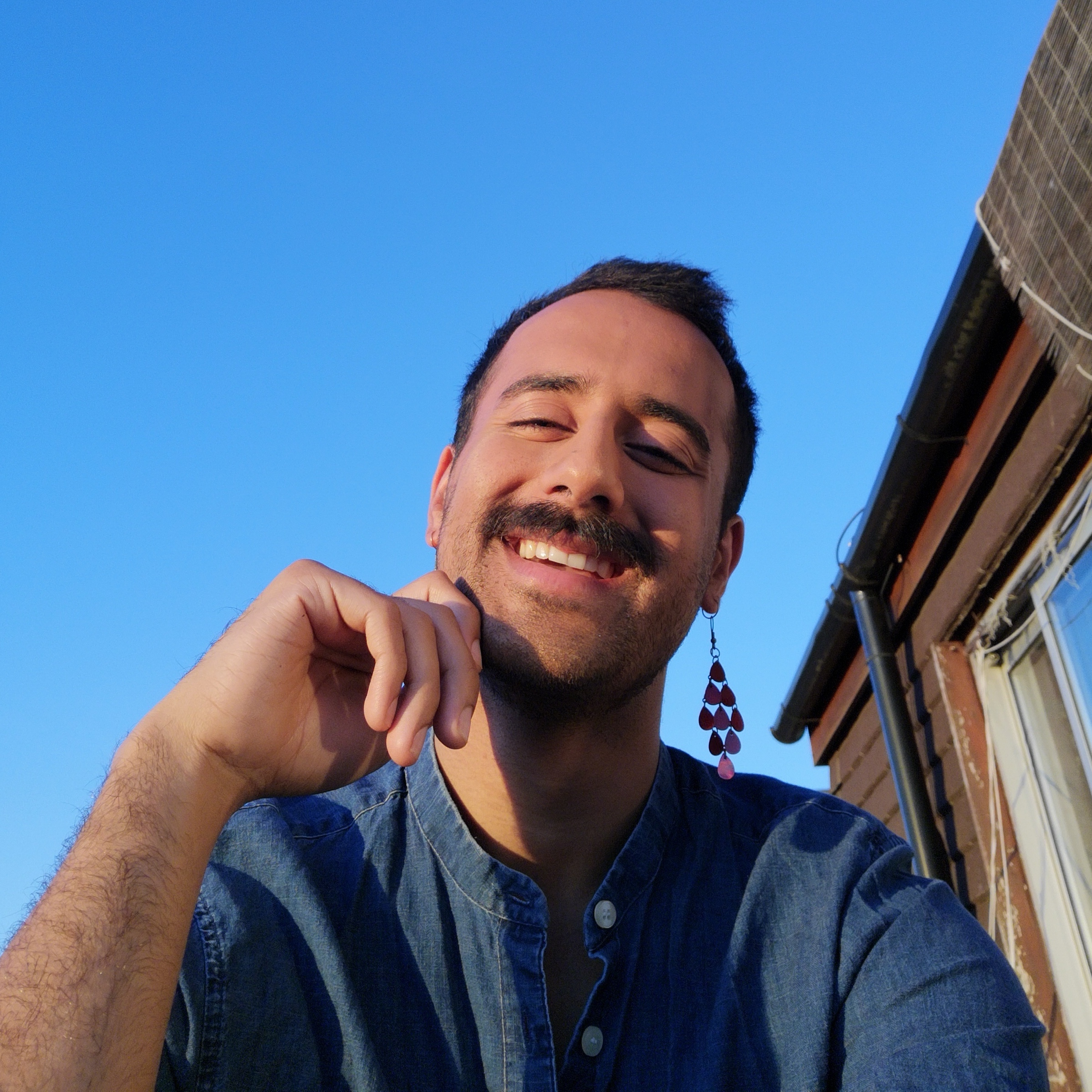 Simran has been teaching yoga since they were 17, and now teaches full time, alongside their work as a poet and writer.