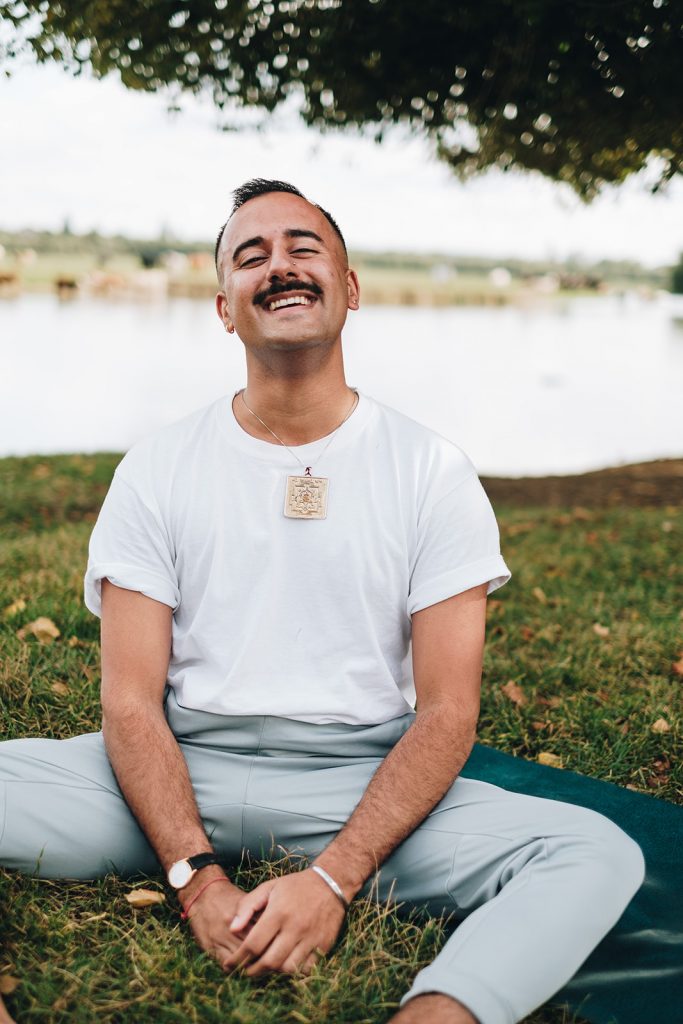 Simran Uppal (they/them) is a yoga teacher, writer and organiser based in East London. As a yoga teacher, Simran works predominantly as a faculty member for 200hr and advanced 300hr teacher trainings with Nourish, an inclusive and community-oriented teacher training company based in Oxford. They've also led a wide range of CPD and public workshops in the US, across the UK, and more widely. They focus on critical approaches to the philosophical and social contexts of modern yoga, experiential and embodied forms of education, and creative, expressive movement and rest practices rooted in their own experiences of devotion, bliss, and joy in the body.
As a writer, Simran's recent commissions across poetry and political journalism include The Independent, English Heritage, and the Barbican Galleries. They're also the co-director of Coriander Theatre, the UK's first theatre company made up entirely of queer people of colour. As a poet they're interested especially in radical approaches to translation from South Asian sacred texts and ecstatic poetry, including many that influence their yoga teaching!
They are also a community-focused organiser; most recently, they served as secretary to help found the Yoga Teachers' Union UK, the second ever trade union for yoga teachers globally, and can be contacted as the current Outreach Officer at yogaoutreach@iwgb.co.uk. They are also Head of Community Resilience and Wellbeing at Mosaic LGBT+ Youth Centre, where they work closely with queer young people to co-create innovative, inclusive movement and contemplation practices that support and resource.
Simran's own yoga practice emerged from a long-term and very wide range of traditional study and practice, but is really characterised today by irreverence and play, a deep honour for the body and its capacity for agency, sensation and pleasure, and an open curiosity to the ways movement, rest, devotion and community can leave us resourced, nourished, and in contact with very joyful wisdoms. Accessibility and holding space for each student as an individual in their own agency are at the heart of their teaching practice, and they're deeply committed to welcoming beginners and anyone who hasn't felt at home in a yoga space before. With more than a decade of experience in their own fairly strong asana practice and their readiness to cross-fertilise contemporary teaching lineages, they're also always happy to leave a little space – playfully and safely! – for some of the more challenging possibilities in a vinyasa class, too.