episode description & show notes
Harriet is joined by Becky Varey, actor turned yoga teacher and faculty member at Nourish Yoga.

In this episode they talk about Becky's journey, authenticity, working with kids, the seriousness of practice, the the importance of play – oh, and what vegetable would you be and the magic of Disney.

Links:
Maggie's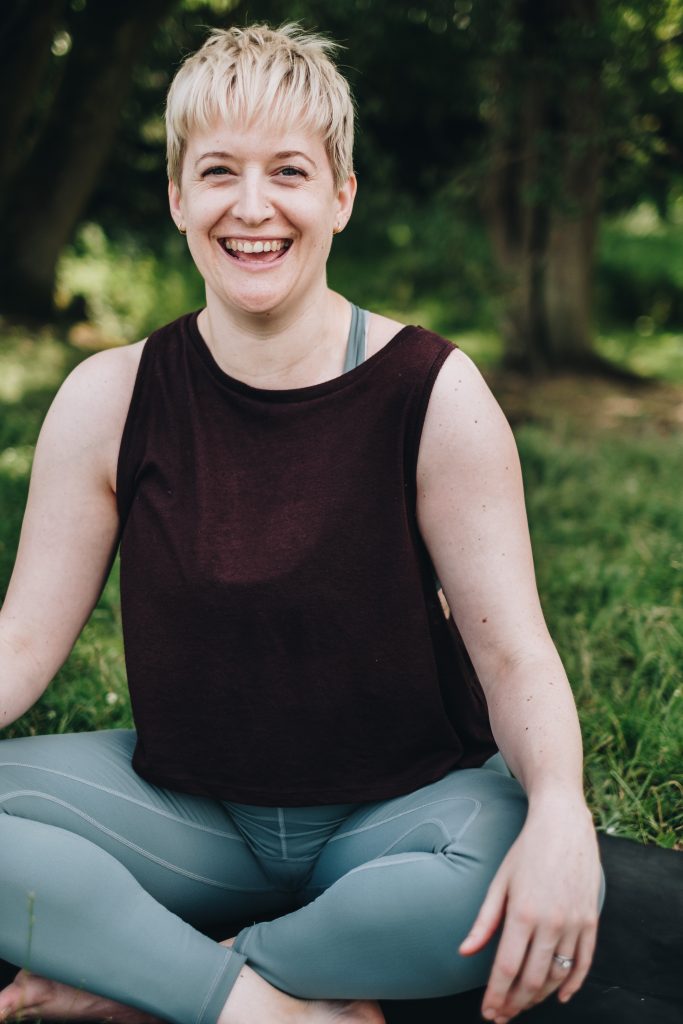 Read the full transcript:
SUMMARY KEYWORDS
yoga, people, disney, becky, autumn, yoga teacher, teaching, world, disneyland, vegetable, feel, kids, practice, nourishing, teacher, thought, love, harriet, training, moves
SPEAKERS
Harriet McAtee, Becky Varey
Harriet McAtee
Welcome to In Our Experience, a podcast exploring the many ways of living well with Nourish Yoga Training. I'm your host, Harriet, yoga teacher and founder of Nourish. Today I'm joined by Becky Varey. Becky is a yoga teacher and teacher trainer with a focus on working with young people. Becky is part of Nourish's teaching faculty and has a lifelong passion for all things Disney. In my chat with Becky, we cover a really broad range of topics from the importance of authenticity and play, to not taking things too seriously. And, of course, the magic of Disney. I'm so excited to share this with you. And we'd love to hear what you think you can get in touch either by popping us a message, or an email. All of our contact details are in the show notes. Right on to my conversation with Becky. Hi, Becky.
Becky Varey
Hi, Harriet.
Harriet McAtee
Welcome to In Our Experience. I'm so happy that you're here as one of our guests on Season One. How are you doing today?
Becky Varey
Yeah, I'm very well, thank you. And I'm very excited. This is exciting.
Harriet McAtee
It is exciting. I'm really glad that you're here. So we start every episode by asking our guests the same question, which is what's nourishing you this week? And this can be anything big, small, silly, profound, it doesn't have to be related to yoga. And to help you I'm going to share mine first. So this week, things have started getting a little bit cooler. Autumn's on the way and I've really been enjoying having my fire back on and keeping things nice and cosy in the evening. And I know that you're a big autumn fan, as well. So, Becky, what's nourishing you this week?
Becky Varey
Well, that leads perfectly because I gave this one some thought. And it absolutely had to be just autumn in general. It had to be. I started thinking about autumn I think mid summer. And it's here. I don't know what it is about this time of year and I know a lot of us feel it. Like you just said I mean the idea of fire on your boat sounds amazing. Very jealous of that. It's warmer, warmer clothes. It's cosy clothes. It's dark nights and candles and the full the full lot I'm not even embarrassed to talk about how basic I am when it comes to autumn.
Harriet McAtee
I mean it is it is a delicious time of year for all sorts of reasons isn't? Do you have a favourite autumn food? Or like autumn inspired edible treat?
Becky Varey
Oooh. Okay, I think I have two one is going to be my more yoga-y answer. And it is true. I love soup and anything like just chucking loads of root vegetables in a big pot. And I think it's the even the cooking and the preparing rather than just the eating of it, which is also great. Also to go with my basic theme, anything pumpkin shaped. So if I go to a coffee shop and they have a pumpkin biscuit, I'm I'm buying it.
Harriet McAtee
You're like I feel like I feel like autumn is your Christmas
Becky Varey
It's way better than Christmas.
Harriet McAtee
I mean, that's debatable because I fucking love Christmas. I feel like but I have grown to love Autumn more because in Australia, we don't really have autumn. Autumn doesn't exist unless you live quite high or quite south. So Autumn was like a new experience for me when I moved to the UK. So it's it's growing on me but but I'm a I'm a fan.
Becky Varey
Yeah, you're in! Yay!
Harriet McAtee
This podcast brought to you by the season of autumn! I love it. Well, thank you for sharing me sharing with me your nourishing thing. I think the reason that we have this at the beginning is it's just, I don't know, a nice way to sort of touch base with living well, and all sorts of different things that feel good. So where I thought we could start is if you could tell me a little bit about your background and how you would describe what it is that you do.
Becky Varey
Oh my gosh, what a question. This is something I give a lot of thought to sometimes I literally sit there and think, What do I do? And but I'm going to give it a go. So my background is that I came from the world of theatre and performance
Harriet McAtee
Your thespian!
Becky Varey
I'm a thespian, or at least I was I always was growing up. It's all I did. It's all I listened to. It's all I thought about Musical Theatre mostly, but Theatre in general. And I was always going to go to drama school. And I was always going to be an actor and be taken very seriously. And that was my plan. And obviously, I went out into the world and, you know, loved what I did, but it was tough. And it got tougher. And something, I think once I got out there, auditioning and living in that world, which as you can imagine, is a kind of like cutthroat tough world of performing. It lost its sparkle a little bit for me. And without even realising it. I think I just kind of fell out of love with performing and dance and acting and all those skills that I'd like, loved and always done for fun, you know, more than anything. And around the same time, I started going to a yoga class, in fact, very specifically hot yoga class. And I read in the paper that hot yoga was very cool. So I went. And I just, I left that first class. And I know it sounds cliche, but I literally left him was like, what was that? Wow,
Harriet McAtee
You got a buzz?
Becky Varey
Oh, I got it. I got that yoga buzz. I got that like yoga high that you get sometimes, at the end of a really great class. And you do get you know, Hot Yoga is not something I practice now. But I think you do get it from the heat.
Harriet McAtee
Yeah It's called adrenaline.
Becky Varey
Oh my word. And something about that first class, I remember the teacher, you know, saying something about, you know, oh, do what feels right. And if this doesn't feel good, don't do it. And it was like, like, mind blown. You can't see what I'm doing now. But I'm doing a mind blowing thing, my fingers. Because coming from the world of dance and theatre, it was always do more, more, you know, push and make it work. And that was it. I just loved that idea that I could be me. And that was enough. I'd never felt that before. And then that was it. I was off. And even though I had no money as a poor struggling actor, I spent all my money on yoga, and I stopped answering my agents calls because I didn't want to go to auditions because I had yoga that day. And then I kind of realised that one day that something had shifted. Yeah.
Harriet McAtee
So you fell, fell out of love with performing and fell into love with yoga?
Becky Varey
Yeah, that was it. So off, I went to my first teacher training. And interestingly enough, you know, for people who know you and Nourish and kind of the work that we will do. My first training was a 200 hour Ashtanga vinyasa training, which I think a lot of us have weirdly in our past.
Harriet McAtee
So for people that might not be familiar with Ashtanga vinyasa, how would you describe that type of training and practice?
Becky Varey
Yeah. Okay. So it's known as the most masculine practices. And it's that right?
Harriet McAtee
Yeah, I feel like that's fair.
Becky Varey
Traditionally. It's a set series, there is no music. No sipping water. Intense and quick and strong. Don't get me wrong. I'm not here to to like slag off Ashtanga Yoga. It's something that I still dip into a lot. But yeah, that was my kind of way in. And I loved it. And. And I came back and I moved to Oxford. And here I was with my 200 hours. And the very first job I got, which I know you know, this story, is I get a phone call from Oxford Council. I don't know where they got my number, so very random. And they said, Oh, you do Pilates, don't you? And I said, 'Well, no, but I do yoga.' And they were like, 'great, that'll that'll do.' The hospital in Oxford needs someone to come in and work with our cancer unit, in particular with the people at Maggie's. And Maggie's is this wonderful charity for people and family members of people that are going through cancer treatment, amazing work,
Harriet McAtee
We can link them in the show notes because they do really wonderful stuff. They're amazing.
Becky Varey
And they've got centres all over the place, but they do have this one in Oxford. And they asked if I would come along and teach. And so I turn up on day one. And yeah, I turn up day one and had them for an hour and a half this group of people and as each person works in what, as each person walks in the door, they say to me, oh, you know, I need to let you know. I can't go on my knees for this practice. Okay, next person says, Becky, I can't lie down on my back. Okay, so on and so on until I thought, well, in the next hour and a half, we can't sit or lie or gone on knees, or there's so many things physically in the practice that I was completely limited with. And I had no clue what to do. And I just thought, right, we'll breathe an hour and a half, we're gonna breathe for an hour and a half. And that's what we did. And, you know, that's a bit of a long winded way of saying that basically, that was my journey, really, that lead that led me to meeting you, to the work that, you know, you do and we do at Nourish, because I had to learn how to make this practice that I still knew very little about that point. Open to people and accessible. That was a long story.
Harriet McAtee
No, I loved it. And I've I've covered that class for you actually a few times in the past. And it's just it's a beautiful community.
Becky Varey
Yeah, they are. They have their whole centres set up like a kind of beautiful house like the dream, a dream house that we'd all love to live in.
Harriet McAtee
I know. I really liked the bathrooms.
Becky Varey
Oh, yeah. They're beautiful. Yeah, it's got this like Scandi vibe. It's gorgeous. Yeah. And the living room as they call it literally is like a living room. And it's full of books, and sofas and cushions. And even like, on that first day, you know, we didn't have yoga mats we just used like, towels, and we used sofa cushions, you know, like, you don't need all this fancy stuff, you can still still do it. Yeah.
Harriet McAtee
I feel like it makes me feel really like warm on the inside thinking about you going and teaching that. But also at the same time? What a situation to be confronted with as a new teacher.
Becky Varey
Terrifying. Yeah.
Harriet McAtee
And you've sort of taken that approach to sort of making things accessible. And that's now throughout so much of your teaching, isn't it? You know, even if you're, I mean, even if you're teaching something that's more dynamic, or teaching something with people that can be on their knees or lay down, you know, it's still that, you know, that message right from that first class of like, do what's right for you. That is, is still there for you today.
Becky Varey
Absolutely. Yeah. And I think what's really interesting is when this was happening, and I was figuring it out week by week, and you know, no one had talked to me about props at that point. And this was sort of, I guess, 2014. Something like that, maybe 2015? Accessible Yoga wasn't a word that I was familiar with. I didn't see it around. There wasn't much of a community. So I didn't realise that's what I was doing. You know, by grabbing loads of blankets and trying to help people that needed their knees supported. It was just, that's what was happening. Yeah. And then it really has from then it just, yeah, cuz actually, these days, you know, it's not that all the Yoga I teach these days, is soft, and restorative and gentle. You know, I don't even really teach, technically, restorative yoga. I, I quite like, as you know, I quite like a flow. And I quite like a, I like to move, you know, that's how I am as a person. But, yeah, you're absolutely right, no matter what class you know, today at 7:30, I have a class that's called strong flow. But that strong flow, I hope, if I'm doing my job means that a total beginner can walk in and still flow. That's the idea anyway,
Harriet McAtee
and you are very good at your job. Sure. I'm sure. I'm sure that they can.
Becky Varey
I hope so. Thank you.
Harriet McAtee
So I think I think what I'm hearing there is that there are some key key values that sort of thread through, you know, whether it's something dynamic or something for cancer patients or whatever, there are some key values that really drive you. So if you had to, like, pin them down, what would your what would those values be like? What would you name them?
Becky Varey
This is a good one. I was given this some thought. A lot of it, I think comes back to and I think this is something I'm seeing like a lot more of people talk about and people write about this idea of authenticity, and being able to walk into that space as a teacher or a facilitator or whatever it is, your job is that day. And just being able to bring yourself into the room. I don't know how many other teachers have felt this way or still do. But there is certainly this pressure in the yoga world, I think to be a certain way. Not just I think a lot of it is appearance-based. You know, something I felt very early on was that, perhaps so when people looked at me that I didn't necessarily look like a yoga teacher?
Harriet McAtee
I still, like, don't look like a yoga teacher!
Becky Varey
What even is that? What does that mean? If you're teaching yoga, you're yoga teacher. But of course, but but that was that that still existed in my head that thought, you know? And even down to the point of, you know, am I supposed to have a green juice in the morning? Am I supposed to be vegan? Am I? Etc, etc? Yeah. Am I supposed to talk in a really floaty voice? And I think as time has gone on, and I've really kind of learnt a little bit more of how to be myself, it's really, I find that very scary. I don't know if that's just me.
Harriet McAtee
No, I think I think there's a, there's always, I mean, definitely for me, I, I have fears around being vulnerable, because there's like a vulnerability to being yourself, isn't there because you're like, stepping out into the world? And you're like, here I am. This is who like, This is who I am. This is what I do. And, like, it's so there's so much power in that, but it is fucking terrifying. Because you it's easier for people to, you know, judge or criticise or reject or something like that. But, you know, but worth it. I think.
Becky Varey
100% worth it. When, when you are able to do it. It's very liberating and exciting. I think that's I think, then when you're teaching, you know, I'm trying to think for word like it takes off like fireworks. I think people feel that.
Harriet McAtee
Yeah, I agree. A student once said to me, I think it was easily one of the best compliments, a compliment or like observation about my teaching. And obviously, it's stuck, because I can remember now, but this was years ago. And they said to me, your teaching feels like an extension of who you are. And I was like, yes! That's what I'm trying to do. Like, there's always a certain performance to teaching, like you step to the front of that role. And try as we might to sort of flatten the hierarchy of a class like students are still going to place you into that position of being the teacher. But, you know, you know, I feel like I am the best version of myself when I'm teaching.
Becky Varey
Oh, that's a good way of putting it. Yeah. You sort of like, almost you sort of collect yourself up. And then you're there. Yeah, yeah.
Harriet McAtee
Yeah. It's like the greatest hits.
Becky Varey
Yeah, the greatest hits of Harriet.
Harriet McAtee
Yeah. And of Becky, so authenticity is one of your values,
Becky Varey
For sure. And then I'm not sure if this counts as a value, I was really mulling over this. But this has something to do with this idea of. For me, and I think this is more maybe a personal thing than my teaching. But you know, I've already mentioned this, this thought process I had of perhaps my myself and my body, perhaps not being good enough for yoga, and a massive kind of journey I've been on I hate to use that word. But it's, it's the best for this. For what I'm trying to say, this kind of journey that I've been on of learning that actually I can move my body in so many ways with yoga and dance and running and go to the gym, and it doesn't have to be about an end result. It can just be about the joy of moving, and like how great it feels. And sometimes it doesn't feel great. And yeah, there's just this this liberation of like, we're here to do yoga, but we're not here because it's going to burn calories or tone our bellies or blah blah blah. You know, the list goes on. I don't know if that counts as a value. But, do you see what I mean?
Harriet McAtee
No, I think it definitely does. It's like movement, because it's joyful, rather than it needing to like serve a specific purpose.
Becky Varey
Yeah, I don't have enough of that. Anyway, in life?
Harriet McAtee
Well this is what I was just about to say, we like the way that our society and our culture sort of trains us we have to, like make the best or be the best of everything. It's like this optimization culture, I think is what it's called. It's like, well, if I'm going to do a workout for 20 minutes then I want to do the best workout possible and I need to, you know, burn the most calories or like build the most muscle. And or, like if you're in a, if you're interested in something like yoga or tennis or running, then it suddenly becomes about being like, the best at that. And actually, like, for example, I run, not particularly fast or far but I do it because Is I enjoy it, and it feels good. And I'm totally satisfied with that. I'm like, I don't, I was like, I'm not interested in ever running more than half an hour, or 45 minutes, maybe. But like, I feel quite content with like the container that sits around that. And when we live in a culture, that's always like, push, push, push more, more and more. Sort of like what you were saying with the performance, like, you know,
Becky Varey
It's always about doing everything everything is about doing and surely. I don't know if we're making the jump here. But surely, the thing that we all love about yoga that, like I said on that day one is that it's not about the doing. It's, you know, the being,
Harriet McAtee
Yeah, exactly. I was teaching recently, and I described what we were doing, not as a doing practice, but as an undoing practice. And I thought that was quite nice. But as you say, as well, there's like a, an emphasis on being in yoga with whatever's there.
Becky Varey
I always remember, I think, I just think you're like this. And I always remember this from a million years ago, when I was doing a yoga class, we were doing a happy baby pose. And the teacher said, just, you know, roll around in your happy baby pose, being completely loved just like a baby, because they're loved, just for being just for being a baby. I don't forget if I'm saying exactly right. But that has never left my head in like 10 years, it's just this idea of just rocking around like a baby. And that's good enough people love you anyway.
Harriet McAtee
Well, I think that one of the things that I really struggle with, in sort of the world in general, but specifically in yoga, is sometimes a real seriousness of the practice. And, for example, one of the things that I often encourage students to do is set an intention, you know, for their, for their practice of their day, or, you know, whatever the case may be. But I make a point of always saying, like, it can be silly, it doesn't have to be serious, like, you're not going to change your life in one yoga class. So maybe your intention today is not to like, be calm. Maybe your intention today is to like, I don't know, just be a little bit silly, or be playful, or, you know, just find the lightness in what you're doing.
Becky Varey
I don't think yoga is all that serious. Really, I don't know,
Harriet McAtee
Some people take a pretty fucking seriously!
Becky Varey
I, you know, maybe I don't know, maybe people have thoughts about that. But I don't think yoga is all that serious. I think a lot of it's quite, quite strange and different. And funny, and weird and cool.
Harriet McAtee
I agree. I agree. I mean, you know, I think they're just there. There are things in the world to take seriously. But our selves, and yoga is probably, you know, not one of them. Unpopular opinion perhaps.
Becky Varey
Yeah, we'll see.
Harriet McAtee
But that silliness, and the sort of idea of playfulness leads me into sort of asking about your work with kids and young people as well, because I know this is a massive part of your teaching at the moment. And not only in yoga, but also you have a drama school that you run. So I'm really keen to sort of hear about maybe a little bit about how you got into kids, but also just what you love about working with, with kids.
Becky Varey
Now that sounds great. I am. Yet again. It seems to be the way I get into everything when it comes to yoga, but someone said, Well, I should say that before I started to practice yoga, I did some drama teaching, because when you're a poor actor, you need to make money. And yeah, I saw an advert in The Stage. The Stage is a newspaper where you find your auditions. I bet I bet you find them online now, actually. I'm quite old. But um, yeah, so I started teaching some drama. So then once I was in yoga studios teaching, studio owners said to me, teacher hasn't turned up for our kids yoga class. You work with kids, haven't you? Yeah. Okay. And you do yoga, great in you go literally pushed me in the room. And that was that. And it was sink or swim. And it was fine. And actually, I kind of loved it really? Yeah, a huge amount of my work now has become working with young people. I work in schools again, that was that that came from people reaching out to me and saying, you know, our schools have certain things going on within our culture. Maybe a lot of students are feeling stressed, anxious, maybe behavioural problems, maybe not, you know, all kinds of things. You know, can you come in and work with young people. And at that point, I hadn't done any kids yoga training, it was just me and like a bag of props and some music and just kind of figuring it out, which I think is the best training on the job, you know, you need to do your training. I'm a big, obviously a big advocate for that, then you also need to get out there. So I always say to our students who are training, you know, get out there and teach. Yeah, I love kids yoga. And, you know, what I find that I sometimes am hitting against all the time is that I think a lot of yoga teachers and trainees like to think kids yoga is like a branch or like a side thing, or maybe not even not, they don't even put it to the side, they put it like under. So like, so like to be a yoga teacher is this thing that's sacred and wonderful, but to be a kid's yoga teacher? It's got nothing to do with anything really.
Harriet McAtee
Oh the snobbery of the yoga world.
Becky Varey
Yeah. And I see, and I hear it all the time. And I'm a firm believer in just the importance and just how brilliant kids yoga is, I wish, I wish we could all just get in a room as a group of adults and just do some of these games and exercises and partner poses. Because you just end up laughing your heads off.
Harriet McAtee
Yeah, well, you have done this in the past without sort of adult 200 hour training is where you've come in and you've you've instead of a morning practice of I don't know, you know, sun salutations. You're like up today's kid Yoga Day, and you've got them picking up pom poms with their toes!
Becky Varey
Absolutely, which isn't my exercise. I did absolutely steal that from lovely Lily.
Harriet McAtee
Shout out to Lily, we love you!
Becky Varey
Shout out to Lily who's wonderful. I should say that but yes. Yeah, chuck a bag of pom poms on the ground and say, right, you've got one minute to pick them all up with your feet. It's mindful, it tickles you between the toes. It feels good, even as an adult. Yeah, I've had them. You know, barking like a dog in down dog. It feels good. You know, we all walk around taking ourselves and our life so seriously, like, how liberating to just be silly. And that's what I get to do every day, I literally spend all day being quite silly. With with tiny people with tiny humans.
Harriet McAtee
I have so much respect for that. I love kids. I've taught kids yoga a few times. And I'm like, well, not for me. And I'm really fine with that. I'm like I can like, like, I know what my strengths are. But I'm so glad that there are teachers out there like you particularly teaching kids yoga, who sort of have not only great skills at sharing yoga with young people, but I think you also know you've got that broader lens of like, what's going on in the world? And where does maybe this practice fit within what's going on for these kids as well. I think that's really important.
Becky Varey
It's amazing. And actually what we were talking about before this idea of it being a real kind of doing world we have to achieve. I think kids have that the most, in my opinion. They're at school all day school is about achievement, whether it's, you know, whether it's their maths in their literature, or whether it's playing sport, or whether it's after school dance, or whether it's I don't know what else to kids do because you everything don't they? ..swimming and homework. You know, kids are the best at play. And grownups were the worst at playing usually. So that's all it is. It's getting them to play and be creative. You know, so many times I'll use my I'll use my lovely husband as a as a example of this. I'm sure you won't mind. But one of my favourite games in the world is asking my husband well, like I'll say, you know, if you're a vegetable can imagine is on like a Tuesday night. He just wants to watch the telly but I'm like, if you're a vegetable, what vegetable would you be? And he'll just be like, I don't know. That's my Will voice, by the way. I don't know. And it's like his brain is breaking. And he's just one example. Like when we do the trainings with the people on the course the trainees, you know, often that's the kind of response I get, because we're all so worried about getting the right answer. What vegetable are we?. Kids are really good at it. They'll just be like, I'm a carrot. Great. no rhyme or reason. It doesn't matter. There's no wrong answer.
Harriet McAtee
I love that. Asking people what you know fruit or vegetable they are is actually one of my favourite icebreaking questions when I'm meeting a new group because I'll say to them what What vegetable are you? And also why? And my favourite part is hearing people like psychoanalyse themselves. And the vegetable. They're like, well, like, I'm I don't know a potato because, you know, I earthy and nourishing and I'm like, yes. Just like there doing a slow clap in the corner. I'm like, thank you for being you!
Becky Varey
Such a great idea.
Harriet McAtee
If you were a vegetable, Becky what would you be? Putting you on the spot…
Becky Varey
Oh my gosh, what vegetable would I be? I would be a leek because I am a proud Welsh woman. And we were just talking about Wales before we started but yes, and leeks are just lovely. And they like green. And yeah, feel a bit leeky
Harriet McAtee
and they've got interesting hair interesting
Becky Varey
hair and my hair a little bit spiky today. So yeah,
Harriet McAtee
You're a leek. I love that!
Becky Varey
I quite light and I think I consider myself fairly light person.
Harriet McAtee
Yeah,I can see you being a leek.
Becky Varey
Great.
Harriet McAtee
Maybe I should every week instead of asking people what's nourishing that I should. Vegetable they are. The weirdest one I ever did was asking people what nut they were. Because people don't or
Becky Varey
what nut would you be Harriet?
Harriet McAtee
I'm a cashew nut.
Becky Varey
Perfect. You are a cashew! Yeah!
Harriet McAtee
I know. I know. Bit people aren't as familiar with types of nuts as they are vegetables. So it was tricky when you have to like pick the right sized group to do that with before people run out of nuts. What would you be?
Becky Varey
Oh my gosh. Huh. I think is sunflower seeds as a seed though, does that count? No. I have to be you can you can maybe like a walnut just because they're, they're fun. They're sort of zany aren't they. Interesting shape. Well, as much as I hate to leave our discussion of what nuts we would be, I thought we all sort of coming towards the end of our time, but I really, really wanted to talk to you about Disney. It's like a rapid change of direction in the conversation. But you have a deep and undying love of all things Disney. And I simply adore it. Becky recently went to Disneyland Paris and you were there for five days? Five days. Yeah.
Harriet McAtee
And I lived for your Instagram stories that week. I could not get enough Disney content. So tell me a little bit about like how you became a Disney influencer. And what you love so much about it.
Becky Varey
Okay, I've gone all like I've got all like hearts because I'm excited. Okay, yeah, Dinsey is, my one true love. And actually, I won't I won't go into this too much. But it is it feeds feeding back into what we've talked about. You know, I think at the beginning, I used to be quite embarrassed about this kind of side of myself that you know, passionately you know, I've this deep passion slight obsession, you know, and I used to think well, yoga teachers can't go to Disneyland. So commercial.
Harriet McAtee
Well, like when people are like obsessed with our football teams, we celebrate it. You know, why can't we celebrate people being obsessed with Disney? Yeah, I'm here for it.
Becky Varey
Also, I'm about to give you this spiel I give to everyone when they give me any attitude about Disney and that is that it's It's magical. It's magical in every sense of the word. This is specifically Disneyland, although I did grow up going, you know, watching the movies and listening to all the beautiful music. You know, we like to listen to the music together. Specifically Mulan. But anyway, it is a place where you go and especially as someone that comes from a theatre background, something I really respect is detail. And it is the most detailed of places the most creative. Every time I leave, I am renewed with in like creativity and enthusiasm. Like Like, I always come back from Disney and I'm like, I need a new project. I'm ready. Even the bins at Disneyland are themed. They are painted a different colour depending on how many steps you've taken away from the area you're in. The smells they pump into each part of the Disneyland Park pumps around they pump smells so that if you're in frontier land, it smells earthy, it smells like fire. And if you're on Main Street USA, which is this like, like 1920s like happy You know, with, with, you know, trolley carts going down and sweet shops and they just pump all the smells of the sweets and they play music. And you just, it's just such a great place to go and just pretend like, forget the world. But I mean that in a really great way. You know, the Disney community, I think is just one of the loveliest communities everyone is, has a deep, deep love for it. It's not about it's not like going to any of the theme parks. So it's not about the rollercoasters, and it's not about the food. It's about how you feel when you get there. You know, that's what they always say, a great product or a great service, you need to make people feel something and I just think Disney does that, like, to the max, it moves you. It moves you. It moves you. I, you know, I walked through the main gate in September. And that was my first Disneyland trip in two years, which I think since the day I was born is the longest I've never gone to any park. And you know, I walked through and I saw the town square. And I heard the music. And that was it. I was off. I was crying my my head off. It was very special. Lucky. Luckily, I found an insane husband. He loves it too.
Harriet McAtee
Well you guys are just perfect. I love it. Well perfect together. Well, I think as well just sort of to come back to the what you said in there about something for people to remember it has to make you feel a certain way of something to be good, it has to make you feel a certain way. And we do the same thing in yoga all the time. You don't remember classes that don't make you feel a certain way. One of the things that I'm always saying to the trainees is like focus less on what you're teaching, focus more on how you want your students to feel
Becky Varey
And the experience: that's something similar to you something I say when I'm working with the trainees is like you're there, you know, just like they did to me as I stepped onto Main Street, you're creating an experience so it's not just about you. It's about the space and how you use it, and your voice and yeah.
Harriet McAtee
I love it. Well, Becky, I have just adored talking to you as I always do when I get to spend time with you. So our listeners can find you where should they look?
Becky Varey
Yeah, actually best place to find me these days is on my Instagram. So it's @beckyvarey and that's where I post pretty much everything. Disney yoga, the lot.
Harriet McAtee
Yeah, we will we will link to Becky's Instagram in the show notes. And then the next time she goes to Disneyland, we can all live that experience through you. Well, thanks so much for joining me Becky.
Becky Varey
Oh no, thank you so much, it's been lovely.
Harriet McAtee
Thanks for listening to In Our Experience. Don't forget to subscribe, rate and review the podcast. We love hearing what you think and it makes a really big difference. In the meantime until the next episode comes out. Why not check us out on our Instagram account @nourishyogatraining will pop us an email via our website. See you soon!
The best way to support In Our Experience… is by subscribing, rating and reviewing the podcast wherever you listen to us! Share with a friend and tell them to rate & review as well. 
We'd love to hear your comments, thoughts and questions. Pop us an email to say hi!