episode description & show notes
Harriet is joined by Simran Uppal
Simran is a yoga teacher, writer and organiser based in East London. Simran is part of Nourish's teaching faculty, and they've also led a wide range of CPD and public workshops in the US, across the UK, and more widely. Simran is also an organiser at the YTU.
Harriet and Simran talk about the fetishisation of yoga teaching, the relationship between activism and practice, being intimate with all things, and their upcoming co-practice course with Nourish in the new year.
You can find Simran here: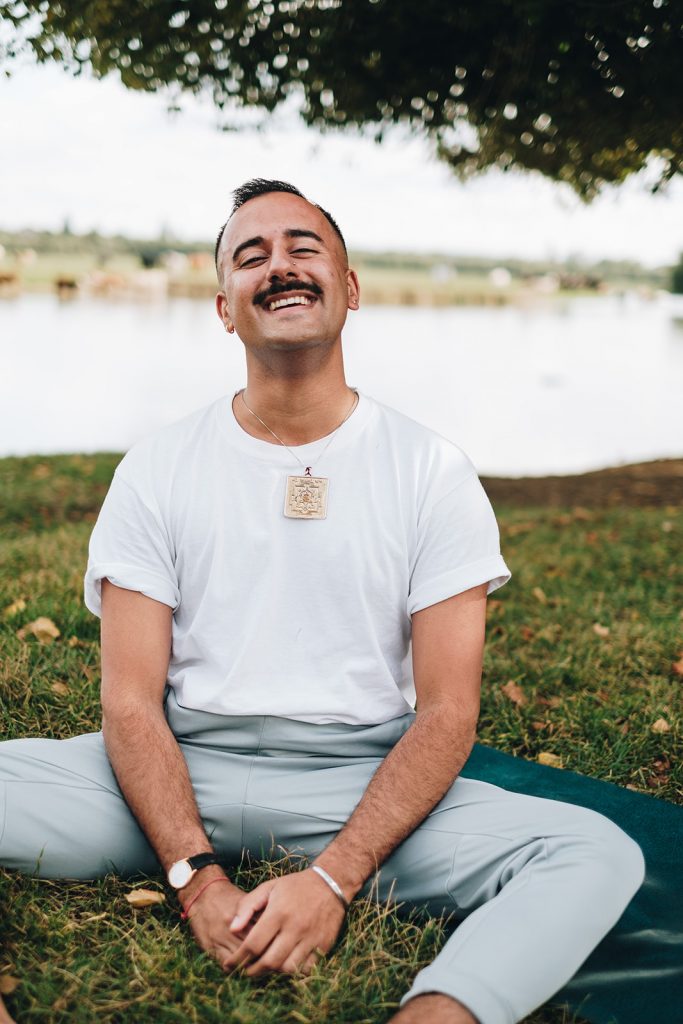 Read the full transcript:
KEYWORDS
Yoga teacher, yoga, teaching, practice, poetry, nourish, people, life, organising, pleasure, moment, yogic, support, intimacy, led, felt, Simran, question, traditions, writing
SPEAKERS
Harriet McAtee, Simran Uppal
Harriet McAtee
Welcome to In Our Experience, a podcast exploring the many ways of living well with Nourish Yoga Training. I'm your host, Harriet, yoga teacher and founder of Nourish and today virtually by Simran Uppal. Simran is a yoga teacher, writer and organiser based in East London. Simran is part of Nourish's yoga teaching faculty and they've also led a wide range of CPD and public workshops in the US across the UK and more widely. Simran is also an organiser at the Yoga Teachers Union. I had a wonderful time chatting with Simran, and our conversation covered a really broad range of topics from the fetishization of yoga teaching, the relationship between activism and practice being intimate with all things, and their upcoming co-practice with Nourish, which starts in January 2022. As always, I'd love to hear what you think. So do pop us a message or email, you can find how to contact us in the show notes. Here's my conversation with Simran. Hi, Simran. How are you?
Simran Uppal
Hello, I am really, really well thanks even more well for getting to share some space with you this afternoon.
Harriet McAtee
Ah, well, thank you for coming onto in our experience. It's a real, real pleasure to have you here. I'm so excited to have a chat. And as always, the first question is a question that I asked every guest, which is what's nourishing you this week? And as I'm fond of saying, this can be simple or serious, playful or profound. And I will share mine first to help you out. So what's been nourishing me this week is getting all of the lovely feedback from people listening to the podcast. So I've got some really lovely messages, Instagram comments, people have been writing reviews, and it like, makes my cheeks all fluffy and happy. Because this has been such a fun project to work on and I really love hearing what people are saying. And that really nourishes me and motivates me to keep going. So that's me. What about you?
Simran Uppal
Hmm Oh, that's so lovely to hear. I think perhaps this week, and this is surprising for me, its routine has been really, really nourishing me. I tend to not be like a hugely routine lead and I often feel the absence. But this week, I've been finding that balance of like firmness and softness. I've done pretty much the same thing every single morning, I guess for nearly a week now. And it is the most supportive thing in the world. The routine itself is a bit stereotypically yoga teacher, I mix like a juice with a fibre supplement and like a green powder. The real thing would be if it was a real green juice, but I didn't have the energy for that. So it's just like a powder, and then a fibre powder, and then ginger and lemon juice and it all gets mixed up in my smoothie maker and sit on the balcony and I drink it. And it's actually not disgusting. I only drink it because it's delicious. And I've been doing a little bit of practice just like 20 minutes.
Harriet McAtee
Ah, that sounds so lovely and you literally took the word out of my brain which I was gonna say which is like, sometimes routine can be so supportive. Like it provides this platform for the day or like a foundation for what's to come.
Simran Uppal
I think supportive was probably you speaking through me. That was almost certainly your voice like coming through me there.
Harriet McAtee
It's a word I'm very fond of. I saw this thing on Instagram ages ago, I will pop it in the show notes. I think it was on Margo Feldman's Instagram where it was talking about replacing the word healthy, with supportive because healthy is such a, like a loaded word for all sorts of reasons and how, when sometimes we say healthy, what we really mean is like supportive or resourcing or something like that.
Simran Uppal
I love that I'm bringing it back to like you, and actually looking after you rather than some external system that's being like placed on the body,like virtue, I suppose.
Harriet McAtee
Exactly. Delicious. Wow. Let's start by sort of getting to know you a little bit more. I mean, I know you very well, because we've worked together for a few years and are also we are very close friends. But for our listeners, could you tell us a little bit about your background and how you would describe what you do because you do many interesting things.
Simran Uppal
Yes, thank you for calling them interesting. I like to think they're interesting as well. So I suppose I'm one of those People who flinches when someone asks me what I do, or even like how I spend my time, because like you say sort of do about a million things. I guess the way I describe myself is with that sort of three-part thing used to my introduction of a writer, a yoga teacher and an organiser. So I write, I write all kinds of things, especially poetry and moving towards the lyric essays at the moment is a lot of translation, especially working from the kind of like devotional and ecstatic traditions from South Asia. And that very free and kind of like, emerging from the body and emerging from the sensation kinds of translation, I suppose. And that also goes into other forms of writings, so some instructional writing with Nourish, and some journalism type writing too, and then a yoga teacher. So at the moment, most of my work is the Nourish Yoga teacher training work, lots of FAB workshops, and the co-practice series that I'll just throw a little teaser for that into the waters. And so I also teach around East London, I've got a lovely in-person group, which I've just started. And then finally, that lases over into the third part, which is as an organiser. And I've kind of organised in more community organising type ways at the moment. It's really with the amazing Yoga Teachers Union. And that kind of workers rights space, which for the yoga industry spills into so many other kinds of organising. It's both like coming together as workers to kind of fight for an industry that is sustainable. And that allows us to live sustainable lives in the sense of to live healthily or to be supported in our life. And also the like widest range of other fights and struggles that are inextricable from that.
Harriet McAtee
Many hats. But also to have like, this is the thing that I often think about when a person has the sort of many hats or the other sort of hyphenate. Like, you know, when somebody is a hyphenate, so you're like a yoga teacher, hyphen, writer, hyphen, organiser, is that really it's the same question or the same core truth that's being explored or expressed in different mediums and in different communities and in different ways. So maybe, like, what is some of those, like core values or core questions that link those three? hyphens those three spheres for you?
Simran Uppal
That's such a beautiful way of framing. I've been thinking about this a lot recently, actually, in this sort of post-COVID Turning Point, almost. I think I've been going through a lot of turning points in my career and work in life recently. I think my way into this question was, actually, I couldn't be the poet that I am, without the yoga teaching work that I do. And it's not that the time spent yoga teaching is time away from like, the desk, or the writing workshop or something. It's impossible for me to write the work that I write, without the asana practice that I have in the pranayama practice I have in teaching and facilitation practice. I have these moments of, I think, when you lead a Nidra, you're leading like a group space of dreaming, right? Or you're facilitating group dreaming. And I didn't know what poetry is, other than really exactly that. And there are these tools that we from one to the other, the work of poetry and the work of yoga teaching and the work of community organising, or political organising more widely, which is you know, I mean, as far as organising is all about these interpersonal relationships of helping people to step into their agency to realise they can, like build worlds that are our birthright, the worlds that we should have had always. And what is yoga teaching, but what is good yoga teaching, but finding ways to enable people to step into their agency. So it's sort of like, I'm doing the same thing in different ways at different places, but I'm never quite sure if there's one like a thread that connects to them. Or there's just this sort of like pattern weaving of action that seems to express itself in these different locations. I think the other thing is, these things will feel the same to me when I do them. Like why do I do these things? Because I want to, because I hear there's some like there's something deeply human about, like making art and like, coming into these spaces of nourishment together and like fighting for what we've believe is right and good. Like these are just fundamental things that we all do as humans that we will need as humans. And I don't know what it is that unites them. But it's sort of like, how could these things ever be separate or distinct? Or how could you live without having all these bits, and I think we all have these bits, they just fit into different boxes in our lives in different ways in different shapes.
Harriet McAtee
I love that so much. And I yeah, I like this idea of sort of a patterning or a, almost like, the image that came to me as you're talking is like, like a tapestry, or maybe like a quilt or something like that, where you are adding on and it sort of expands and, you know, deepens with time. I think one of the things that is really interesting to me, and my own work is that for a long time, I didn't really see a pattern in what I did, I just sort of did what I felt was interesting or right, or fun, or as you're saying because I wanted to because there was a desire around, you know, doing these things. And I think over time, patterns emerge, and like, unfold. And now it's quite clear to me, and actually, this is a realisation that I only had the sort of the words for recently. But now that, you know, in hindsight, I can say that it's been coming a long time. And it won't be a surprise to anybody that what I'm deeply passionate about is like pedagogy is like how we teach, and what values and beliefs and ideas approaches that we bring to how we teach, we know what or whatever we're teaching, you know, whether that's asana, or whether that's training teachers, or whether that's like, in in other settings as well. But you know, it's something that now I sort of step back, and I have that clarity, I'm like, Oh, this is the thing I've been interested in, you know, for a very long time. So, and it sort of means that one of the issues that I've sometimes felt is that I'm interested in too many things. Because the that's the other side of the coin, to have this sort of pattern emerging is that sometimes it takes a while for you to be able to see what the pattern is. And in the meantime, you've got like, all of these different things. And, you know, when I sort of I was looking at what I teach, and I was like, Well, I teach on the 200 hours, and I teach restorative yoga, and I teach pregnancy yoga, and I teach trauma inclusive stuff, and I teach anatomy and I teach, like, you know, there are all of these things I do and I sort of I had a moment and I guess not of imposter syndrome, but one of the I think one of the trends that I really see in I mean, so many things, but in yoga teaching specifically is this push towards specialisation or a pressure towards specialisation. And I was I was sort of questioning myself recently, like, do I need to refine what I offer In a way or do I need to sort of prune the, I don't know, I'm gonna, I'm not gonna mix metaphors, do I need to like, you know, edit the pattern that I'm creating. Or is this okay. And then I had this sort of, yeah, this realisation that No, the thing that covers all of this, like the umbrella over all of it is my passion around pedagogy and bringing those questions to all of these different topics. That this, you know, this push towards specialisation within yoga teaching, I think is really interesting as well.
Simran Uppal
That's, that's so wonderfully put all through that and they really see that thread that you, you weave. I really think more and more recently where I want to focus my yoga teaching practice is around that feeling that that sensation of wanting. And I'm in a very lucky position right now where, like financially, I'm not dependent solely on my yoga teaching, by having that late diversified income and working in different ways in different spaces. Very, very luckily, I can like reduce the financial pressure on at least one of the things that I'm doing, or maybe even two depending, and there's something quite freeing about that. It's a little funny, I was recently asked to fill out a little form and I was like, I got to an art event early and the person was like, Oh, my friend is doing this programme working with 16-year-olds. We're just trying to gather the views of slightly more experienced artists and writers, like what do you wish you'd known at the age of 16, before going into a career in the arts, or whatever it is. And I was like, Oh, God, like the only advice, I'm gonna give us the most boring advice, which is, it's okay to not try and be an artist full time. If you want to study further, that's something that's available to you go and get a degree that might support you in your income or pursue like a career path that will give you what you need to live. And then worry about art, I was like, God, have I turned into some old fogie, like a parent being like, no, look after your career first. But that's not it, it's sort of saying, life is so broad and so wide, and there are so many things we can do. And these things, especially if we're resourced to, they can all like, like fertilise each other.
Harriet McAtee
I really hear that I think it's really interesting. Students, I mean, come to do a teach training, like an initial 200 hour teacher training for all sorts of reasons. You know, some people are very clear that they're not really sure, or they're not very interested in teaching. And they're doing it as a space to sort of deepen practice and deeper knowledge, which I'm really here for. And then you will get some people coming. And they're very, very clear that they want to use the teacher training, and then teaching yoga as a way to transition from one career into another. And I sometimes really struggle with these conversations, because I don't know how to tell them to not do that. In this sense of like, like, not that it's not possible, because it definitely is possible. But it takes a long time to get there. And you need to have transitional income in, you know, in the meantime, I mean, I have only I've been full time. I've been teaching yoga full time for seven years, but I've only not been doing other things for maybe, like, I don't know, pick a number like four years, three years. You know, it depends on how you count my time, you know, running Yoga Quota, but I've only been, like, full time, full time, you know, with teacher training and, you know, with teaching and writing for Yeah, maybe three or four years. And when people come in, they're like they're so this, they're so in need of a way out of whatever job they're in. Like, it's, it's not supporting them. They don't feel alive in it, they don't feel engaged in it. And they're really looking for a way out and they see teaching yoga, as that escape route. And often they'll ask me like, how many classes a week do I need to teach in order to have a full-time income? And I'm like, Well, it depends on what your definition of a full time income is. It depends on where you live, it depends on how people pay you. And you know, the reality is, is that most yoga teachers, the vast majority of yoga teachers are not full time yoga teachers. And they also either are, like, independently wealthy, or have a partner that supports them. And I think we need to be really, really honest about that. Because, you know, it's, it's not. And I mean, maybe you can speak to this from the perspective of the yoga teachers union, but, you know, people who are full time just from teaching yoga, it's the smallest percentage, smallest slice of the pie. I think.
Simran Uppal
That's so interesting. Do you know I do, I wonder if we have a bet. If anyone would have any data on that? It might be us. And that would be such an interesting thing to look into. But I think there's sort of two things that are happening. And the first for me is there's this almost like fetishization of like the yoga teacher lifestyle as like the ultimate yogic lifestyle. And it's sort of like to to be at peace, to escape the things that you're running away from. You have to be doing yoga full time. This idea that it's this like utopia that you sort of, almost like you renounce life, and then you're just in this phase of like, eat pray, love, peace. And it's such it's such a lie, I think. My dear friend Rishi, some Buddhist monk of some older I'm not sure which one. Think maybe a Shinn monk said to him something like if you're meditating for more than half an hour every day, what are you doing? The idea being that actually, you know what, that should be enough, maybe like half an hour a day, that should be more than enough. Now, that's often a lot of us need way more resourcing, you know, or less resourcing, or whatever. And whatever you need, you should give yourself that with, like, upmost that, you know, like, righteousness and good feeling. But you know, there's that sense that you're like, oh, I have to be doing yoga all the time and has to be my whole life. I have to, like, do two hours of like asana or whatever practice every single morning, otherwise, I'm not yogic enough. No, Come on, like, if you do more than half an hour, this is coming for a monk, what are you doing? Like, there's other shit to do? Like you know, stuff to do. Maybe look at the rest of your life, perhaps. And sometimes you know, the only way that you can resource yourself is through two hours of practice, and you can't fix the other things in your life. Cool, then that's amazing what a gift right? But the idea that you need to be doing that much. And then the second thing is that idea around like, like, how and who can teach yoga? Or who can make an income teaching yoga and how these things weave together? I think it's such a nightmare, because there's so many like because there's so so many factors in it. Right? There's I think it's always important to think about like the full landscape of players, because say, in London, what does it do to yoga teacher salaries, to have more yoga, building, like closer and closer to like a monopoly, especially on the kind of budget side of yoga with those deals, where it's like five pounds for a month of unlimited practice for students? Like, what is that doing? And it's knock-on effect to the rest of the industry, and the amount that teachers can make an independent studios that teachers can make through running their own, like, you know, independently run classes in a hall or something. And I mean, it's such like a huge, wide ranging issue of like, how much should yoga teachers be paid? And how should we be paid? And in what ways and like watch, would that be able to support in terms of income and work, but I think what we do know, is that there's a lot of people making the situation a lot worse, for really no reason other than the kind of private profit of a couple of very big businesses, which we could sort of list almost on one hand in the UK. I think maybe that's a good place to start shifting it there, and then seeing what the knock on effect might be for the rest of the industry. But I completely agree that yoga teaching can't be an escape plan. And actually, as an industry, it's a pretty tough place to try and earn a living, right? You sort of are expected to live this expectation to sort of be like a monastic like a renunciant. Except renunciants can renounce because they have large institutions that support them.Like you know that's the secret, right? Like whether you're like a sannyasin and you're like a wandering sannyasin in the institution is the deeply held cultural view that you give a like a, you know, like a holy beggar or whatever, you know, food or whatever. And that's enough to survive. Although I'm sure there's a lot of fear in that rollover. Or if you're, say, a monastic in a Buddhist order, like Plum Village, you have a gorgeous place in the south of France or somewhere else to live and stay and be warm. Yeah. Which are not things that you have, even if you're on universal credit, right, like even even the social welfare system is less support than the support that many monastic institutions offer. Like renunciants in the yogic and Buddhist and in other traditions. Gosh, I am really going on, I didn't realise how heatedly I felt about this, but. Renunciants generally have more institutional support than the social welfare that we have in this country. I used to work as a benefits advisor.
Harriet McAtee
Also a really good example of where like your teaching and organising intersect, to come back to this idea of escapism. This is a real thing, this is something I have a lot of feelings about. We've talked about it many times but I think the fetishization of yoga teaching as a sort of ideal profession goes along with the approach that I see so many people use, which is like escape through practice. And what I mean by that is they use their practice to get away from themselves or get away from the problems of the world or as a way of like creating, like, almost like a parallel universe creation, like they create a little parallel bubble that they exist in, through practice, that doesn't actually lead them deeper into themselves that doesn't actually lead them deeper into the world or into their relationships. It just sort of displaces or dissociates into this sort of like, fantasyland. And like, maybe we all need that from time to time, because there's a certain safety in that. But people like, you know, I really, I really struggle with it. Because for me, what I'm interested in is getting closer, like, getting closer to myself getting closer to the world, getting closer to my relationships, like being more in things, and finding more depth and intimacy and like, connection, and not this sort of like, I don't know, toxic escape fantasy.
Simran Uppal
Yes, I would say maybe one way of reflecting that back is there is a humongous difference between, like spaces of refuge and sanctuary. And sort of like spiritually bypassing the fuck out of yourself into another plane. These are entirely entirely different things. And they might crossover at some point. So you know, there might be practices that might take you in both directions. But there's a big difference between refuge and sanctuary, and denial, bypassing and as I use in our conversation earlier today, eating yourself off to another dimension, these are just very different things. And I think this is something I engage with is someone with like a real history of practices that do have a tendency to kind of, like, eat me off into the arkash, right, like off into the ether. But I've often realised two things about this. The first is that in those moments of like devotional ecstasy, there's a photo of me that my dear friend Zad took that I'm laying down on my front, just like not even in sort of that traditional frustration where you lay on your front and you have your hand in front of you, I'm just laying in my front with my, with my hands by my side, it was like I've fallen over, like a glitch in a video game or something. I'm laying in this field in Wales, and it's sort of sunset and it's golden. It's very beautiful. And Zad has just taken this picture, because she was like, Oh, what are they doing in a very non-judgmental way? And I was having this like, ecstatic experience of like, union, I honestly, the only way to describe it is I felt like and with all respect to the Earth, I felt like I was fucking the earth and I was having sex like, seriously. And it was like, fucking like, it was that feeling. And Zad and I had been away on this writing retreat, and we've been swimming in the river and talking about our writing and you know, like, meditating, whatever. And you know, just generally talking about especially like bliss and ecstasy and sex and poetry and whatever it was, it was a sort of a sort of like, like a queer brown brideshead sort of weekend away. But why am I talking about this? Yes. Because sometimes you see, the tendency towards in those moments of intimacy, that's what you have. You have closeness. You have togetherness, you were deeply, deeply, deeply, deeply there.
I'm reminded there's a quote, at the start of one of Thích Nhất Hạnh's translations of the Heart Sutra. And it's a quote by one of his students, there's a foreword by one of his students who quotes a Vietnamese poet of the kind of mediaeval era. I'm not sure exactly when, who says, Zen, or I suppose Tn is intimacy with all things. And this, I think, is often what I'm trying to achieve, to be intimate with all the things and sometimes that looks like tripping balls, right? And sometimes, that looks like the softness and the expansiveness at the end of say, a weekend of restorative yoga led by dear friend. And sometimes that looks like sex. And sometimes that looks like eating a good meal and sometimes that looks like holding a friend and sometimes that looks like in just the same way that you might hold a friend's hand. Sometimes that's like being held by a whole river. That is intimacy with all things.
Harriet McAtee
Michael Stone translates Samadhi as intimacy. So, you know, instead of Samadhi being this, like, you know, a quite abstract thing of like absorption or, like, you know, being in something, it's quite difficult thing to conceptualise. He talks about Samadhi is like, intimacy with the world. Exactly, exactly what you're saying. So I think that's really lovely. And actually, what you were saying there about, like, for me, it seems that pleasure is sort of tied up in this as well. And it leads us quite nicely because we have a little bit of time left, and I thought perhaps, I could ask you to talk very, very briefly about the new co-practice series that you have coming up with us. Pleasure, prana and poetry starting in January.
Simran Uppal
Yes, so pleasure, prana and poetry is this sort of co-practice series that I'm very, very, very excited to be running with Nourish over the first six months of next year. And we'll meet for a couple of hours once a month, online for kind of fusion, movement, dreaming, poetry, and kind of music co-practice. And the idea is that there are so many ways of like, exploring what pleasure means and the experience of pleasure and how pleasure can be this like extraordinarily supportive guide, or like guiding voice, something we can listen to. And I suppose the two channels that I see that in my own life, one is the world of like poetry and song and like devotion, devotional of devotional, sacred, ecstatic poetry, largely from kind of South Asian traditions. So like Sufi Qawwali, right, this kind of like rousing folk, like really loud and joyful, or kind of intense, emotionally intense form of community singing Kirten and other forms like that. But also the kind of like, the quiet poetry of like absorption and sort of like experiences of the sacred that you might find seeing, like Nānak's work in some of the writings of different Sikh traditions and communities are often sung very loudly to, of course, so we'll explore like a body of work, which I'll sort of curate a little package each month of poems and songs, and some recorded kind of famous live performances, accompanied by translations and notes and lots of wonderful resources. And we'll come together each month for a largely movement, led session with maybe a bit of Nidra in there, and a bit of breath work and some other things.
Harriet McAtee
It just sounds so juicy.
Simran Uppal
Yes, I'll just wrap that up. Sorry, I'm getting lost in the raptures of pleasure. And we'll simply find ways to weave these things together and explore how you might want to weive these things in your own life, in your own practice, and your own teaching, and the ghost of Audrey Lorde, the spirit of Audrey Lorde and her all her ideas about the erotic aka this fundamental principle of pleasure, and what is right is a guide towards what is just and what is good, and what is nourishing. And what is radical. She'll be with us too, just a little.
Harriet McAtee
That just sounds like perfection, and also a nice thing to do sort of, to start in the dark, cold months of the year and like emerge into the season of pleasure in a sense, which the summer can me. Wonderful. So wrapping things up, sadly. Where can people find you Where can they follow your work and see what you're doing?
Simran Uppal
Yes, absolutely. Well, right now they can find me in a slightly odd basement room in East London, sorry for the terrible joke, but the best place is to find me via my Instagram, which is @Simransuppal, but imagine we might be able to link it. And you can also find me at Simransuppal.co.uk which will direct you to poetry and yoga and politics. You can also reach me at yoga outreach that's yoga outreach, If you have any particular questions and thoughts around trade unionism, and building a yoga industry that works for us.
Harriet McAtee
Wonderful. Well, thank you so so much Sirman for joining me today it has been a true pleasure. And I'll speak to you soon.
Simran Uppal
Yes, the pleasure was all mine really looking forward to speaking very soon.
Harriet McAtee
Thanks for listening to in our experience. Don't forget to subscribe, rate, and review the podcast. We love hearing what you think and it makes a really big difference. In the meantime, until the next episode comes out why not check us out on our Instagram account at nourish yoga training will pop us an email via our website. See you soon
The best way to support In Our Experience… is by subscribing, rating and reviewing the podcast wherever you listen to us! Share with a friend and tell them to rate & review as well. 
We'd love to hear your comments, thoughts and questions. Pop us an email to say hi!