episode description & show notes
Harriet is joined by Ajaye Hunn-Phillips from The Project PT,
Ajaye has been in the fitness industry for 19 years, and running The Project PT for the past two years. Ajaye loves being active, lifting weights, talking things social justice and sipping on a coffee or wine.
Harriet and Ajaye about the Project PT's new movement studio, finding success in failure, supporting local businesses and community over competition.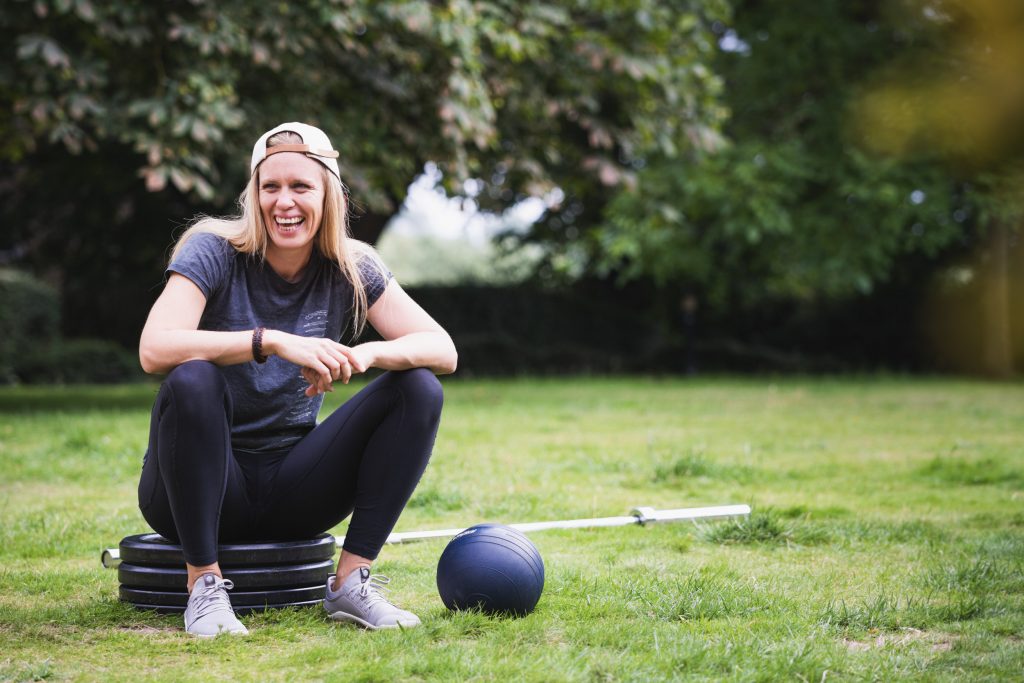 Read the full transcript:
SUMMARY KEYWORDS
people, gym, business, programme, failure, space, enjoying, run, pt, feel, nourishing, yoga, bitch, talk, big, person, yoga teacher, fine, business partner, share
SPEAKERS
Harriet McAtee, Ajaye Hunn-Phillips
Harriet McAtee
Welcome to In Our Experience, a podcast exploring the many ways of living well with Nourish Yoga Training. I'm your host, Harriet, yoga teacher and founder of Nourish and today I'm joined by Ajaye Hunn-Phillips from The Project PT. Ajaye has been in the fitness industry for 19 years, and running The Project PT for the past two. Ajaye loves being active, lifting weights, talking things social justice and sipping on a coffee or wine. I had an awesome time chatting with Ajaye, we could have talked for much, much longer than we did. We covered The Project PT's new movement studio opening in January 2022. Finding success and failure, supporting local businesses and community over competition. I'm so excited to share this episode with you. And would love to hear what you think. Either by popping us a message or an email, you can find how to contact us in the show notes. Right here is my chat with Ajaye. Hi, Ajaye,
Ajaye Hunn-Phillips
how are you?
Harriet McAtee
I'm really well. Thanks for coming on In Our Experience. It's great to have you here.
Ajaye Hunn-Phillips
Thanks for asking. I'm quite, quite surprised and humbled to be asked. So thank you.
Harriet McAtee
Well, I think you're a fascinating person doing fascinating things. So
Ajaye Hunn-Phillips
it's one way of putting it Yeah.
Harriet McAtee
what would what would be another way of putting it?
Ajaye Hunn-Phillips
I don't know at all. We're definitely I can market a business, I can't market myself.
Harriet McAtee
So it's, it's nice having sometimes I really enjoy having a business to hide behind.
Ajaye Hunn-Phillips
Yeah. Well, I don't know, actually, I think having my having my own business now. I feel like, I can't hide behind that. Whereas working on behalf of another business, and promoting it and saying all the great things it's doing, that's fine. But when it's your own business, you're kind of like, yeah, we do this. But there are other businesses doing great things as well go to them.
Harriet McAtee
It's a really interesting, it's an interesting thing, like when you have Yeah, when you run your own business, like how you how you manage, like personal identity within a business identity as well. Yes, we can talk about that later, perhaps. Okay. So I start every episode by asking my guests the same question, which is what's nourishing you this week? And it doesn't have to be really profound, it can be quite silly, or quite simple. And I'm going to help you out by sharing my nourishing thing first, which is that we're recording this the week after the clocks went back. Which means we all got an extra hour sleep this week. And I'm really enjoying that. And for now. I'm finding the darkness quite nourishing. I feel like a bear in a cave, especially on the boat. And going to bed earlier and sleeping more is something that I'm I'm really enjoying. So that's me. What about you?
Ajaye Hunn-Phillips
i So mine's definitely not profound. I've got a little bit of a cold, it's a big cold. I was pretty darn ill over the weekend and stuff. So mine's probably hot water bottles and warm lemon with agave syrup drinks that I don't need to be drinking as much off. So yeah, it's just that feeling of kind of needing to like look after myself. I'm in bed quite a bit. We've got a projector I've been watching some TV and yes just kind of looking after myself. So I guess same as you battling down the hatches, I guess. And you know what I actually do. So I like when the clocks go back. I have a child. So that's not enjoyable, because they just wake up the same time, but it's an hour earlier. But what I have liked is the fact that it's it's lighter in the mornings, and I'm an early bird. And then actually in the evenings now that it's kind of five o'clock and it's dark. I like to be in the kitchen, put the radio on and cook and my child's just playing and I don't know, there's just something really warming and lovely about that.
Harriet McAtee
Sounds great. I know it's a real it's a real marker in the year, isn't it? It's like you have one way of operating and one way of being like April to October, and then it like shifts?. Which I quite like I like the seasonality to it a little bit.
Ajaye Hunn-Phillips
Yeah, I used to live in South Africa and South Africa doesn't have real seasons. And people who have lived there before lived in other countries that don't have seasons often speak to me about that. And I don't know what it's like. Yeah, so just suddenly realised, I'm talking to
Harriet McAtee
well, where I'm from in Australia you have very hot, very wet and then the other half of the year is slightly less hot but dry. Yeah. So it's sort of that like, it's pretty much, you know, pretty much the same temperature ish year round. Yeah. And either just wet or dry.
Ajaye Hunn-Phillips
I think it's quite. from a consumer point of view. It's not great. But I think it's quite nice that we get to buy winter clothes. And we get to be all snuggled up for certain parts. And then there's like the flip side of it. And you're like, I'm not wearing shoes today. I'm just walking out in shorts and nothing else. And yeah, I think that that's, that's wonderful. And that's something that you Yeah, certainly miss kind of being in the southern hemisphere.
Harriet McAtee
Definitely. I mean, the thing is, is that in Australia, they still try to sell you winter clothes. Like it'll be, it'll be like 19 degrees and sunny outside, which here would be like, a cooler summer day, like we would be celebrating. But in Brisbane, they'll still be trying to sell you like a woolly jumper. Even though you would basically get heatstroke wearing it. But
Ajaye Hunn-Phillips
yeah, I used to live in Dubai as well. And in Dubai, like, it's obviously their summer right now sort of thing and the hottest point, and, and they'll sell these big beanie hats and things in their shopping mall, with like, full on aircon going in and all the rest of you. Like, no one's ever going to wear that. Even if you went out into the desert in the middle of the night. You wouldn't need that. So, yeah. Funny. Maybe it's just our idea of winter. It's like, when you're in a hot country, and it's Christmas, and then they've got all the snow and stuff. And you're like, it's never gonna snow here. Why? Why we put this out, but I guess it's our ideology of kind of winter and Christmas. And
Harriet McAtee
yeah, exactly. How strange, strange us humans are? Well, um, I would love to hear a bit about a bit about your background, and like how you would describe what you do, because I've already sort of teased it. I think it's, you know, great what you do. But yeah, how would you describe it?
Ajaye Hunn-Phillips
I think the best way to describe it is that we believe that we can use movement to empower people, and for us comes from at present four different pathways. But to be honest, I feel like it can come from like so many different pathways in different ways. So we started off running a, an events business, really, so we just put on a yoga and brunch event in a in a brewery, like you do. And the idea was that we wanted to engage with people who perhaps wanted to do some version of fitness. But perhaps they didn't have the time. The inclination and the kind of feeling that they could do it that that was the right place for them. If you put a fitness event into a gym, guess what you're going to get fit people or people that feel that they are fit going to that kind of event, we wanted to do it in somewhere totally different that would maybe engage with a kind of a different audience and stuff. So so we did that kind of went well. That was great. And and then we had an opportunity to open a movement studio. Somewhere you may not know I don't
Harriet McAtee
I don't know what space. So for those who who may not be on on the joke, Ajaye's movement studio is in the space where I used to run a yoga studio. We didn't know each other then no.
Ajaye Hunn-Phillips
So. So Hannah, teacher who's a yoga teacher who teaches at most of our yoga and brunch events, was the one that actually told us that the space was available. And so yeah, we went for it, we opened a space and we tried to create a space that was like, gyms a couple years ago, we're all about being in garages, being rough being industrial, neon lights, and metal everywhere. And that's great. Honestly, I love that kind of thing. I could go to that gym all day long. But it's not for everyone. And it's so daunting. Like that is really daunting for someone that's not Yeah, not confident in those sorts of spaces and stuff. So we wanted to create a space that was light, used loads of plants, loads of natural stuff. We took reclaimed wood from RAW, an awesome social enterprise in Oxford. And, and tried to just create a space that was welcoming and inclusive and I think that's probably where you and I get along and I guess probably some of the other people that are going to be coming along to here. It's that's that's what we're all about. So, so we did that. And but then the The aim was always to be able to then provide fitness and spaces for for young people who are having difficult times in their lives, from sort of primary school level all the way up to secondary school. So we also now run intervention courses alongside Active Oxfordshire and Oxfordshire, Youth. And some of those courses are funded by charities and by funds that come down from the government and stuff, which is fantastic. But a lot of this is actually funded by our business. So it's funded by the customers who come along, which is like, even more empowering, isn't it? Like, that's even better, like you're like, Oh, I, so I've come to this yoga and brunch. And I've done this for me, but actually, like, X amount of this money is going towards helping some young person, hopefully feel good about themselves or, or have some extra opportunities. So that's it, did I talk a lot.
Harriet McAtee
Well, yeah, that's the point, that's what we're here for. I mean, I think, yeah, it's just so good, like that paying it forward aspect of, you know, I mean, I think it's just a really, it's a really wonderful thing. And all of those, those great organisations that you mentioned, RAW and Active Oxford, etc. We can link in the show notes so people can check them out and what they're doing as well. So how did you how did you get into this? You know, The Project PT is a few years old now. Like, what were you doing before then?
Ajaye Hunn-Phillips
So for the past 19 years, I've been in the fitness industry. So it's sort of dramatic really but I had a big car accident. So a car hit me when I was 18 years old. And as a result, I had to learn to walk talk again. Which Yeah, sounds really dramatic, doesn't it? But what that meant was that I had to go to a sports therapist, that sports therapist had to get me up and running again, and walking and all the rest. And that got me into kind of learning the processes of fixing people and working with people and coaching people always been pretty sporty. And, and that sort of started my life. Well, actually, what happened was, I did it. And then I went off to university to study criminology and psychology. So I had an interest in criminal justice in I actually wanted to be a police officer when I was a kid and going really far back now. Always wanted to be in some form of I guess restorative justice. I probably didn't know that terminology when I was that age. But I was diagnosed with epilepsy when I was young, so I couldn't become an arresting police officer. Okay, so I went off and did criminology and psychology thinking I could be the next Cracker. It depends how old our audience are as to whether or not they were brought up in the UK. I'm looking at the production team and they they've drawing blanks. I think you have to be over 23 to understand my comment. Cracker was a criminologist. And it was a TV programme. And he was like, the guy that you went to to solve the crimes and stuff. CSI meets psychology is maybe a really bad example of explaining the programme, but do you get better went off to university and it just wasn't for me, I wasn't, I definitely wasn't the kind of person that could be stuck in halls. And yeah, just anyway, wasn't for me. So I went back to working at the gym that supported me and made me better and stuff. And then kind of followed a life of being in the fitness industry. With that, I ended up then doing a load of volunteer work working for youth charities in Reading, and in Buckinghamshire, so I used to go around, walking on the streets and looking to talk to youths who were just stuck out there with nothing to do no youth clubs to go to. And we would create projects and stuff for them to be able to go work on, did loads of different types of projects throughout the years, kind of my early 20s. Then lost my way, started earning some good money and went down a corporate world for a while, but we'll jump away. And, yeah, and I guess finally, like when we sort of started giving birth, I guess to The Project PT, I realised that there was an opportunity to kind of join both of those things together. You know,
Harriet McAtee
that's what I was just about to say you've really like, fused all of your interests together. It's wonderful.
Ajaye Hunn-Phillips
Yeah, yeah, it's really what I always we're gonna make another TV programme reference. I do not watch TV. So I don't know why I'm doing this. But again, this was back in the day. There was a there's a TV programme called Byker Grove. You looking at me blankly? Yeah, cool. Awesome. All right. This is good though. Because other people listening that don't know who Byker Grove are. They're like, truly. Right? So Byker Grove so do you know Ant and Dec? Yes. That's how they're famous ah, through a programme called Byker Grove. Okay. So they were these characters called PJ and Duncan. Okay, I know of PJ and Duncan. Yeah, I bought the album that was my first ever one. Okay, that's something that the podcast did not need to hear. But basically, they used to go to like this youth centre. And it was a place where all these young people could go to, they could work in the tuck shop, and they could do various different activities. And I just loved the idea of there being this space that these young people could go to, because that's the problem. Yeah, that's why we have this media narrative that suggests that young people are dangerous and a scary in their hoodies, and they're hooligans, because we see them hanging around on shop corners, they don't they hang around in lit up places, because they have nowhere to go. So what I wanted us to do is to be able to create a space where these young people could go to, but wasn't funded by by the National Lottery or by any version of funding, it was funded by a commercial business, so that funding could never be taken away. So that space could always grow and could always continue to be. And that's what we're hoping to kind of build with the with the next site so as to have a commercial place that, you know, customers are coming to, and they're enjoying it, and they're enjoying the, you know, the space that we're offering, but also that young people can come to and can come and do a workout, come and hang out, come and have some work experience opportunities come and get a qualification from us. And hopefully, we can kind of grow those spaces and continue. So
Harriet McAtee
that's incredible. I mean, I think literally just yesterday, yesterday, they Project PT announced that you are having a new site, a new studio, yeah,
Ajaye Hunn-Phillips
yeah, so we, yeah, so we've got this new space that we're opening or Magdalen road, which will be a lot bigger than, than the current space that we've got. It will have to gym rooms to it, a space kind of for people to chill out afterwards. Yeah, offer more work experience opportunities for young people, a more affordable option for our customers to be able to come to at the same time. And also, we'll be able to kind of take we have a sister company that does qualifications and stuff as well. And we'll be able to kind of take that a little bit further for, for young people, but for also for any fitness professionals, that once again, extra kind of CPD qualifications and stuff as well. So
Harriet McAtee
that's just so exciting. And it's such a good spot as well.
Ajaye Hunn-Phillips
It is yeah, yeah. It's, we're kind of like, just in the mix of like, really awesome businesses that we can look to, and we can aspire to be like, and, and, and we can build from and stuff as well. It's really yeah, we're so lucky. It's really scary as well, though.
Harriet McAtee
You say you say this every time. Every time I see Ajaye, you have done something. And you're like, tell me this is a good idea. Because we caught up like at the beginning of the year. We caught up at the beginning of the year, and you had just agreed to do Fit Farm Fest. Yes. And you were like, I've just decided to run a festival. And I was like, great. And it was it was a scary thing. But it ended up being great. And this is another scary thing, and I think it's gonna end up being great also.
Ajaye Hunn-Phillips
Yeah, that they are just scary though aren't they? And I think that I think that's a shame. I think that's a guess why so many of us don't do so many things, perhaps why? Maybe some people that are listening now, haven't decided to join a gym or haven't gone into a yoga class. Or, you know, this probably haven't started a qualification perhaps that they want to do because because we fear failure. You know, we don't enjoy the journey. We continually are thinking of that end kind of thing of this could go wrong. But realistically, we should just sit there and enjoy the journey of it. Because whatever happens at the end, doesn't really matter. Let's be honest, if we take this really profoundly and go really deeply.
Harriet McAtee
Yeah, no, I really hear that like focusing, one of the things that I have really tried to prioritise in the past few years is focusing on the quality of my actions, the quality of my attention, like what I'm doing and how I'm doing it. But that's quite a different thing to focusing on the result, or the outcome. So I like to do things well. And I like to, like, do things in a certain way. But what happens is often out of my control, and not the point.
Ajaye Hunn-Phillips
Yeah, yeah, it's it's silly, isn't it? Because we, in the in the gym, we actually talk about failure a lot and and how important it is to get to failure. So you've got a big ass weight on the floor. And we've taught you all the processes and all the techniques of how you've got to pick it up. And at some point, we're going to get to a point where we're going to test that and we're going to see right, how heavy can we take that and how much can you pick up because you get to a point where you want to you want to test as well. And so we go for it. And it's fine. If it doesn't come off the floor, it's fine. If you get it halfway up and drop it. It's fine if you fail, because actually, you've pushed yourself to the limit. And you've gone all the way and you've enjoyed the process. And we'll just try it again another day. And another day, it'll get back up, and it will lift and it will be fine. And I think that it's so silly that every time I see you, I say, do you think it's a good idea. Because I spend my whole time explaining to the young people that we work with, just give it a go give it a try. I've got an eight year old who is scared to shoot a ball at basketball or whatever, because you might miss and I'm like, it doesn't matter. Give it a go give it a try. So I think you just need to pummelled that into me every time you see me next.
Harriet McAtee
Yeah, I'm happy to yeah, do unto you as you do unto others. I think failure is something that's really interesting, isn't it? Because we also live in a culture and live in a society where failure isn't something that's spoken about, you know, there's so much focus on our successes and the things that we do well, and you know, social media and Instagram, and it's all it's like the highlight reel, right? Yeah. But we don't advertise our failures in in the same way.
Ajaye Hunn-Phillips
Yeah. Yes. It's interesting, isn't it? Because on a slight flip side, what we do advertise is the amount of work that we put into it, as well, you know, that, that that mentality that we, a lot of people are in right now of let me show you how hard I'm working. And let me show you what I'm achieving. And those are just two parts of like, a really multifaceted story that you're currently living and that we should be talking about as well. Perhaps we should all take a minute to just sort of go right. That's it. You know what, I'm going to put a failure up, or I'm going to tell someone that this didn't happen. And that's okay. Yeah. And from that, I got this, this and this. Because that's the thing. You know, the accident that I had ages ago, people always say, that was awful. It was devastating. I'm like, No, it was brilliant. I got like, I wouldn't be on this journey. I wouldn't be living this life if it wasn't for that. And I'm a totally different person for that accident. And for everything that it taught me. I don't have a South African accent anymore, as well. I had one of those that disappeared when I learned Yeah, that disappeared when I learned to talk again. But I just wouldn't be this person if it wasn't for that accident. And I'm happy with who this guy is. Yeah. So yeah, I think that, like, bad things happen. And we take lots of good things out of them. And we've we need to continue doing that and then celebrate those failures. Really?
Harriet McAtee
Absolutely. And so much of it is in mindset, right? It's in how you sort of think about the world and, you know, view the world and view your place, your place in it as well. And yeah, I've had huge failures of my life. Yeah, massive ones. And it, it all becomes, well, what I guess what I'm saying is those as you're saying those failures are ultimately sometimes the best learning experience.
Ajaye Hunn-Phillips
Yeah, that's what I was going to say. Are they the best learning? That those are the things that stick in stick in your mind, aren't they? Yeah, the things that you remember, and you go, I'm not gonna do that again, or I'm gonna do that differently. Because of that, that thing that happened or whatever it was?
Harriet McAtee
Absolutely. Yeah. I mean, I will never work for anyone ever again. Pretty, I feel pretty sure of that. Like, yeah, I you know, I mean, I've worked for myself for a long time, and like, various different proportions. But, you know, owning a business and running a business, I think is a really special thing. And it's a scary thing.. Because you're like the buck stops with you. And,
Ajaye Hunn-Phillips
and your everything, everything. You are literally the specifically when you're kind of at our level of SME kind of size. You're the accountant. You're the marketing, you're timekeeping.
Harriet McAtee
You're HR. Yeah, everything. I think I get frustrated sometimes when I tell people that I'm a yoga teacher, because they're like, Oh, you must have a great life, like just sitting around doing yoga all the time. And I'm like, well, like sometimes, but I also like, run an entire business. Yeah. And you know, teaching teaching yoga is like a part of that for me. But I also do as you say, the marketing I do the HR I do the website, I do all of it and like you know, maybe one day I'll I'll it'll be bigger and I'll have more support. But for now, like, as you say, that small medium, little slot is where we're at and yeah, there's a lot of you got to have a lot of, you know, strings to your bow.
Ajaye Hunn-Phillips
Yeah, I think that you're a fantastic person. Because, for me, I've got a business partner. Yeah. So we've got each other, and there's so much help and there's so much support that goes into that. But for yourself and for Katie at Every Body Studio and stuff, what you guys are doing, like completely on your own is, that is amazing.
Harriet McAtee
Ah, cheers mate.
Ajaye Hunn-Phillips
Definitely can Yeah, just because there's no one to talk things through with, there's no one to kind of. There's no one's to bitch aat. You know, there's days where you just need a bitch and, and Alexa, my business partner, she knows it, she gets it, she's in it. And that's fine. But anyone outside of it just doesn't get it. And they don't get that they can't. You might be having a bitch because something's gone wrong. But in reality, it's just a bitch for a little bit of time, whatever that situation is, you know, we'll get better. And it'll be absolutely fine. And you don't really feel those emotions that you're currently needing to channel. Yeah, you got to channel them,
Harriet McAtee
you got to get it out. You got to get
Ajaye Hunn-Phillips
So where do you go?
Harriet McAtee
That's a really interesting question. So I think I'm lucky to have a great team of people that work with me. Most of whom are also like, incredibly close friends. So even though they're not, they're not in the business in the same way that I am. They have a good sense of what's going on. And I can say to them I'm like ugh, this has happened. But it's not the same because they're not invested in the same way.
Ajaye Hunn-Phillips
Yeah, that's it, isn't it?
Harriet McAtee
So yeah, so I do feel like I there. There are times when I do feel like incredibly alone in it. Yeah. Because I'm like, oh, you know, you know, I, there's nobody to share it with me or nobody, as invested in it as me. But that was also like, if I brought over there was a period of time where I consider bringing in a business partner. But ultimately, I decided not to because firstly, I didn't want to give up any control. But secondly, they were never going to be I would always be questioning their buy in, in a sense.
Ajaye Hunn-Phillips
Do you think you could find the right person, though, Because
Harriet McAtee
I mean, that's, well, that's the other thing. Like, I don't know who that would be or what they would be doing. But I'm very open to it. Like, I'm open. Like, I'm sure one day, somebody will just pop up. Or maybe somebody that I already know, will will come to me and be like, Oh, but it hasn't really felt necessary so far. Like, we're still quite compact in a lot of ways. But, um, but yeah, I, I don't know, I don't have many people to bitch to. Yeah, I have another friend that self employed in a different, different industry. And, and she and I will often just send like, this has happened. Yeah. And that feels good. Because, you know, she's invested in our relationship. But, you know, it's also separate enough where? No, there can be some, some space around it. But yeah, it's tricky. I do have a good bitch though.
Ajaye Hunn-Phillips
Yeah. Yeah, I think it's a bit of verbal diarrhoea, isn't it? And then it's out and it's gone. And you feel good, and you can move on from it. It's like the email that you pen and never send
Harriet McAtee
There's something very therapeutic about those emails. Or Yeah. Or like, the pretend conversation that you have in your mind? Or, yeah, I do have people where I can I can go to them and be like, I need to say this to you. So I don't say this, like anywhere else. And I think it's really important to have that sort of like, team. Yeah, like that team around you, team of people, whether it's in business or in life, like personal professional, to sort of, you know, support.
Ajaye Hunn-Phillips
Yeah. Can you switch the voice off in your head though? Oh, you know, that conversation that you repeat? Yeah. In your head
Harriet McAtee
that ruminating? Yeah, I think eventually, if I feel like I've processed it, yeah. And I've like integrated what's going on? I had something happen, actually, like this weekend. And I was like, fuck, like, Why do I now have to deal with this? And and I've spent the past few days like, talking to people, and like, having a bitch and then also like, watching movies in bed and just sort of like letting it happen. And I think I think for me if I allow my myself to feel my feelings around something. I process it, then I can let it go. But they'll always be always be just a little like, like finger hanging on. Yeah, but yeah, I think I think I can let things go all the yoga, it's got to be good for something. Yeah.
Ajaye Hunn-Phillips
Yeah mine's lifting the weight.
Harriet McAtee
Yeah, yeah, there's got to be a way away sort of a way sort of through it in a sense. Well, one of the other things that I really love about the way that you sort of work and the way that you do things is how supportive you are of other businesses, and of you know, and of the community in Oxford, because we are so spoiled here with just like, great people doing great things aren't we. Yeah.
Ajaye Hunn-Phillips
Yeah, that's, that's really nice that you say that, I wonder. We are, like 100%, I'm more than happy to share anyone doing anything on my Instagram or on wherever it is, even if it's direct competition with us, you know, we've got an event on this Saturday, if someone else did, absolutely fine, let's share it, there's, there's more than enough. And the point is that we're there as a, I see us, as their as a service to, to make people feel empowered through movement, right? That might not be our movement, that might be someone else's movement, or that might be a coffee. Or it might be whatever it is. And so we have to share, and we have to promote everyone else. And and as long as those people are doing fantastic things, then, then that's what we want to do. But it's just interesting that you say that, because I wonder why you think that we do that we've probably had a few conversations about it is I'm just interested to know, like, is that obvious via our social media or via what we like?
Harriet McAtee
I think it's a combination. Like, I think in conversation with you, and like watching the way you do things and seeing what you do on social media. I think it's clear to me that you're very interested in, you know, helping people and I don't know, like, offering connection. In a sense. But I think in there as well, you know, what you said about, you know, you want, you want people to find their way into movement and recognising that that may not be your movement, it may be something else, I think is so important. Because we, yes, we need to make everything more accessible, you know, the people that feel like they can't go into a gym or can't go into yoga class, there are things that, like were doing individually in our businesses to make that feel more welcoming for people, but it's also like yoga is not going to be for everybody. I'm really okay with that. You know, just like,
Ajaye Hunn-Phillips
or it might be for a period of time. And then and then that changes and they need something else. And that's fine.
Harriet McAtee
Yeah. But we get so caught up in like, thinking things have to be forever. But, but yeah, so I think part of part of how we manage that is by, you know, sharing and being aware of what's in our broader community and broader network. And
Ajaye Hunn-Phillips
yeah, yeah, I think that's something that was really difficult for me working in some of the corporate businesses that I've worked in and stuff because there's very much this kind of protective thing. So in gyms, you, you don't tell other gyms, how many members you've got. Okay, that's a thing. Okay. So you're not allowed to know how many members what marketing activity we're going to do. And you just don't share information you don't see
Harriet McAtee
like a lack of transparency around it?
Ajaye Hunn-Phillips
Yeah, you'd never promote another, another gym or whatever. I had someone on the phone with me yesterday. They are a member at Oxford Brookes. And they're, they're interested for themselves and coming to our new Magdealen road gym, which is fantastic. And their partner wants to wanted to know, if we did an open gym option, we're not going to do that. They wanted some more squat racks and the gym that they're at, doesn't have many. So I was like, There's Buzz Gym, there's Pure Gym, have they tried these? And you know, talking about them, I have no problem. Because at the end of the day, if that person's then going to go and train a bit more and do a bit more and get a bit more out of it. Does it's no harm to us, is it it's fine. And I think we have to we have to like come together and work together and all be in it. I think actually independent gyms are pretty good at that. If you like look at when we announced our new site, there's a load of independent gyms that are like, awesome, Ajaye, well done. That's brilliant, great news and all the rest. Yeah, there's just there's room for everyone.
Harriet McAtee
I think so. I think so. What a lovely note to sort of begin wrapping things up on because already we're sort of coming to the end of our time here. I know I could talk for hours. So where can our listeners connect with you online or in person? Where can we find you
Ajaye Hunn-Phillips
so on Instagram, we're @theprojectpt. And on Facebook, it's The Project PT as well. And then you can visit our website, which is The Project PT. See what we're doing here? We don't have a Twitter and I thought like we do need to get a Twitter, because we have
Harriet McAtee
The justice/charity sector is massive on Twitter. Yeah, huge. Yeah. And
Ajaye Hunn-Phillips
And yeah, we've got big things to say about that. We don't generally talk too much about it. Inside of the gym, but yeah, there's anyway, we need to do that. We're not We're not on there just yet. I'm not ready. I don't understand how it works. I'm not gonna lie. We had a tik tok. We got rid of it. And, but yeah, we're so we're in the High Street. And we're opening on Magdaleen Road in January. So and you can, you can join now for 49 pounds, 12 credits, 2 free PT sessions as well. It's great. I know. Right?
Harriet McAtee
That is a tasty deal.
Ajaye Hunn-Phillips
Yeah, it's some it's very popular right now, actually. So I don't think it's gonna be around for very much longer. I hadn't anticipated like so many people joining us already, or we announced it on Monday, and it's already gone mad. So it's awesome. It's really lovely.
Harriet McAtee
Well, you're doing a wonderful thing. People want to be a part of it. Yeah. Wonderful. Well, thank you so much for joining me, Ajaye. It's been a pleasure to have you here,
Ajaye Hunn-Phillips
And you, Harriet, thanks for having mee
Harriet McAtee
Thanks for listening to In Our Eexperience. Don't forget to subscribe, rate, and review the podcast. We love hearing what you think and it makes a really big difference. In the meantime, until the next episode comes out. Why not? Check us out on our Instagram account @nourishyogatraining for purpose and email via our website. See you soon.
The best way to support In Our Experience… is by subscribing, rating and reviewing the podcast wherever you listen to us! Share with a friend and tell them to rate & review as well. 
We'd love to hear your comments, thoughts and questions. Pop us an email to say hi!