episode description & show notes
Harriet is joined by Theo Wildcroft.
Theo Wildcroft, PhD is a teacher, writer and scholar. Her research considers the democratization of yoga post-lineage, and the many different ways yoga communities are responding to concerns about safety in practice. She is at the forefront of the movement for trauma sensitivity, diversity and inclusion. 
In this episode, Theo and Harriet talk about about how much they love mustard, whether yoga is a religion and the power of team building.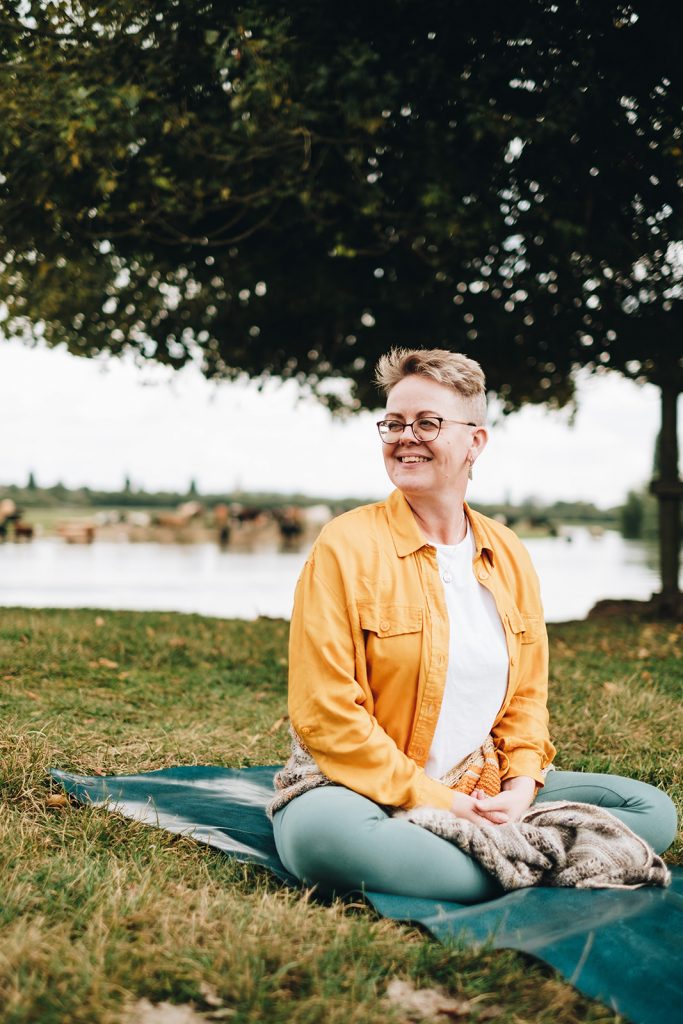 Read the full transcript:
SUMMARY KEYWORDS
people, yoga, life, religion, mustard, pantry, important, theo, world, moment, understand, thought, talk, jam, yoga teacher, specialists, practice, religious studies, meaning, religious
SPEAKERS
Harriet McAtee, Theo Wildcroft
Harriet McAtee
Welcome to In Our Experience, a podcast exploring the many ways of living well with Nourish Yoga Training. I'm your host, Harriet, yoga teacher and founder of Nourish. Today I'm joined by Theo Wildcroft. Theo is a teacher, writer and scholar. Her research considers the democratisation of yoga post-lineage, and the many different ways yoga communities are responding to concerns about safety in practice. She is at the forefront of the movement for trauma, sensitivity, diversity, and inclusion. And of course, she's one of our wonderful faculty members. I had an absolute dream talking to Theo, she and I, it feels like a having a continuous conversation that happens over many mediums and times and spaces. But today, we talked about how much we love mustarad, whether yoga is a religion, and the power of team building. I am thrilled to share this episode with you, and would love to hear what you think. So do get in touch with us and via the show notes. And here is my chat with you. Hi, Theo, welcome to In Our Wxperience.
Theo Wildcroft
Hi, Harriet.
Harriet McAtee
Thanks for joining me today. I'm so excited that you're here.
Theo Wildcroft
It's really nice to be here. I'm really excited. You're doing this.
Harriet McAtee
I know. It feels like it's been actually a long, a long time coming.
Theo Wildcroft
Yeah. And I get I get invited on a few podcasts. So it's nice to do one with someone I know really well. Although I know that they tend to go a bit off on interesting tangents. So I think it'll be fun.
Harriet McAtee
Well, this is this is a podcast of tangents. I think so. So far. So if I when people have been like, Oh, is it a yoga podcast? I'm like, Yeah, sometimes. So yeah, I'm, I mean, bring on bring on the tangents. But we are going to start I'm going to start on point, which is by asking you, what's nourishing you this week? So I asked this question to every guest, and it can be silly, it can be serious, I'm going to share mine with you first, to sort of to help you out. I went for a silly one today, which is that I recently bought some jam. And I go through phases with jam, sometimes I have jam every day. And then I'll go like for months and not be interested in jam, not want to look at it not want to taste it. And um, I was doing my food shopping this week. And I saw the strawberry jam there on the shelf. And I was like, it's time for some jam. So I have been really enjoying having some jam back in my life on top of my porridge, stirred into some yoghurt. You know, because essentially, I feel like it's grown up it's like a sweet, like, you know. So that's my that's my nourishing thing has been making me very happy: jam.
I think it's probably Yeah, it's definitely a time for that. And warm food, the nourishment-y thing? I think the weather's gone that way, hasn't it? I am, I know I made I made gnocchi for lunch. I mean, I when I say I made gnocchi, like the gnocchi came from a packet, but I kind of made things with it. And you know, when you have that really pleasing moment where you go, I've got this slightly raggedy and the the squash butternut squash here. And I've got that bit of rosemary from the weekend that still left over, and I've got some butter and I've got some lemon juice in a bottle, and oh my god, and it all just comes together really pleasingly and makes a really you've just got everything you need. I'm and I think that particularly in the last couple of years, like we've got both of us have got really into making sure that you have the basics in to nourish you for foods. And you know, partly because you know what, with the Brexit and all the other craziness people have been talk about kind of shortages and so on and so forth. And you know what just having if you can afford it and you've got the space then having a decent pantry of stuff in so that when you're tired and when you're just like I don't want the thing I thought I wanted I want this thing here and they know it's going to nourish me and feel good because it's comfort food and it's come through I have so a lot of that the moment
Harriet McAtee
That is delicious on many levels. And yes, I agree that a good pantry is a thing that brings much joy. I'm the sort of person where if I don't have like two tins of chopped tomatoes in my pantry I get anxious about it. I'm like, but I don't have enough tomatoes make. I don't know three batches of pasta sauce. Yeah, it's I mean it's all about like being resourced and being Yeah, ready?
Theo Wildcroft
It is. Okay. There are things that are definitely on the one hand list. Like, if you run out of them, you need to have one spare, just in case. And some of that is really kind of simple stuff like, I don't know, milk, you know, like oat milk. Because we get through so much. In fact, we get through so many oats, which is almost entirely me and the dog. Because we have oats every day. So it's like we get through a stupid amount of oats, we always got some oats in the house. But then it's the kind of slightly more decadent, like a really nice salad dressing that you don't have to make for yourself. It's making sure you've got one of those in and the really fun moment this week, which is really slightly was kind of felt really decadent, but isn't at all is we watched Bake Off last night. I'm and they their technical challenge was essentially making Twixes or that they couldn't call them Twixes of course, because it's like, you know, that would be advertising or whatever. So they're like caramel biscuit bars, and they're all kind of mugging madly at the camera saying caramel biscuits bars. And because as any regular bakeoff watcher knows, you always get to that point and you're like, Oh, why do I not have the thing in the house I want and usually that's like. I don't know creme patissiere filled cronuts or something like you would never be able to get. But this was like Twixes. And Phil was like, we have Twixes in the cellar. There is emergency chocolate. But it was just such a lovely moment to have a Twix each. So yeah, the moment because I'm quite I'm into the last delighting thing that you had. So at the moment, the thing that I'm most delighted about my back my pantry is the fact that we had Twixes on tap last night. Next week, it will be something else obviously.
Harriet McAtee
That's a wonderful, that's a wonderful thing. I also love the idea of having a really nice salad dressing. I hadn't thought of that before, but I might I might steal that from you. I do have three different types of mustard. But
Theo Wildcroft
always, but which ones
Harriet McAtee
Dijon obviously wholegrain and then like a like a hot English mustard. Oh, and I've got wasabi is that for? I mean wasabi is sort of like a mustard.
Theo Wildcroft
Kinda. Yeah, yeah. We always have English interesting dijon, I don't I find whenever I reach with Dijon I'll is easily reached a whole grain so we've got English, whole grain
Harriet McAtee
controversial okay,
Theo Wildcroft
I know. I know. And a squeezy American one for for silliness. There you go.
Harriet McAtee
I find so my hot tip is using whole grain and Dijon together. Oh, so if you're going to reach for Dijon and you're like No, I want the whole grain like use like one of my great sayings por que no los dos, why not have both?
Theo Wildcroft
I might try that. Maybe I need to have Dijon in the house and then I can have even more mustard in my life. I mean, Phil knows at the end that if you're not careful, my pantry is generally full of like, Tabasco. Hot mustards. Horseradishes, chilli jams. There's absolutely nothing pitta about this at all, you know, he will say to me, like not everything has to be hot.
Harriet McAtee
Yeah, I mean, I am. I am somebody that puts like, chilli or hot sauce or mustard on everything. Nearly like it depends. Depends like I'm not going to put on a steak. Oh No mustard. I would have stteak What am I talking about? Oh my goodness. I'm really sceptical of people that don't like mustard.
Theo Wildcroft
Specifically?
Harriet McAtee
Yeah, like you don't have taste buds. They're not like mustard?
Theo Wildcroft
There is that thing as well isn't it? Like there's that whole thing about white people and not liking spicy things that I always feel like I on the one hand I completely understand and appreciate that sentiment and that joke at the same time it was not identifying with it in any way shape or form
Harriet McAtee
I do not identify with that at all, no I'm like how can I put more chilli I will buy things that are like I made last night I made like a coconut red curry thing so the curry paste already has chilli in it and I'm like no, no. Dude like not not like pile more chilies and like three like two different types of ginger and I'm anyway Delicious. Delicious. Well, there we go, our first tangent a long long tangent about mustard. I bet my subscribers are really glad that they listen to my podcast right now. Well, let's um let's let's circle back to you because you're the guest here. You're the star of the show, not the mustard. So maybe tell me a little bit about you. And this is this is, I think, always a more interesting question than asking somebody what they do. How would you describe? Like what you do rather than like, what your job is?
Theo Wildcroft
Yeah, because we the we don't we don't have all day for the job a bit. Which job?
Harriet McAtee
Which five of your jobs?
Theo Wildcroft
Yeah. But it is true that I do I, I do have to spend kind of regular amounts of time thinking about what it is that connects what I do. I'm in that sense of like, there's a difference between the kind of job titles or the things you get paid for. And then what's the thing that brings all those things together? What like, what's your I would hate that kind of what's your actually don't do the kind of what's your purpose thing? But like what's driving you? What's driving you right now? And what's your, what's your guiding star? And for me, I think there's a couple and one of them is very much about relationship. So it's, you know, we talked before about I do believe that the heart of all teaching and particularly teaching of yoga, but all teaching is actually around the relationship of consent and how you how you navigate consent, and as a practice in and of itself, like how do we come together in all these different ways? How do we form a relationship that is honourable with all sorts of other beings? Whatever those who are those beings might be whatever their kind of shape and species? I'm so I think that's that's a big part of what what kind of, I see as my kind of role in the world? I think what I'm what I'm good at, like my skillset tends to revolve around teaching in the sense of kind of communication, like how do you I'm always interested in how do you explain things to people who don't share the same reference points as you. So whether that's as an academic trying to explain things to people who are non specialists, or whether you're trying to explain complex subjects to someone who, you know, you know, isn't necessarily intellectually capable of understanding certain things, like, there's always a way to explain, there's always a way to, to make things understandable for people. And it is in the heart of that relationship. And that making a relationship between people that's part of what we're doing is trying to figure out the ways in which we're different and the ways in which we're similar and how we navigate the world. And we can make, like that ongoing conversation between human beings in particular is, is how we do that for me. So I think that's why a lot of what I do is teach and write and, and things like that. But I think it's interesting how often they come back to being the bridge between different communities or between different discourses or between different languages, like this is how this is what's important. And sometimes in two directions, like my research was about the yoga community, but it wasn't just about, you know, it's about explaining that yoga community to an academic community, and then understanding what the academic communities responses to that and then explaining that back to the yoga community that I'm working with, you know, so it is it isn't a one way street by any means. And I think finally, as a researcher, like, what, what fascinates me most is actually the ways in which we make meaning in all of these things, all of the ways in which we make meaning in the world. In weird and wonderful ways. Because that's a lot of what we do as human beings is find patterns, figure out patterns make meaning make stories, kind of impose stories on the world for good or for evil. So I think that's, you know, a big part of who we are as human beings.
Harriet McAtee
There's so much juicy stuff in there that I want to like, I want to dive into, and I really, I think you're right, like my, my experience of your work is, yeah, this idea of you being a bridge or being a connector between different communities and also like different modes of practice, I think, different forms of practice, in a sense. You're very good at bringing, bringing people together and, you know, creating a container for shared experience to happen within.
Theo Wildcroft
Thank you
Harriet McAtee
You're welcome. So, how did you I'm curious, I know we've spoken about this before, but I'm curious about how you ended up sort of doing the PhD that you did. And, you know how you landed? Because, you know, give to give credit where credit's due, you are one of the leading scholars of, you know, contemporary yoga in the UK, if not, you know, worldwide. You know, you, you occupy a really, you know, you occupy a really special place. So I'm curious about how you, yeah, how you came into that into that world of like bridging academia, bridging sort of grassroots yoga communities, etc.
Theo Wildcroft
Yeah, I think I think one of the things that interest that's interesting about that is, I guess, my own journey into and through higher education. Because I think possibly like a lot of people like kind of almost, I almost landed at University as an undergraduate, really not having a clue what was going on and what my place in it was. Um and that was kind of exacerbated by the fact that I got a, as an undergraduate, I got a place at Cambridge as kind of state school kid. So I mean, I went from, you know, a tertiary College, in the northwest of the UK, where, like, you know, some of my friends were doing hairdressing courses and, and things like that, too. Cambridge, like. And I mean, you know, right down, it was insane. It was completely insane. I, and I remember about a, and I know, it might sound like, well, how can you do that by accident, but it happens a lot, I think with state school kids, because what happens is someone says you should apply to Oxbridge. And you go yeah, okay, that sounds fun. And they tell you, it'll look good on your UCAS form. And then you do your UCAS form and then they go, you come for an interview, and you go, that will be insane. And you go for an interview and you come out again, that was the weirdest experience of my life. I'm like, I will never forget my interview, like in this Cambridge college being asked in Spanish, no doubt in Spanish, which I've been studying at that point for like three years or something. I being asked what I thought the phrase the implacable eye of the camera meant… 17 years old at the time, okay, I don't know, even when what I said in Spanish back to them. But I remember it being one of the most terrifying moments of my life. And, you know, there were various interviews, and it was all very weird. And then I kind of went home and went, well, that's that done, you know, that was my kind of Cambridge story. And then they said, Well, you know, you can come but only if you get two A's and a B, and I went, well, that's never going to happen. And then I got three A's. And then all of a sudden, it was like, 18 years old heading to Cambridge. And I remember, they trying to explain to the adults around me that I didn't know whether I wanted to go, I didn't know what it would mean, I think it was just generally terrifying. But you don't turn down a place like that. So you just go and I kind of became estranged from my family during the course of my degree. And you know, generally like got to the end of it, and it was just like, well, that nearly broke me, but I survived it. And now what the hell do I do and kind of you know, I didn't have family support, I didn't really have guidance I had literally it was just me and my girlfriend and that was about it. I'm so I got a job in Waterstones in the middle of Cambridhe and started selling books, children's books at that, because I really understand all those books. I did that for a bit and then I kind of you know, went to France and just cuz I'd my most of my degree was in French, I went to France and then came home from France with a different girlfriend and kind of decided I was going to be a tattooist for a bit and there was this amazing moment having tea with my like, literally my dad for a cuppa. And he was there. And he said, I thought you were coming back to the UK to get a proper job. What do you mean tattooing isn't a proper job? I was no idea it was just the whole thing is like yeah, it just makes no sense. And there's there's a high strain of impulsivity in my life which now I believe on evidence might be just a tiny wee bit related to undiagnosed ADHD. Did you know there's an impulsive form of ADHD when I found that out explained most of my life, and then I did my masters because I was doing a job that was related to the masters. So and there I am in kind of my late 30s just kind of getting on with my life. And I was a yoga teacher and I was doing you know, I kind of fallen into that. And I was doing that thing and I was sitting with a friend festival. A good friend of mine, and we were you know, we just used to spend the evenings kind of talking the world to write and we were talking the world to rights and I would like waving my arm around this festival going Why is nobody talking about this? Why is nobody aware that this stuff goes on? There's this huge subculture of events and festivals and kind of the, you know, subculture in particular that goes on here in the UK, particularly in the summer. And why is it completely absent from people's from kind of most people's understanding. And in the end, he said, Look Theo in one way or another, you either have to write a book about this, or you have to do a PhD because this is insane. And then he added an immortal line, which is like, it's like an academic chat up line, which he's very good at. And he said, Theo. I'm not saying that you'll regret not doing a PhD. I'm saying that academia will regret it if you don't like that is the literal definition of academic pickup line. And I went, Oh, well, now I have to do it. So. And yeah, for a while it was going to be in was going to focus more on the festival scene? Or was it going to focus more on the activities that were happening at this festival scene, particularly the kind of not just the yoga, but the yoga and the dance and kind of, you know, five rhythm sessions and contact improv sessions, and, you know, all of these forms of practice and all of these forms of coming together and forming relationship. So. So that's how I ended up doing a PhD. Which I'm, you know, I had no idea what that would really entail, or what that would look like, and it was, yeah, it was just this massive learning curve from day one. And learning curve number one was I, I was technically in the religious studies department. I'm, you know, I still am, it's, you know, technically my discipline is religious studies. I'd never done religious studies before, I'd no idea what that was, I spent the first three months essentially reading the the MA material, and getting a sense of what this was as a subject. Yeah, so um, yeah, there's a kind of an ongoing thread of a real tendency to just kind of find myself in places because they were important. And I thought they were important. And the problem when you is, is when you start to say, Why is nobody doing this? Loudly? That's kind of your way of volunteering, right?
Harriet McAtee
Yeah. No, I really, I really hear that. I want to talk about this idea of like a yoga scholar being in a religious studies department, because I think a lot of people will experience like a bristling or a resistance, or some sort of cognitive dissonance around yoga, being thought of within that environment, particularly if you're sort of what I'm going to lovingly call like a lay-practitioner, if you're not a teacher, if you're sort of, you know, somebody going along to yoga studio on a regular basis, like it's a practice, it enriches your life in some way. But you may not necessarily think of it as being in the same sphere as religious studies.
Theo Wildcroft
Yeah. Yeah. And that, that's, that's a fantastic place to kind of, to start talking about this stuff. Because I'm, you know, one of the things I'm doing at the moment is, I'm teaching on some introductory introduction to religious studies courses, undergraduate level, and it's a big problem, because a lot of students think they know what religion is. And what we're saying to them is actually, as an academic discipline, what we study would surprise you, you know, I have friends who are whose PhDs investigate everything from BDSM, to, you know, Scientology, to yoga, to heavy metal music, to all sorts of different things. And we're not saying that any of those things aren't a religion. In fact, there's a huge amount of debate within religious studies as to whether a religion actually exists. Like, we have this idea that there's such a thing as Christianity, or Buddhism or Hinduism. But the reality is, these are labels and their labels often that are externally produced or political, there's political reasons for having them. And that's not that's not to say that a Buddhist can't say they're a Buddhist or whatever, like you'd like it labels are really important for as long as they have meaning to you as an individual. But it's precisely that it's how do you make meaning in the world? How do you navigate the world? How do you wrestle with the big questions? And if therefore, you can start to think not about a religion with a label on it, and more about what are the activities that are religious in that they help create meaning in our lives? Um, and even people who would say, I have no religion and I not religious at all. One of my questions to them then is, well, you know, if your nan dies, do you put her out for the binmen? Because if you do something to mark that event, if you do something to memorialise if you if you have rituals, if you have meaning, then you have a form not of religion, but what Malory Nye religion-ing, which is really interesting. So Malory Nye is a theorist who says that religion is a verb. It's not necessarily an identity. So we've politicised all of these identities. And a lot of those identities were politicised during the spread of colonialism in particular, the idea that there was such a thing as Christianity, Islam, Hinduism, so on and so forth. In many ways, it's the product of an academic environment that was trying to label subjugated peoples and say, Well, this is what these people believe. And this is what these people do. And these people eat fish on a Friday, and those people do this. And those people are about that. And we're gonna give all those labels often from the outside, right? So it's not necessarily self chosen labels. When you talk about Hinduism, for example, you know, these days, you know, Hindus would say they were Hindu. But if you talk to practitioners, they talk about Dharma, they talk about practice, they talk about these are the things that we do not I do this because I'm a Hindu, do you see what I mean? Like, these are the these are the paths, these are the ways that I walk through the world, this is what was important to my grandmother. This is what was important to my ancestors. This is the land that feels sacred when we walk on it. These are the ways we mark the turning of the year, or the people passing or so on. And so it's so much more than just here is my label, and therefore this is what I believe. So religious studies really attempts to kind of talk about all of those things. And that very same friends that got me into this mess in the first place. His name is Graham Harvey, I always like to name check him. And his he has the most brilliant book on Religious Studies. It's called Food, Sex and Strangers. Because
Harriet McAtee
Oh it's clever.
Theo Wildcroft
That's his argument that it's all about food, sex and strangers. Basically, so you know, who do you eat? Who do you not eat? Who do you have sex with you do not have sex with? Who do you consider to be part of your family? Who do you consider to be close to you? Who do you consider to be strangers? And religion is kind of all of those cultural practices, which navigate that will help us to navigate that. Like,
Harriet McAtee
I mean, if we're looking at it through that lens, then the way that contemporary sort of transnational yoga operates definitely functions in a religious capacity, doesn't it?
Theo Wildcroft
Totally Yeah, because it is absolutely as about how we make meaning is how we make meaning through practice. And although we might not have a single set of beliefs, it is, you know, part of the practice is about figuring what the answers are for you as an individual and what's ethical behaviour what, you know, how do we, how do we relate to different kinds of ethics in in yoga, how do we, you know, what do we believe about the way the universe works? Um, you know, all of these things are things that yoga practitioners debate all the time, any, anytime I think that anybody says, it's not just about the poses. Firstly, I would argue that the poses are still important, but also, that all of those other things, if they're part of the picture, then they're part of us figuring out how the world works and how we fit within it. As another one of my favourite theorists, Robert Orsi who says that these are the signs and symbols that everyday people pick up to make sense of their world. And I love that, because that's my practice.
Harriet McAtee
Yeah, I really love that. And it just makes it, it makes it all seem so like, so much more accessible and personal and universal, all at the same time. I think often what happens for people is that religion and theism are often conflated, like this idea of a religion needing to have a god or gods associated with it. And it's like, if somebody is well, I don't believe in that, then they view themselves as not having this religious aspect of their lives. I think it's really interesting, actually, when so on, on dating apps, when like people can self identify their religions, right. Which is just fascinating to me when somebody puts spiritual because,
Theo Wildcroft
yeah, what does that mean?
Harriet McAtee
What does that mean? Like that could mean? That's like saying, that's like saying, human like, like, everybody, everybody has, like, a, has the capacity or has a spiritual component, even if their spirituality revolves around their football team, or, you know, like, their family or, yeah, it's, you know,
Theo Wildcroft
it's also there's also this really interesting unexamined hierarchy about what's important in life. I think if you look at even the most what we would consider to be the most right traditional mainstream of religions, in many ways, that kind of stuff that we might agonise around being really the heart of religion now you know, like what do you believe what's important you know, how do you believe in the you talk to God? and so on. That's kind of in many places for much of history seen as something that the religious specialists take care of like, that is the priest's job. It's the priest's job to do all the talking to God, but you just turn up every Sunday, and you know, you do the things that he tells you to do. They and I find that fascinating, it's a different way of seeing these kinds of things. You know, there's stories, as, as many people know about the, you know, the Catholic Church, went from Latin mass to English mass, a lot of you know, there were Catholics who were like, what, I'm not interested anymore, I didn't want to understand it. I didn't want to have theological debate. That's, that's there are specialists to do that stuff. You know, it's like, that sense of kind of, like, it's kind of your job to do that. And I wonder, that is also true of a lot of yoga teachers like,
Harriet McAtee
I was just thinking, I was like, Are we the priests?
Theo Wildcroft
This is our job, right? Yeah, yeah, it's our job to do that stuff. So that our students don't have to worry about whether they have to be vegan or not, or, you know, or learn any Sanskrit they're like, oh, no, it's just, you know, I just, I go on a Wednesday morning, and I have a nice time. And, and it's lovely, you know, they want other people they want religious people to exist, that doesn't mean that they want to be the professionals themselves. So I think that's also an attitude. I think that's really implicit in a lot of people that we don't talk about, or we don't recognise, just because you want somebody to be religious doesn't mean that they you need to be the person doing the thing.
Harriet McAtee
I'm a really big believer of that just in life in general, like, you don't need to do all the things. Yes, I know, that's like a, that's a very, like, obvious, obvious thing to say. But I feel like we can often feel a lot of pressure to, like, do everything. Like, for example, like I used to, I just, I used to have so many hobbies. And it's not that I don't love a hobby, but I had so many hobbies at a point where I was really unsatisfied with my work. And I think also, you know, circumstances in my personal life. And then as those things sort of resolved themselves, I sort of kept up these hobbies for a while. And then I was just exhausted from doing everything, and then realised that I didn't have to do all of the things, you know, and that I was quite happy. Yeah, like letting letting some of that go. Well, like, it's like, when people tell me actually, this is what I get quite often is because I love anatomy. And I love bodies, I'm often told that I should train to be an osteopath, or a physio or something. And I'm just like,
Theo Wildcroft
No, no, no, I don't have to do all those things.
Harriet McAtee
Don't want to, like think it's really interesting, but I've got my way into it and my way of working with it. And I don't, I don't, I also don't need to professionalise it beyond the way that I already have.
Theo Wildcroft
Yes, yes. Yeah, yeah. Yeah. And it's interesting how much that kind of sort of happens within yoga studies as well. Because, you know, the other discipline, obviously, I'm involved in is yoga studies, which is what was known as an area studies. It's a particular kind of discipline. And sometimes there is that sense that maybe you should be into all of the things they say, I always have this slight sense, like, I should know, Sanskrit better than I know Sanskrit. Or I should be a pre modern specialist, or so on and so forth. And one of the things I think that academia does teach you is that if you want a real advancement of knowledge, then people have to specialise. You have to be able to rely on colleagues. And you have to be able to say, Okay, well, this is what I understand about the science from this person. Maybe if I'm, if I want to know about biomechanics of how bodies move, I'm going to talk to Pete Blackaby. I'm going to talk to Jules Mitchell, like I can figure out some of that stuff on my own, and I'm gonna learn from them. But if they tell me, this is what we figured out, actually, I trust them, I do trust them to have an answer that works for me. And then the same way as the Sanskritist says, Oh, yes. You know, in the last 20 years, we've figured out that the meaning of this word is this in some ancient texts, I'm going to be like, cool, awesome I found that out. So I think part of the like, one of the issues we have with social media and modern life in general is this sense of like, everyone has to do their own research. Like, trust me, I do a tiny amount of research in the grand scheme of things. And I like I would not, I don't have the hubris to believe that I could do research in psychology or in biology or in physics, like, I know how difficult research is in my small area. I know how to do fieldwork. I know how to do interviewing. I know how to do you know kind of discourse analysis, those kinds of things. I know how to do movement analysis, and I know how much training and self reflection it took to do that in any way well. And I know that I spend half my time grumbling about the researchers for not doing it well. The idea that you can just as an example, understand, virology, by watching some things on the internet, yeah, I don't get how much shit you've watched or read like, no, no, you can't not everyone can do their own research, right. And that's not the same thing as oh, you should always believe people. But it is one of the things I think we've lost is the idea of a trusted circle of experts. And we know this is something that you and I have talked about before that it is actually really important to know who you can trust, not to be cleverer than you, but to be more of a specialist than you in a particular area. Like, like, if I'm, if I'm going to take my car to a mechanic with clutch failure, I'm not going to go, I've looked on the internet, and I think you'll find,
Harriet McAtee
well, it's all about, it's all about recruiting, it's all about recruiting a team, isn't it? Somebody once said to me, because I am very much of the attitude where if somebody can do something better than me, I'm going to pay them to do that. So you know, I have a great hairdresser. I have an amazing accountant, I have somebody that takes photos for me, I have wonderful Matt here, who is producing the podcast, you know, like I recruit a team to help me and we all help each other and like that's, you know, that's how we get things done. Well, Theo I'm very, very glad that you're, you're on my team.
Theo Wildcroft
Yes, and vice versa.
Harriet McAtee
But we have dramatically run out of time.
Theo Wildcroft
Have we, all of a sudden,
Harriet McAtee
We did we did spend 10 minutes talking about mustard. So
Theo Wildcroft
we did that was the gentle introduction to the hardcore academia.
Harriet McAtee
Yeah, and we've come full circle again. So just to finish off, where can where can our listeners find you? Where can they get in touch with you
Theo Wildcroft
getting in touch? That's actually there's a complicated answer to that. But there's a really simple one. And I like the simple one. And the simple answer is, as far as I am aware, there is only one Theo Wildcroft. In the world. Generally speaking, if you want to find me, you can Google me, I am on Instagram, and you know, all the usual platforms. But I'm also in the process of redoing my website. So although my website at the moment is wildyoga.co.uk, there's there's a new one waiting in the wings that's in our heads that hasn't been made yet that I have my team working on at the moment. So the short answer is find Theo Wildcroft. I'm out there.
Harriet McAtee
Wonderful. Well, I could have spoken to you for hours, as I often do on a regular basis, as usual. But thank you so much for joining me and I'll see you soon. Thank you for having thanks for listening to In Our Experience. Don't forget to subscribe, rate and review the podcast. We love hearing what you think and it makes a really big difference. In the meantime, until the next episode comes out. Why not check us out on our Instagram account @nourishyogatraining, or pop us an email via our website. See you soon!
The best way to support In Our Experience… is by subscribing, rating and reviewing the podcast wherever you listen to us! Share with a friend and tell them to rate & review as well. 
We'd love to hear your comments, thoughts and questions. Pop us an email to say hi!