episode description & show notes
Harriet is joined by Aisha Nasha, a yoga teacher based in London with an emphasis on body neutrality and accessible yoga.
In this episode they talk about persimmons, yoga post-covid, valuing what we do as yoga teachers, neurodivergence on the mat and finding ourselves in home practice.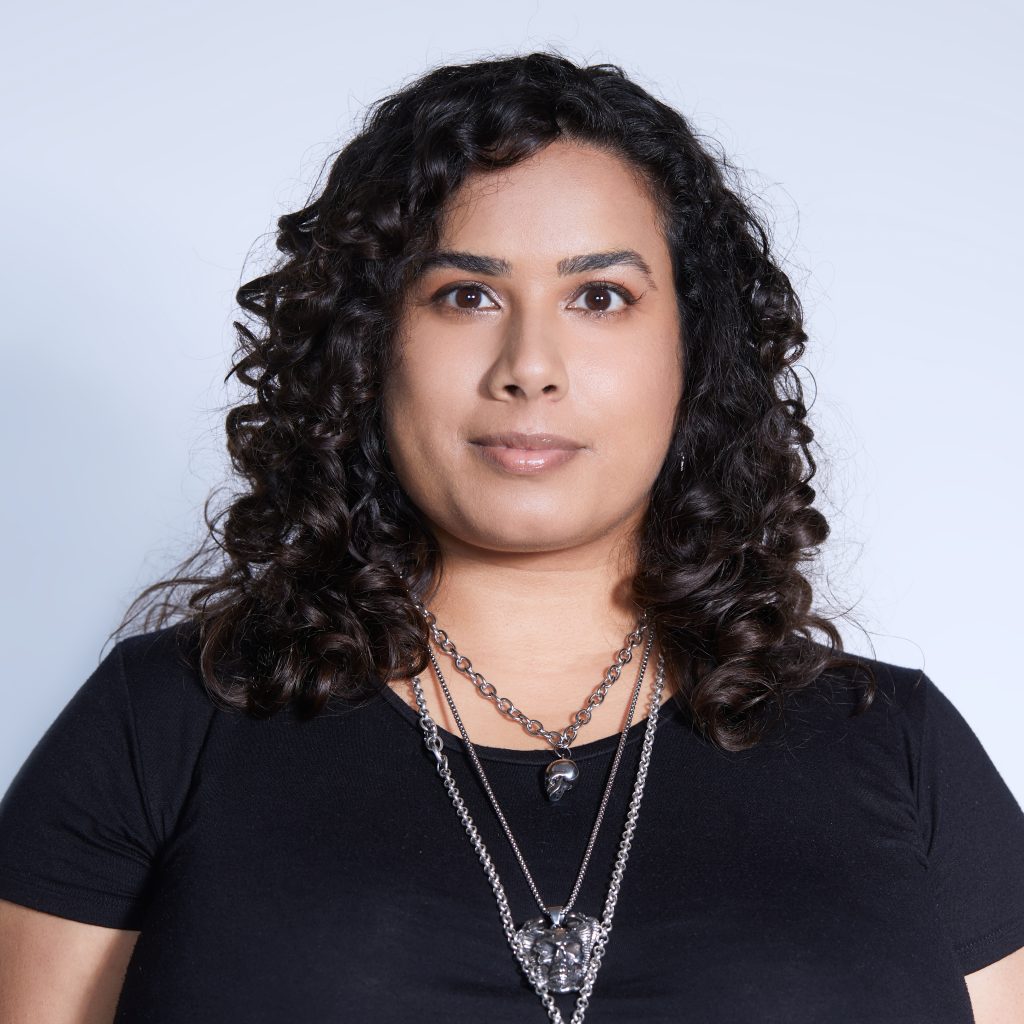 Read the full transcript:
SUMMARY KEYWORDS
yoga teacher, people, yoga, teacher, teach, person, studio, feel, brain, week, aisha, home, places, find, practice, nourishing, practising, body, class, hear
SPEAKERS
Harriet McAtee, Aisha Nash
Harriet McAtee
Welcome to In Our Experience, a podcast exploring the many ways of living well with Nourish Yoga Training. I'm your host Harriet, yoga teacher and founder of Nourish. Today I'm joined by Aisha Nash. Aisha is a yoga teacher based in London with a focus on body neutrality and accessible yoga. I had an absolutely awesome time talking to Aisha, we could have kept chatting for hours, we covered a really broad range of topics from yoga post-COVID, valuing what we do as yoga teachers, neurodivergence on the mat, and finding ourselves in home practice. I'm really excited to share this episode with you. And as always, would love to hear what you think, either by popping us a message or an email, you can find how to contact us in the show notes. And here's my chat with Aisha. Well, hi, Aisha, it's so lovely to have you here today. Thanks for coming on. How are you doing?
Aisha Nash
I am doing well. Thank you so much for asking me to be here.
Harriet McAtee
It's a pleasure. I'm really excited to chat with you. But before we dive in every week, I start by asking our guests the same question, which is what's nourishing you this week? And it can be sort of big or small, silly, serious. And to help you out, I will share my nourishing thing first. And for me this week, I really have been enjoying watching Strictly Come Dancing. I know it's like, I know it's silly. I know. It's like, I know, it's just sort of not the best, but it also is the best. And I really have been loving, loving watching it this year. So that's my nourishing thing. What about you?
Aisha Nash
For me, just in case you have any international people. There's like a grocery store here called M&S, which is like a chain and it's really posh. And every week, it changes up like it's specials. So it will have like fruit and veg but like down to a reasonable price because everything else in that shop is not entirely reasonably priced. And this week, they have persimmons and squash. And so that's what I'm living on right now. Because they are both my favourite things in the world and the squash, they have like a whole load of different types. And it's just so delicious, like baked in the oven with a bit of brown sugar, bit of salt and some butter.
Harriet McAtee
That sounds so good. I am like, so pleased that you're a persimmon person, because they are a divisive fruit.
Aisha Nash
I have not found anybody other than me and my family who enjoy them and my family will. Anytime they come across them, they'll buy them for me. They're just so delicious. And everyone else is like that's a fruit that exists?
Harriet McAtee
I adore them. I don't I used to eat them all of the time in Australia, and I haven't really found them here when I have found them, they also haven't been as good because they need heat, don't they essentially to sort of ripen but my favourite ones are like the ones that are essentially like, mush on the inside that already like they've started fermenting in their own skin. I'm like that's that's the persimmon for me.
Aisha Nash
See, I'm completely different. I like the really little ones,
Harriet McAtee
The crunchy ones you like crunchy crunchy ones?
Aisha Nash
I love the crunchy ones. It's the crunchy ones they've got the moment. They're beautifully sweet though.
Harriet McAtee
They're still pretty good. I will still I will still eat a crunchy persimmon. I'll let it pass. Wonderful. Wow. Um, let's dive in. I thought we could start by firstly, you know, I would love if you could tell me a little bit about your background, and also how you would describe what you do?
Aisha Nash
For most people what I describe how I what I do is I'm a yoga teacher. And that's pretty much it. I got into it to rehabilitate my body, saying that, I've always been a person that adores and loves yoga since I was a child, my mum would take me to her lessons when I was a baby. And she was you know, just trying to like get through existing. And it's always been this little thing at the back of my life that I constantly go back to when the rest of life is a little too much. When I burnt out of being a pastry chef, and I couldn't physically carry on with the career anymore. I then found a yoga studio and would not leave. And then the usual story of Oh, I like the place so much I did their teacher training and yeah, it kind of developed from there. I wasn't quite sure where I wanted to go with any of my career, whether I wanted to go back to being a chef, whether I wanted to be a yoga teacher, and then like the dominoes just kept falling to make this a career of some form, so I just kind of followed it. And yeah, now I'm here.
Harriet McAtee
And we're so glad we're so glad that you're here. I'm, you know, I, I'm such a big, I'm such a big fan of your work. And I, you know, not only do I think it's really important, but I also love how you go about your work. Like there's a real sense of, like, humour and human-ness is, I guess how I would put it, you know, you you really show up in a way that feels really authentic and interesting. And I love you have a very dry sense of humour, which I always really appreciate. So perhaps, you know, in that sort of vein, you know, I guess, what are some of the key values that, that drive your work? You know, when you're, you know, you're talking about sort of following the opportunities and following that sort of cascade into a career. You know, what are what are some of the key themes, the key values that really drive what you say yes to, I guess,
Aisha Nash
Well, a couple of things. Firstly, I have ADHD. So if it sounds boring, or if it sounds in any way at all, like it's going to be a drag, I will say no. And that is really my main sticking point. And that has thankfully carried me so far. Which is really good. Like, it has to be an a resounding yes. From like, not just like, my brain going "Yes, money". But also, like, it has to feel true in a way it has to feel good. In terms of my values with what I do, it comes from two places. Firstly, as a pastry chef, my absolute joy when I was a chef was seeing people try meals, and it reminding them of something and it reminding them of home. And that's, that's a beautiful feeling that you can make someone feel like they're at home, like they're accepted, where they'll bring up their childhood memories, and they'll feel held in a way. And I try to bring that feeling into each yoga class I teach. Because this this community, this industry, it can be really heartbreakingly harsh. And people are raised in such a potentially traumatic way that they don't realise it's okay to be want to want to be loved or want to be accepted. And to want to be held. Not physically, but like within space, and an understanding space. And that's what I hope to create, whether that's the workshops I teach, or whether that's the classes I teach, I want everyone to come in and know that they are a very welcome guest, I guess that's the hospitality industry in me, and then also the Indian culture, I want people to feel really welcome.
Harriet McAtee
That's beautiful. I think this idea of, you know, people coming home to themselves, in a sense is really interesting in what we do, as yoga teachers and in yoga classes. And how we sort of facilitate that, as yoga teachers, I think, is, is really fascinating. I think that the thing that I have discovered more and more as I've been teaching longer and longer as well is that, that that's something that we do really just facilitate on behalf of our students doing the work for themselves of sort of creating a home of creating a sanctuary in themselves. And you posted something recently, recently on Instagram, which I absolutely adored. And you are essentially making a comment on the fact that we use this phrase like "listen to our bodies" all of the time as yoga teachers, listen to your body, listen to your body. But if our students don't speak the language of their body, in a sense, if they don't know what their body's saying to them, then actually it's a pretty useless thing to say. And we need to educate people on how to listen and what to listen for. Otherwise, we're sort of just throwing shit out there and it not really meaning anything.
Aisha Nash
Yeah, completely. I have found especially within I kind of delve towards posting things about neurodivergent people, because that's the stuff that I can relate to. And I find a lot of times we take things at face value being neurodivergent, we, we don't really look for the nuance behind what people are saying we just kind of accept it as it is, unless there's a nuance in the way that the person is behaving, which doesn't click with what they're saying. And that means that we, we feel like everybody knows exactly what they're saying. But as we found out, or as I found out that post, most people don't actually know, at all what they're saying when they're telling people to listen to their body, or even knowing words like interoception, or proprioception, or having any sense of what a person who's been told their entire life not to listen to their body. How weird those words even sound.
Harriet McAtee
Yeah, I really hear that there's sort of a, there's a bit of an access issue there, right from the go around the way that yoga teachers speak. And I think one of my frustrations is that there's this sort of, it's like a mystification of the practice, through language by teachers, like when we use abstract language, or sort of more conceptual phrases. It sort of keeps it Yeah, it creates like a barrier for people between the practice and and them. And then you know, and then even more so as well, exactly as you say, if there's an element of neurodivergence there as well. I am curious to hear, you know, maybe if you feel like sharing other ways that you feel your neurodivergence influences how you teach, or how you approach the practice, because I think this is something that, you know, more people definitely need to be aware of. And more yoga teachers in particular, like they will be teaching neurodivergent students without even realising.
Aisha Nash
A couple of things. It's always, it's always never a straight answer with me, there's always a few places to go. I don't do any of that abstract spiritualism, within the way that I teach, I am very, like, you want to engage, like, say, Warrior 2 I'll say, you want to engage your thighs so much, you feel like you could rip the mat in two between your feet. And people will always find that like, that's, that's really like violent as a as a cue. And I said, Well, how else would you like me to describe it. And they'll, you know, other teachers can describe it in really flowery, really abstract, really, conceptualist ways. But for me, I never understood what any of that meant. And for my, for an example, my yoga teacher training, and this is where that neurodivergence, lack of understanding really shows, when I was doing my yoga teacher training, we had a physical practice every morning, and every evening. Every morning, and every evening, for the two weeks that we were doing the intensive, my yoga teacher would do the exact same physical adjustment on me. Every single time, but at no point did she break down to me, this is what I'm doing. Because you're not doing this in your body. I would like you to do this in your body. This is what I'm getting at. And I had no idea what she was getting out. Honestly took me three years after my teacher training to be like, oh, oh, shit. That's what that was go-. That's what what was going on. And I feel there is such a attachment to the correct way of learning, not just as yoga teachers but like the whole world. But especially when people are coming to something that they've chosen to come to as adults, they chosen to pay for this, then we shouldn't be going well, you can't learn it the way that I'm teaching you. So obviously, you suck.. it should be more wait. I as your teacher, I'm not communicating it in a way that you understand. That's on me, I need to change the way that I speak it, or the way that I show it to you so that it makes sense. So in my classes, I don't physically touch anybody. I will pop by them, and I'll go Hey, sweetie, so I'm looking at you from the outside. And what I can see is this is going on in your body. I'm going to offer you this could you try this and tell me how it feels. And if they don't understand what I'm saying, then I may repeat myself. I may repeat it in different ways. But at some point them having to understand something is on me as the teacher and the way that I communicate with them. So that's how I show up in my classes. That's how I respect that everybody's brain is different. And it's not even, you know, having a diagnosed condition, everybody's brain is slightly different. We've all gone through loads of different things. And we've all grown up having parents that speak to us in different ways, having teachers that speak to us in different ways. So we understand things through different lenses. The other thing that which is a message to yoga teachers that are teaching is people are going to fidget. Stop asking me to sit still, people are going to their spines aren't going to be straight. And that's okay. Nobody got to be a better Yogi because they could sit with their spine straighter, or their legs crossed. Like I always get a giggle when I say this in my classes, and I will actively show this by not sitting cross legged. I'll say, look, I sit this way, because I'm Indian and I have been sitting this way since before I could sit in any normal way. We always sat on the floor cross legged, and we lived in London. So like, it's, it's a cultural thing. It doesn't mean anything about you, if you can't sit cross legged doesn't mean you're not going to attain samadhi and blissfulness. If if cross legged hurts, like just give it up.
Harriet McAtee
I I just couldn't agree with you more, particularly on the fidgeting thing, the number of times I'm a fidgeter, as well. And the number of times I've been in yoga classes where stillness has been put on this pedestal of like, you're not, you're not unless you're still you're not doing things right. And it took me a long time to let go of it, it took me a long time to sort of be like, well, actually, no, like this is how this is what my nervous system needs. This is what my body needs. And, you know, to sort of bring it back to what you were saying about different ways of learning. So I, I'm not a, I'm not a note taker, like I have pretty good recall. So like, if I can listen to something, I can retain it usually most of the time. But what I am also is a really, like I integrate knowledge through movement. So when I'm, I'm when I'm on teacher trainings, like I'm the person in the room that's like rolling around on the floor as the teachers teaching things. And I'll be like lying on my back and then lying on my side. And I think some people find it quite distracting, but it's what I need in order to sort of keep myself present with like taking in the information.
Aisha Nash
So I teach a yin yoga class. And what I've started adding in the beginning, is we are going to start lying down or seated. Unless that doesn't serve you. And if you know that to come into the space and to settle into the space, you require movement, please do so just try and do it in a way that doesn't make a lot of noise. So it doesn't audibly distract the people around you. And I'll say this for shavasan. I'll say this for any point, because I'm like, honestly, who am I to tell you that what you're doing is wrong. If it helps you chill out
Harriet McAtee
100% I use similar language. So I'll often talk about starting in any comfortable position. And I'll say like today for me, I'm going to sit cross legged, but whatever feels good for you. And then it's the same for the end of practice as well. So for me, like shavasana is a concept, not necessarily a pose. So it's however, you feel most restful today, however you feel most at ease. And also that can change as well. Like I think, sometimes, for me in my body, like I'll come into a resting pose. And I'll think that's where I want to rest today. And then five minutes into Shavasana I'll be like No, and I'll, I'll need to change as well. And we really, I think, as yoga teachers need to, to celebrate that in our students, but also also let them know that it's okay. And if we're not being explicit about move if you want to, fidget if you want to, like what's comfortable for you today, if we're not doing that work of holding, you know, as you were saying of holding that space for them, then how do they know that that's okay? We make so many assumptions as yoga teachers that yeah, are just wild to me.
Aisha Nash
Yeah, completely. And so I mostly teach women and what I found is you grow your entire life within the media and the social media and the out of the outer world of diet culture. So you've grown up your entire life being told, No, you're wrong. Everything sucks about you in some way or other and it's you that needs to change And I think that's a bit crap. But also, if you've grown up your entire life being told that, then how are you going to know what's okay in a yoga class? You're also then just going to listen to the teacher and take what they say, as law. Because there are so many rules that we take on that we don't even know that we've taken on.
Harriet McAtee
Yeah. 100%. And, I mean, I just couldn't, I couldn't agree more. And I'm really pleased that you, you brought up the sort of the broader social and cultural context. Because, you know, I mean, I can feel a rant coming, but you know, it, it, I think it just goes so unacknowledged, particularly within mainstream yoga. Because, because yoga sort of has this health halo around it, which is a health halo you put there by diet culture anyway. But people think that, you know, you know, people who maybe don't practice yoga so much, or aren't as embedded in in the culture, are surprised that there are these sort of, you know, harmful damaging elements in there. It's like, when I talk to people about abuse within yoga, they're like, "Oh, I didn't realise that yoga had an abuse problem." I'm like, well, it's like any institutionalised discipline, like there's gonna be people that that take advantage, but it's the same with, it's the same with diet culture. And it's the same with body image and, and all of those sorts of issues. Like they're all, they're all in there.
Aisha Nash
Yeah. And then you get this image of a holier than thou sort of flighty yoga teacher. And people will never link the two. Because it has such a soft image. It has such a quiet spoken, literally walking, like they float sort of people. And that is what everyone imagines yoga to be. And unfortunately, that's how it's sold. That's how it's sold. And I don't just mean by like studios, or gyms, that's how it's sold in TV shows. That's how it's sold in movies. I can't tell you the amount of times I've seen I live in a place with loads of high rises being built at the moment. And I can't tell you the amount of times I've seen these places sell a higher, higher range flat with the idea that you have access to wellness studio. And on the catalogues, they'll have people doing yoga, or at least downward facing dog to sell a flat. But it all adds to that imaging. And all adds to this kind of pastel, feminine violet child sort of thing going on. And then when you speak about the violence and the abuse that has happened in the violence and the abuse that continues to occur, people can't reconcile the two different images. Even the teachers within it can't do that.
Harriet McAtee
Yeah, I mean, yeah, I really hear what you're saying. I yeah, I'm not sure about your experience with this. But sometimes when I tell people that I'm a yoga teacher, I'll get the like, but you don't look like a yoga teacher. And what I want to say every single time is like, thank fucking goodness, I don't look like a yoga teacher. You know, I because because I'm also a real person and I feel like that there are there there's a certain stereotype exactly as you're saying of yoga teachers, where they sort of become like, aliens living amongst us that don't live in the real world and don't have real problems, like do you know, don't have real problems and like, get 12 hours of sleep a night and you know, exist on green juice, and I don't know, like all of all of that crap. And yeah, I sort of take great pleasure in being this sort of non typical, like, radical-ish anarchic yoga teacher.
Aisha Nash
I swear in my yoga classes.
Harriet McAtee
Me too!
Aisha Nash
Yeah. And I'm fat. And I love food. And I, I do everything that basically slaps the stereotype in the face because it annoys me so much, and it annoys me so much on not just on a an imaging view and not just on a you know, what is the stereotype doing to other people sort of thing but it affects me personally, because so a couple of weeks ago, I was absolutely exhausted. And I took a day off. And I was I was tired. So I got my class covered. And then the following week, everyone was complaining to me about the person who I got to cover because it was a last minute covered, I didn't have time to vet them properly. And I said, I'm really sorry, I was really tired. I just needed a break. And one person who's in the class, who's done the class with me loads of times responded with your yoga teacher, like, what do you need a break from? Like, I almost lost it, I'm like this, this is a full time job. This is so much more than me just standing in front of you for an hour. This is creating content. This is planning workshops. This is planning. Like, I don't just sit here and like pull threads of a yoga class out of the air and just teach you I plan this, I write this, I take my time, the playlists I play also require time. But nobody sees that because all they see is the stereotype of like you said, the person that's barely even walking on the ground, who sleeps and is so peaceful, like I've planned next, to take next week off, and everybody is just like, but what do you have stressing you? Like you don't you? Don't you? Like your job is just a hobby. And it's like, no, this is a real career. It's a path that I've chosen, it's something that I do an endless amount of training for. Because I want to be able to create the best and curate the best experience for you. And you view this as a hobby.
Harriet McAtee
I just have so much solidarity with you in that feeling. There's a real I think one of the one of the big issues that we have, as sort of contemporary yoga teachers is this sort of devaluing of what we do. And whether that's, like whether that students but I think it's also like broader than that, in that studios don't value what we do. We don't value what we do, like, sort of more widely. And I'm really, I'm really hoping and I'm really sensing that I think there is a cultural shift coming around that hope so, you know, we're things like the yoga teachers union, and, you know, things we're seeing there, but I think it will take some time.
Aisha Nash
See what I'm finding. Now. Bizarrely, post COVID is during COVID, we had like a little yoga teacher revolution where people were going, No, you will pay me for my time. Because you've just, you've closed, you left me without a job, what am I going to do? I may be self employed, but you physically taken away like, my income by by closing, what are we going to do, and there was a lot of solidarity with yoga teachers being paid and all of this, and I thought that pay would be going up. And I thought that maybe like the newest studios would be reckoning with how they treat their teachers. And that also teachers would be valuing themselves more. However, what I found post COVID is that's not happening. Plus prices class, how much you get paid per hour has dropped. So there may be certain places, the places that I work, where you get paid a decent amount, and the – wage hasn't dropped. But when you have loads of new places springing open, they're not paying a living wage, as far as I can tell. And you still have people who may have done their yoga teacher training through COVID or may have, you know, felt so desperate through COVID that all they've taken on is the lower paid ones. And so I've seen the rate go down since everything has opened.
Harriet McAtee
Yeah. That's, I think that's incredibly frustrating to hear. I, you know, one of the things that I often just, you know, if I think about it too much, I think I sort of, you know, descend into a spiral of doom is just sort of the the sort of the future of studio culture in a sense, like, I'm not sure how sustainable it is. I mean, there are ways to run studios in sustainable, ethical collaborative ways. But it's an issue of scale most of the time, and what that will look like, I think, you know, will really changed as you were saying sort of post COVID, we, you know, we had this sort of reckoning and then, you know, maybe things aren't changing in the way that we would have hoped, I think it's going to be interesting to look further down the line, you know, in two years, three years, five years, and what that landscape will look like, because there's also a lot of people that came to yoga in a, I guess, a consistent way for the first time during the pandemic. And it's going to take a while for those people, I think, to sort of step out into the, I guess, like the in person yoga culture, or the in person yoga scene, if you spent 18 months practising at home, I can understand why that's gonna, you know, even I feel that like, I haven't really been to many studio classes. You know, because I've, I've got used to like being in my little home bubble.
Aisha Nash
Yeah. Before I used to find practising at home, the weirdest thing in the world. And then I was literally forced to do nothing but and now, I have done one class in a studio. And it's not that I hated it for the studio environment. But I hated the potential idea of doing exactly what the teacher said, when the teacher said it. Because unfortunately, in the studio, when you're surrounded by everybody else who is doing the exact same thing, you kind of want to do the exact same thing. And that's not like, that's not a personal fault. That's like you have mirror neurons in your brain that want to mirror everything that's going on around you, like you can't control that. You can a little bit but at the end of the day, when you want to take Child's Pose, and everybody is up doing warrior two, when you're in child's pose and surrounded by 15 people doing warrior two you about like, I feel like I'm missing out on something. Wait, no, I'm really not.
Harriet McAtee
I, I think that's such an important thing to acknowledge as well. And I hear you like, the thing for me is that I'm a fussy bitch, like…
Aisha Nash
Completely!
Harriet McAtee
And I just, I know too much. I know too much about my body. I know too much about yoga,
Aisha Nash
And you can't silence your brain right?
Harriet McAtee
It can't silence my brain. And I have to really trust the teacher and really know the teacher, for me to like, soften into that space and to become vulnerable to what they're offering and to become vulnerable to practising in a group in that way. Otherwise, I'm just sitting there the whole time. And I'm like, like, twitching with rage, or like, I can't I think particularly as well, because I like, because I train teachers.
Aisha Nash
I'm so glad you said it. Like in my brain, honest to God. It's like I'm critiquing them. I can't shut off. The the, the critic from those experiences. It was like, the teacher was a friend. It was someone that I know. And my brain was going, Nope, you shouldn't you should be using Invitational language. That's, that's, that's a little too harsh. You shouldn't be saying it like that. And then like, keep in mind, I would never in my life say this to the person ever. Now, just in case anybody thought that I stopped in any way I did not. I just I sat down and I shut up. And I stayed through the entire experience because at no point am I gonna upset anybody. Just because my brain is judgmental critiquing. But I couldn't, it wouldn't shush.
Harriet McAtee
And you know what, I think that I so for me, sometimes I get frustrated with it, because I'm like oh, for fuck's sake, Harriet, why can't you just be present with this. But at the same time, it's that capacity to have space between you and the practice and space between you and the teacher and have that sort of critical awareness that keeps us safe. Like it's a it's a, it's a safety mechanism. And there are people that don't have that awareness and don't have that capacity to think critically about what they're doing through no fault of their own, necessarily, but, you know, often they'll find themselves in challenging or, you know, potentially harmful situations. So I'm here to celebrate our in a yoga teacher, critical thinking ticker. But yeah, it's a really, and I think, sort of coming back to that idea of home practice as well, I was the same as you, I was just like, I'm not home practice. Like I'm gonna say for about a decade, I was like, not me, not me. Yeah, I don't want to do it. And now it's the majority, like the, like 95% of what I do is is is home practice, I go on retreat once a year with a teacher. And, you know, and that's sort of like where I do my in person practice now. Otherwise, it's at home. And I feel really, I feel really good about that. But I'm also conscious that there's a lot about community and sort of connection that you get from being in a studio that, you know, perhaps I need to think about addressing some other way.
Aisha Nash
So I've found, my home practice feels so much truer than being in a studio ever felt like, there's no need for competition, because I'm just doing my own thing in my own space. And it feels so much safer. I can actually have a shavasan on my back, lying on my back, because I'm not feeling frightened or vulnerable or unsafe. And I understand that the whole community studio aspect, I get that. But also, I'm one of those people who's been really harmed by that faux community aspect, that is kind of put on you when you join a yoga studio, because that's how they sell really. And due to being harmed by that so many times the studio space is not a safe one for me anymore. Weirdly, I find Instagram like social media, DMS. But that's a safe place for me. A place where I can have my boundaries. And like, the online sort of spaces, it's much easier to be like, No, that that doesn't work for me, I'm not going to be doing that. Then to say that in person to a person who is directly in front of you, whose emotions you can see so clearly written across their face. When you say no to them, like you'll immediately see, like crestfallen, and I can't deal with that. Maybe that's people pleasing, but I find it a lot easier to deal with online.
Harriet McAtee
I think that's such a, that's such an interesting perspective. And I think a really useful one as well. Yeah, I quite. I think for me, I quite like online teaching. Like, it really helps me not get lost in it sometimes, which I can I can do and what you're saying about holding boundaries as well, I think is I think is really valuable. Well, we are approaching the end of our time here, although I know that we could keep talking probably hours. But just to finish off, where can our listeners connect with you? Where can they find you, online, or in person.
Aisha Nash
I have a Instagram account @theaishanash, and that will link you to my website that will link you to my email that will also link you to my Patreon because I will record audio meditations and video yoga practices in my own home so that people have access to accessible, body safe, body neutral and neurodivergent safe yoga without needing to feel unwelcome or unwanted. And it's all priced very accessibly so that everyone has access to it really. My in person offerings, I teach for a gym in London called Nuffield and I teach for a couple of them. So those are listed on my website as well. I teach online via Kula, which also is on the website, and for block.
Harriet McAtee
Oh, amazing and will drop will drop a link to um, to Aisha's, Instagram and her website in the show notes as well so you can check those out. Well, thank you so much, Aisha, for joining me today. It's been absolute pleasure talking to you. And I'm sure I'll see you again soon.
Aisha Nash
Yeah, definitely.
Harriet McAtee
Thanks for listening to In Our Experience. Don't forget to subscribe rate and review the podcast. We love hearing what you think and it makes a really big difference. In the meantime until the next episode comes out, why not check us out on our Instagram account @nourishyogatraining will pop us an email via our website. See you soon!
The best way to support In Our Experience… is by subscribing, rating and reviewing the podcast wherever you listen to us! Share with a friend and tell them to rate & review as well. 
We'd love to hear your comments, thoughts and questions. Pop us an email to say hi!