episode description & show notes
Harriet is joined by Carrie Reed. 
Carrie Reed is a yoga teacher based in beautiful Falmouth, Cornwall. She hopes to inspire students to bring their attention out of the mind and into their bodies, so they can get to know themselves a little better. She also offers bookkeeper services specifically for yoga teachers (including being Nourish's wonderful bookkeeper!).
Harriet and Carrie talked about taking risks, finding ease and knowing your values as a yoga teacher.
You can find Carrie here: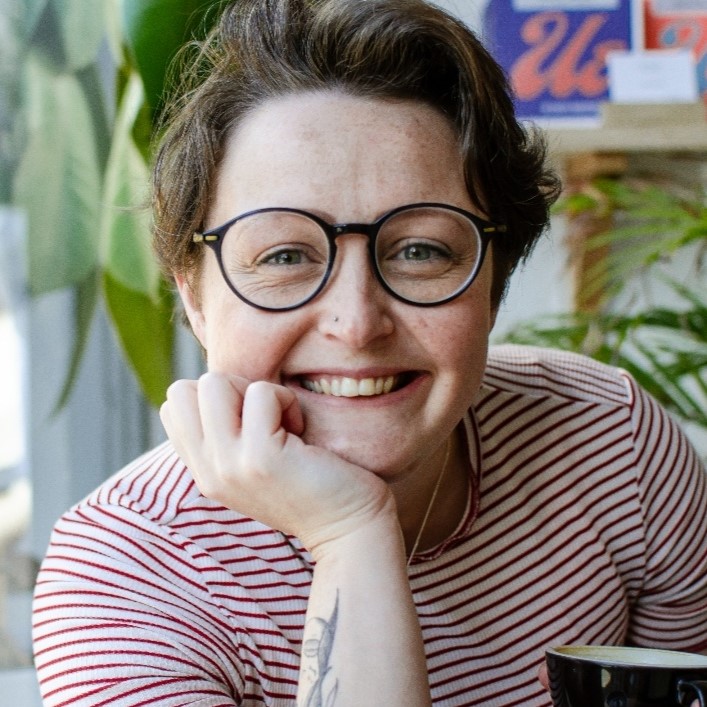 Read the full transcript:
SUMMARY KEYWORDS
felt, yoga teacher, accountancy, teacher training, teaching, class, year, travelling, lovely, training, nourishing, exam, thought, Cornwall, find, hear, week, insolvency practitioners, job, freelance

SPEAKERS
Carrie Reed, Harriet McAtee

Harriet McAtee
Welcome to In Our Experience podcast exploring the many ways of living well with Nourish Yoga Training. I'm your host Harriet yoga teacher and founder of Nourish. Today I'm joined by Carrie Reed. Carrie Reed is a yoga teacher based in the beautiful Falmouth in Cornwall. She hopes to inspire students to bring their attention out of the mind and into their bodies so they can get to know themselves a little better. She also offers bookkeeping services specifically for yoga teachers, including being Nourishes's wonderful bookkeeper, I had a really lovely time talking with Carrie, we talked about taking risks, finding ease and knowing your values as a yoga teacher. One of the things I'm often aware of is that I end up talking to quite established teachers who have perhaps been teaching for a really long time. And Carrie is sort of earlier on in her teaching journey. And it was really lovely to have that perspective brought in. I'm really keen to hear what you think. As always, I can't wait to share this episode with you. So do let me know what you think you can drop us an email, how to contact us is in the shownotes. Right. Here's my chat with Carrie. Welcome, Carrie In Our Experience. It's so lovely to have you here,
Carrie Reed
Thank you so much
Harriet McAtee
Yeah, my pleasure. How are you doing today?
Carrie Reed
I'm doing good. Yeah, really good today.
Harriet McAtee
Excellent. Well, we're gonna get started with the same question that I asked every guest, which is what's nourishing you this week? And as I like to say, this can be anything, it can be small, silly, or serious. And I'll help you out by sharing mine first. So my nourishing thing this week is maybe something that people will be surprised to find out about me, which is that I'm, I'm quite into football. And I'm, I'm feeling really happy today because the team that I support is Liverpool, and we won last night. So this will be recorded. This will be recorded, released, I should say later on. But we're recording it the day after we beat Benfica in the first quarter-final of the UEFA Champions League. So I'm feeling like a proud red supporter today. So I'm finding that very nourishing, what about you what's nourishing you?
Carrie Reed
what's nourishing me. So despite the fact that today is a really grey, miserable, rainy day in Cornwall. This week, I've loved getting to spend time at my allotment. I've, I've got an allotment patch, which is really close to my house, it's just a couple of minutes walk away. And because it's been sunny, I've managed to just get there after not being able to be there for very long over winter, and just make plans and plant stuff and hang out there with friends. And it's just such a beautiful space. It's. It's really incredible. It gets it's like such a sun trap. It has a beautiful sunset. So that's just really boosted me this week, because I've thought, oh, yeah, that's this is where I'm gonna get to spend a lot of summer. And that's just really lovely. It's just a nice reminder that after a cold, rainy winter, that I have that space to look forward to spending time in.
Harriet McAtee
Oh, that's fabulous. What are you planning to grow this growing season?
Carrie Reed
So I am a total amateur allotment owner. I got my allotment last year around this time last year. And it was a little bit too late to start planning and planting stuff. So I kind of just relied on what was there before. And the person that owned the allotment before me had had it for 12 years.
Harriet McAtee
Wow.
Carrie Reed
And they'd really looked after it. There were blueberry bushes, strawberries. There's a big crab apple tree in it. Like, golden raspberry canes. Like gooseberries It was everything you can imagine flowers like and the beauty of it was last year that I had no idea what was planted here. And when I got it It was just after winter. It was all looking a bit sad. It was a bit neglected. There's a lot of grass. So it just looked very overgrown. And gradually I started buying some tools. And I bought a manual lawnmower which by the way, the most therapeutic thing you can ever do. It's so much fun. Like pushing this manual lawnmower, there's something so lovely about it. And then I just got to see all these things just crop up
Harriet McAtee
Uh Huh
Carrie Reed
So at different times during the year, I'd go No way. Look at all these strawberries and within a couple of days, I had loads of them. I had too many strawberries I could eat. I was like trying to give them all away. I had loads of rhubarb. I've still got some of my freezer like I was giving it to friends. And then just when you think okay, that's about it that saw that was going to grow. I had these beautiful clumps, juicy, bright yellowy, golden raspberries, just canes and canes and canes of them. I just had too many that I could eat. I was having to be like, please take some of these. Like knocking on people's doors, like Do you want some, like, I've got spare. But that was so lovely, and like mint, and then the mint started flowering. So I was making, like mint flower teas. And it was just so amazing. And just when I thought okay, I think that's it now something else would pop up. Then I had blueberries. Oh, it was amazing. So, yeah, really, it was really great experience last year. But now it's kind of down to me this year because I need to actually get some stuff going. So I've planted some more strawberries, some courgettes. Sunflowers, I want to get some really big sunflowers growing there. And then just wildflower gardens and things like that. So hopefully, some of the things will take and, and grow. I can't wait to see what like pops up. And yeah.
Harriet McAtee
Oh that sounds so exciting. I think. I mean, I don't I do like things in pots. So I have lots of herbs and flowers. And I'm always it's always just really exciting because you're like, oh, it's sort of free. In a sense.
Carrie Reed
Yeah, exactly.
Harriet McAtee
And then, you know, when you Yeah, I think it's great. Oh, that sounds lovely. I'm looking forward to seeing some pictures of it. Please send some pictures. That's one
Carrie Reed
well, yeah. It's a really lovely space as well. It's really big. It's huge. So it's probably at least the size of my one-bedroom flat. No, it's good.
Harriet McAtee
Excellent. Wow. Thanks for sharing your nourishing thing with me. So let's, I want to hear about you please do tell me a little bit about, a little bit about your background and how it is you would describe what you do.
Carrie Reed
Okay. So I guess what I do at the moment has changed quite a lot. If you asked me this question last year or the year before, it would have been completely different. So I've changed my life quite massively over the last couple of years. Kind of it's been sort of growing and building to the point that it is now. So what I've been trying to do is just create more freedom in my work, and so before now, most of my career I've been working in finance and accountancy. I started out working in insolvency, which is, you know, like, that's a fun subject. Yeah, it was not joyful. So it was like business, bankruptcies, liquidations, all that type of thing. And I did that for six years.
Harriet McAtee
Wow.
Carrie Reed
I cannot believe it. And yeah, so I started out doing that. And it wasn't at all what I wanted to do. I did my degree in psychology. And it was a toss-up between psychology and dance. I chose psychology and I wanted to be a psychologist. And at uni, I used to do lots of volunteer work, lots of charity work. Everything was good to me becoming a therapist. It was That was my kind of my direction. I knew that that was what I wanted to do. And then I found it extremely hard. Once I graduated to get any work. It was 2018 20 no, 2008 2009 And it was the recession. And I decided that I was gonna go travelling so I didn't even make my graduation. I just went to see you guys I'm going and I packed my bags and I spent two years travelling around the world with my backpack going to all sorts of places. I lived in New Zealand for a while Australia, Hong Kong on a boat for three months.
Harriet McAtee
Wow.
Carrie Reed
Yeah, I went to lots of lots of places and I would Aupair, live with families and take care of their children. And I would do yoga in all sorts of funny little places I had. My backpack was I had a little tiny mini-laptop that had a plug that would plug into a DVD player. So I could play my yoga DVDs that I had. Really, really old fashioned. And I thought if I go travelling when I get back, the recession will be over. And I'll be able to get a job, no problem. And the whole time I was travelling, I was applying for all these kinds of psychology-related jobs. And I'd done so much volunteer work. I was like, you know, it's gonna be fine. I've got lots of stuff. But absolutely nobody would give me a job without having paid experience.
Harriet McAtee
Okay.
Carrie Reed
Absolutely nobody. And I just found it really difficult. So I came back to Cornwall after my couple years of travelling. And kind of thought, well, I've got to get a job now really like. So I worked in a bar over the summer and had a great time. And then I just applied for an office job because I thought, right, I've just got to get something. So I ended up working in insolvency practitioners, which was like this strange office by the sea down on Mullein Cove. So it was overlooking the sea, it was a really odd place for an insolvency practitioners but lovely. I ended up working there. And from such a young age, it was really drilled into me that you have to like, just get a good job, get a good paycheck, get lots of qualifications, just go Go, go, go go. So as soon as I got this job, they offered me the opportunity to do insolvency training. So I started doing that. I spent three years trying to pass this insolvency exam that nobody's ever heard of. But for some reason, it became my entire focus. And I kept failing, I kept not passing this exam.
Harriet McAtee
Oh, wow.
Carrie Reed
And I just kept trying. And it took me three times three years. And it amazes me now that I spent so much time and effort when clearly this wasn't right for me at all.
And I just kept going in the wrong direction, like literally hitting a wall. But just forcing this thing to happen, because I just thought I had to pass this exam for my career in this thing that I didn't want to do. It was really strange. And then I ended up thinking, I can't stay in insolvency forever. So I'm gonna sidestep into accountancy. So then I started doing my accountancy exams with the same firm. And then I eventually was brave enough to leave that company and go into an accountancy job. And then from there, I've gone into different accountancy jobs down in Cornwall and worked for some cool businesses. And yeah, some of that has been really fun. But since training, as a yoga teacher, I've been able to gradually sort of reduced my hours doing accountancy and just get more of a mix and more of a variety in what I want to do for my day to day.
Harriet McAtee
And you recently, you recently finished your teacher training, right?
Carrie Reed
I did my teacher training during the pandemic, so 2020.
Harriet McAtee
Well done.
Carrie Reed
Yeah, thank you. It was hard.
Harriet McAtee
Yeah. I mean, I mean, I know how hard it was to sort of train people during that time. So to have completed your training is a big achievement. I'm so, I'm so interested in, like how I like I really, I really enjoyed that. You sort of sharing your background there. I think it's really interesting how we can, you know, find ourselves down those rabbit holes where we think we're in the right place, or we think we're in the place where we need to be. And even when all of the signs, you know, all of our experiences might tell us otherwise we can be really quite committed to something even if it isn't quite, isn't quite right. And I'm curious about how, you know, maybe how you're finding your experience now that you're sort of perhaps stepping into something that's a little bit more or you know? I a little bit more true to you or a little bit more, you know more resonating? Yeah.
Carrie Reed
Yeah. Well, firstly, it just feels great. It just feels like the most natural thing in the world. And when I step into a yoga class, everything just feels natural. I feel like I'm exactly where I should be. It sounds like a cliche, but it feels like, just really great. It feels great. And I've never had that before. And it is funny how you just get these ideas in your head about I need to pass, I need to do this. I wasn't listening to who I was, or what I wanted, or where I wanted to be. I was just so focused on this one thing. And now, I feel like the last maybe five years, I've started to just like, everything has just started to grow and move into this direction. And it feels really great. And it feels like everything happens so much more naturally. And with ease, and isn't it? Is it the alchemist that says, When you figure out what you're meant to do, the whole world conspires to make it happen? Something
Harriet McAtee
Something like that yeah.
Carrie Reed
Something along those lines.
Harriet McAtee
I think, what, what shifted do you think that? because there's, there's a, you know, even if your experience, when you sort of arrived there is, is one of ease and of it sort of slotting into place that still requires like, I think, a level of bravery or a level of risk-taking to sort of take that, to take that leap. So I'm curious, like, Do you know what it is that shifted for you, that enabled you to you know, let go of those ideas about like, you know, gotta pass the test, gotta get the job, you know, gotta get the qualification to sort of begin that transition.
Carrie Reed
I think it was lots of different things, actually. So I think it's, maybe age getting older, you kind of go wait, and you kind of reassess periodically and go, Well, am I on the right path? Do I want to do this, for the rest of my career? Do I want to change because there's an element, although I totally believe that you can change careers and do whatever you want, at any age, it's never ever too late? But I did have these pangs of like, if I want to change my career, I should do it now. Because it's gonna take a while, and it's gonna. And money's always been like something that's held me back because I've never had enough to go. I want to retrain in this. Cuz it's always expensive. And I always had to work to support myself at the same time. But I guess the pandemic definitely was a factor. But also, my dad died just before the pandemic.
Harriet McAtee
I'm sorry to hear that.
Carrie Reed
So that was a really, he, that was a really big thing. And there was just lots going on. And I think the last couple of years has been a whirlwind of things that have shifted my perspective on what I want for my life. And I've just wanted to create something more true to myself. And when I started doing my yoga teacher training, it felt like a no brainer. And I was kind of angry at myself, like, why didn't I figure this out before? Why, like, you know, like, it happened at exactly the right time, I'm sure, sure that you just kind of think, of course, of course, this is what I should be doing. But up until that point. It's like you just I was trying all these different things. And I think I used to get have all these different ideas of okay, maybe I should do this then. And because I started out on the wrong path, or I was very easily swayed off the path that I was on. It just felt you get lost along that path. And then I didn't know where to go. And so I would think, how do I get back to psychology, which is what I always wanted to do originally. So I thought in the absence of knowing what I want to do, exactly. I'll go back to what I originally wanted to do because it must be the right thing. And no matter how much I tried to get back, it was almost like the same thing with the insolvency exams. I felt stuck again because I was trying to get back to somewhere but that also wasn't right for me anymore, because I had also grown and changed. And it feels like I naturally found this path with a greater ease than anything else I'd conjured up in my brain to go ahead and do. So it was about. And then when I started noticing that these things were slotting into place, I'm not saying it was easy by any means. But when these things started happening, I was it felt natural. And I felt like I could relax. Because all these years I've been like, Well, should I move to this? Or should I do that? Or should you know? And I'm not saying I don't enjoy doing accountancy at all I do. I love the businesses I work for I feel invested in them. But yoga just feels like the most natural thing for me to do. I think it feels really nice.
Harriet McAtee
Yeah, I think you said something in there that I really appreciated, and I think is so true that just because you experience ease around something, doesn't mean that it's easy. I think that's such an important distinction. Because, like, you know, otherwise, I think sometimes it can get a bit like the law of attraction, and I'm not so, I'm not so into that. But I do really, I do really hear what you're saying about like, when you, when you find yourself on a path and on a trajectory that is, you know, more authentic to you there is a sense of ease, it's like, well, suddenly, you know, the way that decisions unfold, and things happen, there's much more space and much more sort of naturalness about it, but that doesn't mean that you don't work your ass off. And that doesn't mean that it's necessarily like an easy experience for you. You know, as you say, like you you experienced anger that you, you know, you sort of hadn't found it before. And I think, you know, yeah, I really love that you sort of you brought that in there because I think it's something that's really it's really important to say,
Carrie Reed
yeah, and my, my actual yoga training, I found really difficult. And there were so many times that I thought, Oh, well, I should just give this up. Because I think I said this to you before, I don't know if it was my life situation at the time, it was that we were in a pandemic, it was that my dad had died, it was that I was in the wrong relationship at the time. It was just everything felt really busy. And the work that was involved in my yoga training over that course of the year, was really demanding. And there was a lot of written work. There was a lot of practice time. And I just always felt behind. And we did our training one weekend every month. And then we had a series of four or five or six assignments to do within that month, every single month. It was a lot. Yeah, one was like a big essay as well. And they would be like read the Bhagavad Gita would be one of them for one of our homework. And so it was a lot, it was a lot. It was great, but it was a lot. And every month, your kind of assigned with a buddy, me and my buddy would go right, we're gonna get our homework in on time, we're gonna start straightaway. And after an entire weekend of yoga training, when it's kind of squeezed in the middle of a full week working week, and you haven't had a weekend to rest. I felt like I couldn't then go straight into all the assignments and homework because I needed it to sort of settle and resonate in me before I then started to write and research and practice. And then by the time we've done that, you suddenly think shit, I've got a week to go before my next training. And I've got to get all this homework in. So there were so many times that it felt difficult. And because our trainings were online as well, they struggled with that. I mean, they started off in person, I think we had one weekend in person, and then it went online. And then I think at the end, there were a couple that we could have in person. And that was such a noticeable difference between the ones we had in person. Everybody felt so much more uplifted, and you got to feed off the energy of the room. And it's just something you just can't always create online. And you do get the Zoom fatigue if you're there online for so many hours. And so yeah, it was really, really tough.
And there were so many times where I felt like I will wasn't getting it. I wasn't going to be a very good yoga teacher. It wasn't for me. It's too busy. Should I just quit it now? But somehow I just carried on, I carried on. And I got to the end, and I passed all my exams. We had a physical exam and a four hour written exam, which was intense. It was intense. And it was four, it was four hours to the minute, it wasn't like you'd be done in three, it was writing every last.
Harriet McAtee
Wow.
Carrie Reed
Second word to the last minute.
Harriet McAtee
That's I mean, I mean, anybody, anybody listening to this? My teacher training is not like this.
Carrie Reed
I'm not trying to put anybody off teacher training.
Harriet McAtee
No, shade on Carrie's teacher training, but like, there are no timed exams in my teacher training.
Carrie Reed
Yeah. Yeah. That's not in everyone.
Harriet McAtee
No. And I mean, it's not to say that, like, there's not value in that, that sort of, that sort of learning experience. But there is an intensity to it that I do think, that I do think is interesting. And I think I think that's also another really, another really important point is that, like, teacher training isn't always easy. Like, it can be really difficult. I mean, I had a new cohort start this week, and one of the things I was saying to them is that you know, your, your relationship to your practice is going to change throughout the training. Like it's, it's unavoidable. And it's really important to be open-minded, you know, to the material and to the things that other people will share in the course, but also to be really open-minded to yourself and to what's going to come up for you, throughout, you know, this course, because, you know, a lot can change within the space of a 200-hour teacher training.
Carrie Reed
Yeah, definitely. And I don't think I necessarily knew how hard it would be. I wasn't, I wasn't prepared for it to be that demanding. And my teacher will tell you that it's hard. She knows she's, you know, she will say it's hard work. It's not easy. It's not. It's not like a tick and flick. You've got your certificate. It's really hard work. Yeah. And yeah. And then. So yeah, I definitely wasn't ready for that. But I got through it. And it was great. And I made great friends, and I wouldn't change it for the world. And then once I qualified, there was this kind of like breath of like, ah, it did it. And that was really tough. Because there were so many other things going on as well. And then, once I qualified, it felt like all these opportunities just came my way. And I made a promise to myself, even though I was so scared to start teaching, I felt like I had to practice more, or I just needed to, you know, I'm not quite ready, I just need to practice more and more and more, and then I'll be ready. And then I also realised that I'll never be more ready than I am now because I am just at the end of a teacher training. So I told myself that I would say yes to every single opportunity that came my way, and then figure it out later. So I got offered to teach a class. I said, Yes. Then another class, I said, Yes. And another class. And every time I was absolutely petrified. And every time I did it, it was absolutely fine. There were definitely I remember you saying to me that your first 20 classes will just feel very. You just feel really weird. Yeah. Yeah. And I remember that. And I was like, how many have I done now? Surely, my 20 are up. Just everything start feeling great. But everything felt natural. And I'd still have those classes where I'd think, Oh, God, I messed that one up didn't I. And I think I hope nobody tells anybody that that happened, like. Can we just erase that? And I like every, everybody would give me good feedback. At the end of the class, people would say things that I think really,
Harriet McAtee
Yeah,
Carrie Reed
They'd say you're a great teacher, you have a great voice, or I really needed to hear that or that was exactly what I needed. And I just started to realise that it doesn't matter if I don't think the class went well or I got my left and rights mixed up. Or I said that wrong thing that you're not supposed to say or whatever. Because however I really truly believe that however, I show up to a class is exactly what is needed at that time. So
Harriet McAtee
I think often, often it's the classes where you're like, Oh, that was not right, where the students will be like, that was amazing. Thank you.
Carrie Reed
Yeah. And you're like, really? Well, we're in the same class.
Harriet McAtee
Yeah. 100 like 100%. Like I had that I've had taught, I've taught classes I, there's one class, in particular, that really sticks out to me where I was really, I was really angry that day, like, I can't even remember what I was angry about now. But I was just I was in a terrible mood. And I rocked up and he taught this class, and I was just a bitch about it. Like I taught I taught like, in my usual way, but on the inside, I was I was hating it. And I was hating myself, and I was hating the situation. And then, at the end of the class, I'm one of my students who I then trained to be teacher and is a really good friend of mine. She was, she sort of bounced up and she was like, Thanks, Harrit. That was just what I needed. I loved it. And I was like, it was like, it was like a parallel universe. I was like, we existing in two different worlds. But that's fine. And I think as well, like, you know what you're saying it's sort of these mistakes hap like mistakes with inverted commas like they happen, and they're not a big deal. And most of the time, you're the one that's going to remember them and not your students. Um, but it's hard to sort of, it's, you don't know that that's true until you start teaching. And, you know, yeah, for sure. I mean, I haven't, I haven't, haven't made any fart jokes or told any fart stories yet on this podcast. But I am going to now, which is like, also like, I have literally farted in front of those students. I was teaching and it happened like inhabited the best moment I was like a comically this is just wonderful. So I was, I've been teaching it was like a Vinyasa, like a Vinyasa class. And we'd been working up towards compass pose. And for, for anybody that doesn't know what compass pose is like, you're sort of sitting on the floor, with one leg bent in and then you bring your other leg, like up behind your head, and you hold it with a hand. So it's like a real classically, like, bendy yoga teacher pose. And I was being a complete dickhead, and demonstrating it for my students. I just as I bring my foot up behind my head. I was like, like, everybody, everybody's looking at me, because I'm demonstrating the pose,
Carrie Reed
So you've got nowhere to hide, where to hide?
Harriet McAtee
Like, what can you, what can you do at that moment, except, like, shrug and laugh with them? Because everybody's, everybody's laughing.
Carrie Reed
Blame it on somebody else?
Harriet McAtee
Nobody else. Nobody was they were just sitting there. Sort of like you have to, you have to laugh at yourself, and laugh with your students. And then, you know, and then move on. Because you know, like, and they like those students probably don't remember that. But I certainly do.
Carrie Reed
You've just reminded them.
Harriet McAtee
Yeah, I've just reminded them, and the world.
Carrie Reed
Yeah, that's so amazing. Yeah, great. I mean, I think I'm just relaxing enough to start to, like, get that sort of like jokey. Like, kind of, I guess the first time you start teaching I feel, for me quite tense, because I'm, like, I'm focusing I'm thinking of, I'm like, don't forget where your next going. Don't forget the align, you know, I'm, I'm thinking so I'm in my brain, and I'm trying to go through it. And I feel like now I've, I haven't been teaching for that long. But I have taught a lot of classes. So right from the start of my training, I started teaching, and I've probably been teaching anywhere between three and seven classes a week. So it's a lot of classes. And I've just started to feel relaxed, relaxed enough that I don't have to meticulously plan every class. I don't have to know where I'm getting all the time. And then there becomes room for that lightheartedness that you can bring and your personality and that type of thing. So I feel like I'm just sort of relaxing into that space. And that feels really nice.
Harriet McAtee
I'm so pleased to hear really nice.
Carrie Reed
Yeah.
Harriet McAtee
My, my like, my advice that I think I gave to you and that I give to everybody is that your first 20 classes feel really strange. And then That's where the steepest learning curve happens. And then by the time you get to 100 classes, that's when you start to be at the place where you're talking about, now you start to find a bit of, you know, more space around it. So I'm really pleased to hear that, well, we are sort of getting close to the end of our time here. But before we, before we finish, I want to dip back into the sort of money side of things because now you're in the position of being a self-employed yoga teacher with all of these years of experience, in accountancy and in, in money. And I guess, I'm, I'm curious to hear like, what, firstly, how you're finding that, but also, you know, if you could give yoga teachers one or two pieces of advice around money, and bookkeeping, or accountancy, what, what would that be?
Carrie Reed
So firstly, I'm finding it really scary to be self-employed. I have always relied on that regular paycheck full-time work. And the last couple of years that I've been sort of edging into freelance. So I started freelancing alongside my job a few years ago, just doing little bits and pieces, and then just being really busy. So if you've got a full-time job, and then you're trying to do it, you get to the stage where you're totally full. But you, you don't have enough time to do freelance work to give up the full-time job. So it's like a total leap of faith. And then, I remember saying to you, actually, that I went to a yoga retreat in Spain for Christmas, which was lovely. And it gave me some real time to think about all the things I wanted for this year. And it feels like a big year, like the energy of this year just feels huge. And yeah, and I think my plan was to move into, so not so give up full-time work. So work part-time in accountancy, and then part-time as a yoga teacher and doing my own freelance bookkeeping. And that was really, really scary to do. I don't have any, I don't have like a family network, or like a financial support network, I've totally been relying on myself. And that's why it feels really scary to, to do because I've always had to support myself. But being able to support myself is a huge thing on its own. Being able to support myself doing things that I enjoy, and with a sense of freedom is everything. And that's what I have managed to create this year, much earlier than I wanted to, I think I gave myself three months into this year that I wanted to do it. And it kind of all happened for one reason or another. Soon as I got back from this retreat in January, it just all kind of went dudunk. It was kind of scary. But it's been really great. And I, I really enjoy having all the different things that I do. And just choice in my day. So it's really empowering to be able to choose what kind of work you do that matches your energy that day, or just freedom is great. So that's how I found it. For yoga teachers in bookkeeping, I think, obviously, like the normal things like make sure you keep your receipts, make sure you track your expenses, and just know what your income and expenses are. Like, don't be afraid of them. So lots of people I find don't connect with numbers and just don't, don't really want to pay much attention to it. But if you know what you're making and what your outgoings are, it's really empowering because you can make decisions for your business that kind of steer that. And one of my main tips is to know your value. So when you're pricing, how much things are going to be, you've got to take into account not just that hour that you're teaching a class for example, but the prep, the travel more the things that go with it, the energy that you're going to spend on that class. So I would always say just price yourself at the value that you're worth. I think there's a lot of undercharging that happens in
Harriet McAtee
Yeah, there is, there is wonderful, great tips. Well, thank you so much for joining me today Carrie, where can our listeners find you on the internet?
Carrie Reed
Yes. So you can find me on Instagram. I'm @carryonyoga and my website is carryonyoga.co.uk.
Harriet McAtee
Wonderful. Well, thank you so much. It's been such a joy talking to you. And I'll see you see.
Carrie Reed
I will see you soon.
Harriet McAtee
I'll see you. Next week. No, two weeks next week after that week after that. Yeah. Great. Wonderful.
Carrie Reed
I look forward to it.
Harriet McAtee
Wonderful. I'll see you then.
Carrie Reed
Bye.
Harriet McAtee
Thanks for listening to In Our Experience. Don't forget to subscribe rate and review the podcast. We love hearing what you think and it makes a really big difference. In the meantime until the next episode comes out. Why not check us out on our Instagram account @nourishyogatraining or pop us an email via our website. See you soon.
The best way to support In Our Experience… is by subscribing, rating and reviewing the podcast wherever you listen to us! Share with a friend and tell them to rate & review as well. 
We'd love to hear your comments, thoughts and questions. Pop us an email to say hi!