episode description & show notes
Harriet is joined by James Thirlwall.
James is the founder of animalltea, a UK speciality tea company that uses 100% of their net profit to fund wildlife conservation, a fellow boat dweller and a former Chinese medicine practitioner.
James and Harriet talked about social business, the importance of being grounded in your values, and what to do when the shit hits the fan.
Links:
Charity: sanghalodge.com
Charity: niassalion.org
Charity: lwiroprimates.org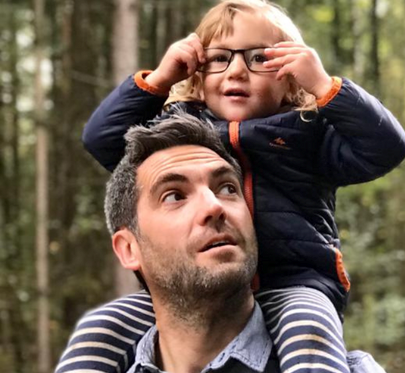 Read the full transcript:
SUMMARY KEYWORDS
tea, people, drink, business, nourishing, teas, lots, called, nice, money, checks, year, spend, big, meditation, happening, buy, wildlife, coffee, charities
SPEAKERS
Harriet McAtee, James Thirlwall

Harriet McAtee
Welcome to In our experience, a podcast exploring the many ways of living well with Nourish Yoga Training. I'm your host, Harriet, yoga teacher and founder of Nourish. Today I'm joined by James Thirlwall. James is the founder of Animal Tea, a UK speciality tea company that uses 100% of their net profit to fund wildlife conservation. James is also a fellow boat dweller and a former Chinese medicine practitioner. We talked about social business, the importance of being grounded in your values and what to do when the shit hits the fan. I had a great time talking with James, and I'm really excited to hear what you think. So do pop us a message or an email; you can find how to contact us in the show notes. Right. Here's my chat with James. Hi, James.

James Thirlwall
Hello

Harriet McAtee
Welcome to In our experience, it's lovely to have you here.

James Thirlwall
Thank you for having me.

Harriet McAtee
Well, we're going to get started today, as we always do, with the same question that I ask every guest, which is what's nourishing you. And this can be anything. It can be big, small, silly, very serious if you like, and I will help you out by sharing my nourishing thing first. Which is that one of the things I'm focusing on this year is pacing myself with work and not doing too much too quickly. And one of the ways that that's practically coming out for me is really prioritising movement. And yesterday, I went for my first run of the year in the glorious, crisp winter sunshine, and I really enjoyed it.

James Thirlwall
Where did you go,

Harriet McAtee
I went up the river towards godstowe lock and then back like big spaciousness, river, sky. It was a glorious swamp it was it was muddy, but I quite enjoy the mud of it. I have, like, trail running shoes. And because I have them, and they're just permanently filthy. I purposefully try and get as muddy as possible on the run, which is part of it. No,

James Thirlwall
makes sense.

Harriet McAtee
I mean, I'm a boater; I'm always covered in a layer of grime. So what about you? What's nourishing you?

James Thirlwall
We scrubbed up quite nicely. What is nourishing me well I've gone, I've gone completely anti-January in. So I've gone for one of the things that I love is cooking. And I kind of lost my, I wouldn't say I lost my joy of cooking by I lost, putting the time in and thinking about cooking. And so I've been cooking a lot more and drinking a lot more, but better. So like less and better. So I am not your Veganuary dry January person. And particularly because I work in hospitality. I want to help out hospitality as much as possible by going to the pub on a Tuesday. So I'm drinking nice wine. I'm cooking good food. And that is, Yeah, soul nourishment for me. For sure.

Harriet McAtee
So it's like a wet carnivorous January.

James Thirlwall
Not heavy on the meat. But it's like, yeah, I haven't gotten the there's no vegan block in my fridge at the moment. So

Harriet McAtee
Well, I think that's quite sensible. I've been doing a damp January. Oh, okay. Yeah. Which means that I've been trying to stop drinking by myself. And, yeah, every towards the end of last year, I'm not gonna lie like, you know, a bottle of wine to myself on a Friday night was maybe not a rare occurrence. Yeah, trying to drink just with other people.

James Thirlwall
Okay. Well, I figure going to the pub on a Tuesday at the moment is drinking on your own because there's nobody there.

Harriet McAtee
Wow. Well, that's true.

James Thirlwall
Apart from me.

Harriet McAtee
Wow. If anybody's bored on a Tuesday evening. That is nourishing, and I can vouch for you; your cooking is very delicious.

James Thirlwall
Thank you. Yeah, likewise.

Harriet McAtee
Wow. That was great. That was very nourishing. Um, so tell me a little bit about how you would describe what you do. What do you do? How would you describe it?

James Thirlwall
Well, I drink a lot of tea. That's often how my son describes it because he says, what else do you do anything other than drink tea? And I do tend to sit around drink a lot of tea. So I, I run a tea company called Animal Tea. And the tea company that I run is basically we give all of the money to that we make to wildlife conservation. And so I sell tea, I drink tea, and I also have a, another kind of a day job alongside that. So this is my passion project, really. And my day job also involves selling tea. So I'm a tea sommelier. I advise Michelin star restaurants and five-star hotels on their tea menus and things like that. So my background On is tea, which is really relevant to this conversation in terms of Animal Tea. I bring a lot of that into it. So my background and my passion is for tea. And my you know, what I'm doing at the moment is starting a company or have a company that sells tea and gives the money to conservation.

Harriet McAtee
Incredible, amazing. And like, Where Where did that come from?

James Thirlwall
Well, so before all of this started, I and kind of how we met actually originally was that I used to be I used to live in Japan. And I lived in Japan for a couple of years, came back from Japan became interested in East Asian philosophy and medicine. And then, I became a Chinese medicine practitioner. So I was an acupuncturist in Oxford, at a clinic in Oxford for 10 12 years. And then our paths crossed with acupuncture and qi gong, and I remember doing some we do some retreats together with Nourish. When I was teaching Qigong, some hilarious Qigong sessions, I remember in the countryside, lots of sort of bottom slapping, I think I just learned that technique and everybody.

Harriet McAtee
to cross bands.

James Thirlwall
Yeah, it was hot cross buns. Yes, the one. And so I did. That's where I was my background. And then, about six years ago, I decided to change my career and moved partly because in a, nobody ever told me this, but if you work in a clinic, then you basically spend all of your time in one room. And I like getting out and seeing people and talking to different people. So I love the work in clinic. But I wanted a complete change. So I ended up working in tea, which is my other passion and ended up working for working as a tea sommelier. I actually started a tea company that just sold biodynamic tea. And so we used to use tea in tea ceremonies and rituals and help people with health and tea and so on, which was a brilliant business, which made no money. Like it was like a successful failure. And then after that, yeah, we come to Animal Tea. And I think what happened is probably like, most of you have been locked down, I had to think about where I was going and what I wanted to be doing for the next, while I popped out the other side. And actually, the trigger for it was my son. So my son is five now. And we were having; we're reading a book about animals, which is pretty much all kids books have always got animals in. And he was he was four at the time. And he looked at me, and he said, Are there any of these left? And I thought, Oh, shit, like, if this is what you're thinking about, then now then I need to do something about, and I had this idea for a long time. And I thought if I don't do it now, then I'm never going to do it. And so that was where really where it came from. And ever since I started, it's one of those things that I think sometimes timing is everything. And I had put it on the back burner and put it off and put it off. And then that just presented me with a perfect opportunity. I was like, let's just do it. And I kind of wish I'd done it earlier. I think everybody feels that when they make a big change in their life. But for me, yeah, everything since we started, it has been brilliant. Yeah,

Harriet McAtee
I'm a big fan of what you do. And I mean, I've been following it closely since the beginning. And yeah, it's nice to see the way that you know, the way that it's growing and the way that its sort of evolving. And where, where do you want to take it next? What are your plans for? For this year? Yeah,

James Thirlwall
yeah, it was. So it's evolving, it is evolving. So I think probably, like most businesses, it's zigzagged a little bit. The first year we're trying to find our feet and find our voice. And I think for this year, the one thing that we're really I'm really keen to do is focus on education because that's my background and my interest. And I think it's interesting, particularly in this country, that a lot of people know a lot about coffee are like really interested in coffee and coffee has done a great job of educating people about coffee and kind of developing connoisseurship in coffee. And so that's why people have no qualms about paying six pound for a pour-over or whatever it might be. It's like because I know what they're getting right. And we have come to associate tea in this country; most is a pretty cheap commodity. And, you know, you go to supermarkets and sold as a loss leader. And you know, if you go into a supermarket and buy 100 tea bags for 50p, you've got to wonder why they're 50p or how did they get to that point? And so I think it's about I'm not on a mission or a crusade to kind of talk about the kind of social impact of the social areas of tea and kind of environmental impacts. I think that's just implicit in what we do. We just buy organic tea or pesticide-free tea, clean tea that's just where, sort of a basic rule for us. But what I'm interested in is connoisseurship. So basically taking people from having no understanding of what tea is and thinking is just builders tea to teaching them the difference between green tea and oolong tea and pu'er tea, about, you know, why you could buy, you can buy less and buy better, I think that's one of our key values, which is the same as everything, I think everybody's got something that they love, and they're into. And then as you start to learn more about it, then you develop an understanding and appreciation for why you would spend more money or more time, or you know, what, what's the value about it valuable about it for you? So in terms of 2022, it's building on that. And then, beyond that, we're bringing out chocolate this year.

Harriet McAtee
Oh,

James Thirlwall
Yes, chocolates coming. And then, I mean, I just, I've just kind of come back toward coffee, but we're going all the things that I like, so I like tea, but we're gonna do chocolate, and then there'll be coffee, and then there'll be wine. And probably stop there.

Harriet McAtee
All of the fermented things.

James Thirlwall
all the fermented things that I like to drink? Yeah, it is purely selfish. I just want to just sit and drink tea and coffee, and wine have a good time?

Harriet McAtee
Well, I think I think, to an extent, there is like, there is a selfishness around starting your own business that I think sometimes isn't talked about so much. Like one of the reasons that I, you know, founded, Nourish and do things that way I do is because that's what I wanted to spend my time doing. And like, that's also what I wanted to see happening in the world, right? So there is like a, like a kernel of selfishness at the centre of that, because I'm sort of like creating the reality that like, I want to exist, and you're just doing that, but with more delicious things.

James Thirlwall
Yeah, I agree. And I think, I think that's quite liberating, isn't it when you decide what it is you want to do, and just go for it, and you? Yeah, people, people respond to that in a very different way. And you end up, or I've ended up over the last 12 months, developing a community of people around me and around the business who are just very clear about what it is they want to do the impact they want to have. And then not, and they're not doing it with a hair shirt on in, they're having fun. They're loving what they do. And that's really inspiring to be around. So I'm happy to be part of that community. And it grows like there's more and more people seeing that, as they want to get involved in it, or they want to support it, or they want to back those kind of companies. So yeah, I see that too.

Harriet McAtee
Yeah, well, and I guess also, I think people have a very good radar, or more and more people have a very good radar for when things are coming from an authentic place. And from like that, like a juicy place of like somebody being really excited about an idea about their business. And, you know, when that's lacking, it's really clear, and people just like, you know, don't stick with you or don't stick with the business.

James Thirlwall
Yeah, I agree. And I think with us, that was why I chose the business model that we have, which is based on a pure what would be called a kind of a pure social business model. So you have lots of different business models around social entrepreneurship and different community interest companies, and so on. And I chose to set ours up as a for-profit business that just happens to give all of its money away. And for me, there's a kind of a moral is not the right word, there's a kind of an ethical clarity about that, or for a customer or for a supporter of the business, they can see that that's what's going on. And there's a transparency about that. So it's a bit different too, let's say, you go to Pizza Express or something, and, you know, they give 10 pence or 1% of their profit or the cost of a pizza or whatever it is away. They're very explicit about what it is that they're doing. So you can see what that is. And I think then people can make a decision. Like that's, that's great. People, some people give a small amount, or you know that their business will be geared differently. Our business is just geared towards giving all of the money away. And the way that we split that down because important for people to understand is that we, we have our net profit for the year. And then half of that goes to all of the projects that we support. And then the other half comes back to support the growth of the business for the next year. So it's very easy for people to understand. And it's really gratifying. And I get to get to write checks those things. It's like being a captain of industry; it must be great, like standing there writing all your checks to all your employees and going, oh, this is great. Like I'm changing people's lives. That must be really nice. And I have the same feeling of like when we send money to the charities, it's great. It's really nice to be able to write checks to charities, or we don't write checks anymore. We just, you know, just give money online. But it's great to know that that's what's happening. So that's the best part of the business. There's all kinds of other things. Yeah, I love that.

Harriet McAtee
What about, What about the charities that you're supporting? Can you tell us a little bit about them?

James Thirlwall
So yeah, there's, there's a number of them. So we kind of worked in two ways. One of them we has, we have, we work with a pangolin charity in Central Africa, Central African Republic, we work with a primate sanctuary in the Democratic Republic of Congo, the DRC, we work the lion reserve in, in northern Mozambique. And there are kind of what you might call kind of anchor projects that we've we have relationships within then; we aim to give them money. So we correspond with them a lot. And then we also do kind of ad hoc donations for different things. So we have something called the Ark Fund, which is an emergency fund for wildlife emergencies. And so when, for example, right at the beginning of last year, there was a cold snap in off the Gulf of Mexico and Texas, and there are lots of sea turtles, which were at risk of being basically frozen, in that, you know, things were too cold for them. And so they were taken aboard this great, of these huge kind of frigates, these military frigates being loaded up with sea turtles, and they were taken on land and kind of warmed up until that cold snap when and the winter storms went away, and they put it back. So it's not a very sustainable route to conservation, right. There's bigger things at play there. But when those emergencies happen, people just need money. Like you can't have long term thinking around that you just need money, you need to get shit done. And so that was what was happened. And actually, Elon Musk, I think what you liked about Elon Musk a week ago, I don't want to go there. But Tesla sent down a big generator for that turtle rescue because they basically ran out of power. So the power was taken down in the storm. And they sent down. I don't know what it was. Just imagine this huge thing sparking with blue flames. And, and that helped the turtles out. So those that that's the way that we, that we work, and we've got more partnerships happening this year, probably over the next couple of months or so there'll be another couple of announcements. So yeah, there's lots going on.

Harriet McAtee
Amazing, we'll make sure that we pop a link to those charities in the show notes. So people can check them out directly.

James Thirlwall
Or one thing I would say is if you've got time, so he the Lwiro primate sanctuary is in the DRC. And they were recently, they've been featured in lots of different documentaries recently. And they actually, there was a photographer that one wildlife photography year, so there's about if you, if you get a chance to go to the Natural History Museum, or in Banbury, actually, Bambry got a travelling exhibition of wildlife towards the year, you can go and see the work that they do as part of the photojournalism category in that competition.

Harriet McAtee
Well, that's how I mean, I, you know, as you know, I have experience working, you know, with other, you know, with charities and sort of in the social business space, and I think it's, you know, it's such a wonderful way to, yeah, it's such a wonderful way to, you know, impact change and sort of, you know, offer, offer things on two different levels, right, because you, you get to do the thing that you really want to do, which is drink tea, and sell tea, talk about tea. And then, at the same time, you get to work with organisations that you're clearly really passionate about. And you get to bring those organisations to your consumers in a way that is just sort of quite seamless, in a sense.

James Thirlwall
Yeah. Yeah, I agree. And I think that's, that's one of the joys of it. One of, one of the things I was thinking about before is the kind of the values of the business, and one of them is community. And that means lots of different things to different people. But for us, it means this kind of this group of people from tea farmers, who have a vested interest in looking after wildlife and protecting biodiversity and their tea gardens, through to consumers through to conservation artists, so we, we work with any kind of platform and sometimes commission art from conservation artists that goes in with our teas, so that when we sell teas, people can get a piece of artwork with it as well. And then to the projects themselves, and there's always crossover there for people to explore, and you quite often find that within our customer base. There'll be people that have volunteered at these places, or there'll be, they'll have some kind of connection. And because there's this sort of unified mission, everybody wants to everybody wants it to succeed. And everybody's very on board with anything that you propose. And in that, there's just a huge amount of goodwill. When you think about most companies that work so hard to spin their PR around, you know, greenwashing and the CSR initiatives and things like that. I can kind of understand somehow how that happens. You know, different companies are geared differently. And that's, again, I have no comment on that here. You know, we're just doing the thing that we're doing. But one of the things that I'm really that we have in the bank, we don't have a lot of money in the bank, but we have a tonne of goodwill. And you can't buy; that's just inherent in how we work. And it's also trust; I think because we're transparent and the way that we do things. We have a lot of trust. And we would abuse that at our peril. And we, you know, we work as hard as we can to make sure that we keep our community onside, and so far, touch wood, everybody's been really supportive of what we do.

Harriet McAtee
I'm really; I'm really interested and glad that you brought up the idea of values because I think it's one of the things that often people really miss in business. And I think, from my perspective, as a yoga teacher, like there are, there are lots of yoga teachers out there, and they might just be teaching, like one class a week or whatever, like, they may not think of themselves as super professional. But one of the things that I think is really, really important, however, you do business, like if you are putting something out into the world, it's so important that you spend time thinking about the values that drive your business and what you do, because if you've got clarity around those things around those ideas, then you're you're always going to be operating from a place of, I guess, of sort of safety and connection. And, you know, sometimes I see businesses making decisions, and I'm like, why the fuck have you done? And I think if you spend time clarifying your values, but then also sort of run, you run the decisions that you make across them, then I dunno to me that's, that's really, that's a really exciting place. And I think a really like sustainable place to do business from as well.

James Thirlwall
I like, yeah, I was going to come back as a question I wanted to ask you about it. But so I think about that, as a North Star, I like this sort of idea of like a North Star of the business or like a, sometimes in the military, they call it a I'm not a military man. But in the military, they have this sort of idea of the commander's intent. So you can, if you have a particular objective, like everybody, if everybody's aware of the objective, then it doesn't really matter what you do, as long as it's moving towards that objective. Whatever happens, you can still have some kind of sight of it. So in the battlefield, if everything all goes wrong, then you know, eventually, you have to get to this hill, or you have to achieve this mission or whatever. And I think with the North Star for us is, I'd kind of boiled it down to this idea of, okay, if we make a decision, is this going to impact wildlife? Is this going to impact the planet in a positive way or a negative way, and if it's going to be negative, then we just don't do it. And I don't have a massive staff. So I don't have to kind of, you know, we don't have big meetings about this; they're quite short. But I, as things grow, and you know, I'm sure you've seen this, you've got a cohort of students and teachers and things, and they understand, you know, the culture of your organisation values. And that's what people are attracted to; I think you in the way that you the way that you operate people kind of there's a clarity there, which I think people really respond to, in the messy world of yoga. And I Yeah, it's really powerful. And one thing to me, so there's a question I was gonna ask you, I have, I can go first if you want. It's, but I wonder, like, if there's when the shit hits the fan? Yeah. And you're all over the place, and you've kind of lost it. I don't know if that ever happens to you, but how does it mean a lot? What's your kind of practice or your ritual? Or your? I don't know, the thing that you do that just gets you back there every time. Like just brings you back to your centre?

Harriet McAtee
That's a great question. I think a few things; one is stepping away from whatever it is, like, create, like creating space around the issue or around the problem around the person around the conversation. So I purposefully sort of like, take myself away or take myself out. So changing location, like changing my physical space, I think is a big is something that I do. And then, like once I've allowed time to marinate in the situation, then I have conversations with people. So one of the things that I really know about myself is that I, I think by talking and I think like I so many of my ideas are responsive and they happen in dialogue. So I have people in my life that I can go to and be like, the shit half hiteth the fan. And, and there'll be like, cool, what's happening? Like, what are we going to do about it? Um, you know, you're one of those people, you know, Theo and Simran also those people for me. And, you know, having people that you know, and that you trust and that know you and know your business, and then you're able to like, talk to them about it. I find really helpful. And then I think the sort of last stage of that is, like, once I've created physical space, I've like checked in with my, my people, then it's about probably coming back into some form of practice. So, you know, allowing myself to be still with whatever's going on. So whether that's sitting meditation, or asana practice, or some other sort of quiet, contemplative space, that sort of like completes the cycle for me. Yeah, there's also there's also alliteration in there, which is really satisfying to me physical space. People practice. Oh, yeah. My father's daughter, he'll be so proud. What about you?

James Thirlwall
Well, I was much simpler than that. And probably quite obvious, I drink tea. Yeah, and but there's ways of drinking tea, right. So you know, you can drink tea for effect, or you can drink tea as a practice. And the thing that originally drew me to tea beyond just, I'm not the kind of person that's deeply interested in dissecting the kind of flavour profile of things. For example, I'm actually really interested in how things make you feel. And so the tea company that I ran before was called elixir, elixir, living tea, you can still find it out there somewhere sort of orphaned in the internet. But it's really focused on how tea makes you feel different teas, anything, anything you put in your mouth, coffee, wine. I don't know, anything that's kind of, of good quality, has a particular kind of it has an impact on you. I think the best example is like drinking; this is nice, everyone will get this. So if some people drink beer, it makes them feel sleepy. If you drink gin, it makes you feel weepy. Potentially, you know, if you drink champagne and makes you feel fizzy? You know, it's like an up drink.

Harriet McAtee
Champagne is not my drink.

James Thirlwall
Yeah, so like, you know, so everybody knows what their drink is. Yeah. And then at a certain point in life, you work out what your drink is, and you're like, Okay, if I want to go, you know, get up, then this is the one and, and tea on a much more subtle level has all of those kinds of things built into it. And so tea has always been used throughout China and throughout Asia, generally as an aid to meditation. And so the practice of drinking tea, of preparing tea, is something that people, particularly in Japan, spend years, lifetimes, dedicated to that practice, with the tea ceremony, and the kind of rituals around that. So if you go and drink tea, or tea ceremony in Japan, it lasts half a day or a day, you only drink two bowls of tea. But there's understanding of there's appreciation for flowers of the season; there's poetry, there's looking at calligraphy, there's having certain set conversations is quite formulaic. But it's like anything else, I think if there are rules within a practice, as you learn those rules, then you can express yourself and creativity kind of comes from that you kind of need to know the rules first, and then you can express yourself through it. And I'm sure it's the same with aspects of practising yoga. So with tea, sitting down and drinking tea and preparing it in a way, which is conscious, mindful, quiet, is a there's a sort of a touchstone for me there, where all I have to do is just sit down, put the kettle on, I have a kettle on the fire on the stove, so it doesn't have any electricity, which sort of adds to it at one level. And then I prepare some of my favourite tea, and I just spend half an hour drinking that tea. And everything just arises from that. It's just like, it's like this kind of bedrock of creativity and stillness and all those things mixed together. And I think for me, a lot of clarity comes when I sit. And so it is, again, I think it's useful to think about for meditation because some, I'm sure you teach this, but I'm not a meditation teacher, but I know there's lots and lots of doorways to meditation, and lots of schools of meditation, but sometimes meditation is sound or is in a painting, or it's Zen circles, or it's tea or whatever. And those doorways, I think, are really interesting to explore. So that is the main one for me and kind of from everywhere, so I just have to stop. If it's all gone to shit, I just put the kettle on, sit down, make tea, and then the, and then kind of everything else flows from there, really?

Harriet McAtee
Hmm. That is a good one. And I mean the whole like kettle on the, kettle on the stove thing, you know, there's a there's a like a slowness to it, which sounds really nice is really nice.

James Thirlwall
Well the so in the classical texts of Chinese tea, some called the Ch'a Ching, which is like the book of tea or the kind of the ode to tea. They talk about when you're listening to the tea boiling or the water, the kettle boiling with the water. There's a; they call it the wind sowing in the pines like this wind whistling in the pines and the point where you start to start and then you don't because you didn't have any temperature gauges back when these books were written. They look at the size of the bubbles. So there's the fisheye size and the prawn eye size and the kind of tiny little fizzy bubbles they will have different temperatures, and those are appropriate for making certain teas at certain times and so on. So it's like super nerdy and super tech but in a very lyrical way.

Harriet McAtee
I mean, it just sounds very, I don't know like there's a romanticism to it, which is really charming. Yeah, yeah. What's your favourite tea?

James Thirlwall
Different teas for different times before if I had to.

Harriet McAtee
you can only drink one tea for the rest of your life

James Thirlwall
it will be in Japanese, it's called kabusecha, which means shaded sencha, and it is, so most people have heard of matcha. So you have green tea. And then matcha are made slightly different or the way they're grown slightly different. So matcha is shaded for about three to four weeks. And what happens is they cover the plants and so there they have to work harder to photosynthesise, they produce more chlorophyll, and that means they produce more of something called theanine, which is relaxing so this nice combination of caffeine and theanine and kabusecha or shaded sencha is somewhere in between, so it's not as powerful and punchy as matcha I suppose smooth, and in the mouth, it feels like it's kind of like brothy, it's really vegetal. It's really kind of creamy and savoury. It's like it's just the most delicious tea. I think because I used to live in Japan, it also reminds me of that. And yeah, there's a sort of there's a nostalgia to it, but it's also really elegant tea. So if that was the one. Yeah, if I had to choose. That's the one. Yeah.

Harriet McAtee
That's a nice choice. Great. Yeah. Well, we are nearing the end of our time here, which it always goes so quickly. It has it really does. So where can people find you?

James Thirlwall
So our website is Animall Tea.com. And that's animal with two L's, as in all profits. And then Instagram pretty active on there. Again, it's at our Instagram account is @animalltea, Facebook, Animalltea. That's all the socials; we have one. And you can find me physically in Oxford. I spent quite a lot of time at the Jericho coffee traders, which is our there are like sugar daddy sugar mommy kind of

Harriet McAtee
James is wearing a Jericho coffee hat.

James Thirlwall
Yeah. I'm repping the merge. We love that, right. And so they are they basically have given us some storage space. And so we use their packing pack house and things like that to dispatch our orders from there so you can find me physically there if you want to hunt me down for a cup of tea.

Harriet McAtee
Well, thank you so much for joining me today. It's been a delight. It

James Thirlwall
has been it's been a pleasure. Yeah. Thank you.

Harriet McAtee
Thanks for listening to in our experience. Don't forget to subscribe, rate and review the podcast. We love hearing what you think, and it makes a really big difference. In the meantime, until the next episode comes out. Why not check us out on our Instagram account @nourishyogatraining will pop us an email via our website. See you soon
The best way to support In Our Experience… is by subscribing, rating and reviewing the podcast wherever you listen to us! Share with a friend and tell them to rate & review as well. 
We'd love to hear your comments, thoughts and questions. Pop us an email to say hi!