episode description & show notes
You can find Georgie here: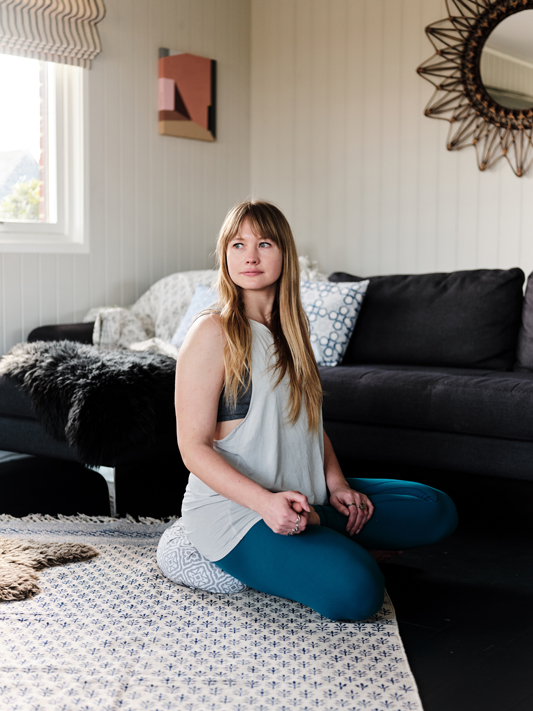 Read the full transcript:
SUMMARY KEYWORDS
practice, nourishing, yoga, mat, georgie, props, people, anastasia, book, bolsters, teaching, totally, love, read, creative, happening, adore, yoga teacher, paints, find
SPEAKERS: Harriet McAtee, Georgie Davies
Harriet McAtee
Welcome to In Our Experience, a podcast exploring the many ways of living well with Nourish Yoga Training. I'm your host Harriet, a yoga teacher and founder of Nourish, and today I'm joined by Georgie Davies. Georgie is the founder of yogipod, a home for finding comfort in your practice through yoga props and practices. I had an absolutely fabulous time chatting with Georgie. We talked about creativity, we talked about the relationship between beauty and uniqueness, how to carve space for personal practice, and my personal favourite, the wonders of the animated film Anastasia. I'm really excited to share this episode with you and I would love to hear what you think. So do pop us a message or an email, you can find how to contact us in the show notes. Right here is my chat with Georgie. Hi, Georgie.
Georgie Davies
Hi, Harriet.
Harriet McAtee
Welcome to In Our Experience. I am so pleased to have you here.
Georgie Davies
Very excited to be here.
Harriet McAtee
How are you doing today?
Georgie Davies
Yeah, doing good today. It's nice and sunny, which always makes a huge difference to my mood as soon as it's grey and drizzly, like 90% of the weather. I'm just the worst person. So as soon as it's sunny, I'm a much much nicer person. So it's been a good day.
Harriet McAtee
Well, I'm glad you are was showing up with your best self yet today. It is a beautiful crisp autumn day here, isn't it?
Georgie Davies
Definitely. Yeah, got the boots back out again.
Harriet McAtee
I love autumn.
Georgie Davies
I do once to get into it. But I definitely grieve at the end of summer.
Harriet McAtee
So the thing about autumn is that it is the season of grief. In Traditional Chinese Medicine, Autumn is like the time where you bury the dead. And you like grieve the year to make space for the new year. So you're like, you know, just
Georgie Davies
just just totally in tune
Harriet McAtee
in tune with the universe.
Georgie Davies
I mean, I'll just tell everyone who's like, Oh, God, here she goes again, that that's what's happening.
Harriet McAtee
Exactly,
Georgie Davies
You'll be fine.
Harriet McAtee
Well, we're going to start with the question that I start every episode with, which is what's nourishing you this week, and it can be big, small, silly, serious. And to help, I'm gonna, I'll share mine first. So one of the things that I've been really enjoying recently is a shift from in the summer, I tend to go out a lot, and like go to the pub or eat out. And in the autumn, I am shifting more towards having friends at home and cooking and eating with friends at home which I'm really loving the cosiness of retreating a little bit. So that's my nourishing thing. What about you?
Georgie Davies
know, definitely, it's very similar. I'm very much enjoying kind of making big batches of curry, and lots of like, squashes and sweet potatoes and lots of lovely cooking. Reading is always always a nourishing thing for me, it always has been, I was always that child with their nose firmly wedged in a book. So as long as I've got a good book on the go, that's kind of really nourishing me at the moment. And yeah, as I do settle into this kind of autumnal thing, the weather being nice is lovely. But yeah, definitely, I'm kind of with you on the vibes of having people at home kind of hosting, but in a really, really kind of intimate, calm, nourishing, kind of way. Lots of candles.
Harriet McAtee
Delicious.
Georgie Davies
Yeah.
Harriet McAtee
On all fronts. I love a curry. And I know from your Instagram that we have, well, we have very similar tastes and books, don't we? We've often read the same book or we're reading a book at the same time
Georgie Davies
Totally!
Harriet McAtee
Which is which is always nice.
Georgie Davies
Yeah. I mean, I'm, I'm a voracious reader who will read and have anything that's sort of put put in front of them.
Harriet McAtee
I tend not to be too snobby about it either. And I sort of read what people people give me a lot of books, I think, because I know that I read and I'm like, Oh, great.
Georgie Davies
I will read anything. And to be honest, the only book I've ever not really finished, is War and Peace. I gave it a really good go. And I got kind of halfway through and was like I still have no idea who anyone is. And I just can't I can't do this.
Harriet McAtee
War and Peace has been sitting on my Kindle for like,
Georgie Davies
Don't do it.
Harriet McAtee
No?
Georgie Davies
No.
Harriet McAtee
Okay, I can just…
Georgie Davies
Just I mean, I gave it a I was like, I need to read this. I should I should read this.
Harriet McAtee
Yeah.
Georgie Davies
I gave it a really good guy, but I just I couldn't. Because
Harriet McAtee
Yeah, it's a shame because in general, I like the Russian authors, because they're sort of like it's so existential and they're so unhappy, but so happy about being unhappy.
Georgie Davies
Oh, and I have I've I've had a total fascination with Russia since I was like a child.
Harriet McAtee
Like Crime and Punishment.
Georgie Davies
Yeah, but like anything set in St. Petersburg at the turn of the century, or like Russian history, I was like totally into at school, like, the whole thing, like whether it was pre or post revolution, communist uprising, like get me in that and I was I was in it, so I was really up for it. And then just now
Harriet McAtee
Yeah, you would be of the Anastasia generation
Georgie Davies
Oh, entirely! Entirely the Anastasia generation. I have. I have revisited that film on numerous occasions after a couple of bottles of wine with my girlfriends.
Harriet McAtee
It's Meg Ryan. And who does Dimitri? Is it?
Georgie Davies
Oh, I can't remember.
Harriet McAtee
And it's not John Cusack it it?
Georgie Davies
Oh, it might be. But I mean, the crew
Harriet McAtee
We'll found out and…
Georgie Davies
the crazy eyed bats is just incredible. I mean, the entire thing is implausible. But fabulous.
Harriet McAtee
I love that description. We will we'll put a link to Anastasia in the show notes like if anybody
Georgie Davies
if you've never watched it, you need to get in on on the animated version of Anastasia's life. And what is quite quite a truly appalling part of Russia's history. But done in a beautifully animated fashion with songs.
Harriet McAtee
I love this. I love it. We're already talking about animated movies.
Georgie Davies
You didn't expect that turn, did you?
Harriet McAtee
But I'm loving that we've arrived here. So I would let sort of circle back to you a little bit. I would love to, for you to tell me a little bit about your background, and how you would describe what you do. What it is that you do, Georgie?
Georgie Davies
What it is that I do. Because it's really interesting. Yeah, primarily, I tend to describe myself as a yoga teacher when people ask because it's easier to explain. But I also run my own business. I've got a yoga props and homewares business called yogipod, which I work with our designers in India, we work with lovely hand block printing. And then I kind of sew most of it here, I've always been very hands on my background is fashion design. So I started at university, that's what I lived and breathed all the way through school, you couldn't get me away from a sewing machine. And yeah, then kind of fell in love with yoga at a point where life was quite stressful, as kind of lots of people do, I was working in the fashion industry, which I adored. But anyone who's done it will tell you it is an interesting space to find yourself in, and one that you're not necessarily kind of set up for to be there for the long term. It's most definitely a kind of live fast die young kind of place. Which is a lot of fun. until it's not. And so that's when I kind of decided to move a little bit more into… I'd already done my yoga teacher training before I decided that and then kind of moved into teaching and knew I still wanted to have a creative part of my life, I kind of can't not, I'm always creating or drawing or sewing or. And so always have been. And so yeah, that's that's where that side of the business kind of kind of evolved from. I'm kind of very much working on that premise of trying to encourage people to find like, three, four minutes of calm their day, which I think is doable. And sometimes it just needs a little bit of reminding, it's not about taking two hours on your mat and 1000s of sun salutations, it's about three minutes with maybe your hands resting on your body and breathing. And so that that's kind of really where I wanted to go with kind of the whole ethos of the business, whether it be my teachings or things I share or things that I sell. It's all about kind of creating that space for you to slow down and kind of nestle into. Which I think is kind of hard to find. We kind of we ignore that. I mean, I definitely ignored it for years.
Harriet McAtee
Well, it's easy when we're always busy, and we're always rushing and it's about doing the next thing and going from work to home. And you know, one of the things I really love in the there you were talking about is like reframing our ideas about what practice or what calm is because you're absolutely right. I think for a lot of people, there's this perception that a yoga practice has to be like an hour or two hours every day. And if it's not that, then you're failing…
Georgie Davies
Entirely.
Harriet McAtee
…and it's so unhelpful. And I mean, I come across, I come across that idea all the time. Like I'm sort of always helping my students reframe that and think about what their practice can look like differently. So I love that. That sort of emphasis is, you know, at the centre of what you're doing,
Georgie Davies
Entirely and I think, I mean, I don't know about you, but even as a yoga teacher, my practice isn't an hour and on my mat every day, no way. I mean, I'm lucky if I encourage myself to find an hour on my mat a week. That is me actually doing something but standing in the garden, holding a cup of tea with my eyes closed listening to what's going on, that that is still it for me, like my feet are on the earth and barefoot because I'm always barefoot, if I can be. And I think, yeah, I think being on the kind of periphery is when I worked in London, kind of being on the peripheries of very much that kind of London wellness world where it was handstands and vinyasas. And that kind of thing. And it's fabulous. But I think, for me, once I came to teaching, and had some sort of degree of influence of maybe how people could could see their practice, I wanted to encourage people that it doesn't have to be that it really doesn't have to be, it can be what made like, it's what makes you feel good, ultimately. And if that is a super dynamic practice, then go for, like, perfect, but if for you that week, it's not then listen in and do what kind of feels feels right.
Harriet McAtee
Totally, I think as well, it's so interesting. You know, it seems to be a real.. I see it as a theme and what's happening in yoga generally, but also, in, you know, your story as well of moving from this really, quite unsustainable industry, and unsustainable culture in fashion into yoga, and yoga can still have elements of that sort of gogogo culture. But you know, you're really sort of drawing out the slower, more sustainable approaches, and you do that in your teaching, but also in your props business as well, don't you?
Georgie Davies
Yeah. So the whole idea with the with the props is I wanted to meet them, they were beautiful. Kind of when when I first started practising, it was like, you get like a navy blue cotton drill bolster. And you're like, Well, yeah, it does the job. But it's going to go in the cupboard where all the things from hobbies that never stick go, which we've all got a cupboard full of resistance bands, and knitting dolls, and God knows what else that you're like, yeah, that's, that's the thing that will cure whatever is going on in my mind, and it goes in a cupboard and you never look at it again. And so I wanted to make something that kind of would sit on the sofa, or sit on your bed, and encourage you, you look at it, and you go actually no, right now I could sit on that for three minutes. Or I could lay across a bolster. Or, yeah, your eye pillow is on your bedside table, because it is part of sort of three minutes of quiet before you before you go to sleep. Yeah, and I think we need we need those visual visual clues, I think a lot of the time as human beings, because if it's not there, you find something else to fill it like we're all really good at doing that. There's that to do list. And sometimes like, dusting the house seems so much more exciting than doing anything that would actually be good for you. Because you're ignoring that and you're pushing, you're pushing it down, and you don't want to confront what is going on there. But if there's that visual clue, then you might just take that moment for you and kind of really listening to what's going on.
Harriet McAtee
It's one of those prompts, isn't it, like, when you're forming a new habit, or you're trying to sort of shift something often the advice given is that you sort of set aside the, you know, the same time and in the same place every day to sort of help it become this like, automatic thing, in a sense, and, you know, adding in the sort of visual element of the prop as well. I mean, obviously, I adore your, your things, I have one of your bolsters and your eye pillows, and this isn't an ad for Georgie, although you should definitely go check out her stuff. But, you know, they are like I adore using them because they are beautiful, and you know, made with care. And, you know, I know you and I love, you know, having things around me that are you know, from people, you know, in, in my community. So, yeah, what was the first prop that you made?
Georgie Davies
Well, I mean, it wasn't really going to be a huge amount of props to start off with, like my getting my head I kind of went travelling when I jumped out of the real world. Just that spontaneous thing of I can't do this anymore. When travelling, spent sort of three months by myself and kind of began to think about what I wanted to do and it was it was kind of primarily a sort of homewares focus with then that kind of idea of calm, so it was only really going to be I bellows and then as I kind of began to kind of work on that idea. I was like, well, actually, if I'm doing cushions, then bolsters would be a really great thing to add in and so they kind of became the linchpin of kind of everything else and everything else works off those. And yeah, the meditation cushions can came along a little later, like a little sister for the bolsters, which they're, they're great as like, and I think more versatile than we all kind of think they are. I mean, if you've never done shavasana, with your head on a meditation cushion, then give it a go. Because you nestle right into them. So yeah, it kind of was accidental. But then I think so many things that you do end up doing in life are like, I think most things, we all end up doing a kind of accidental or born out of a moment of oh, God, what do I do now with this situation?
Harriet McAtee
Or sort of like recognising opportunity and being open to saying yes to things when they arise? is such a powerful, a powerful place. I'd love to hear about what has influenced or inspired you, like there's a real richness that I can sense there, whether it's like Russian history, or fashion or your travel, like, how do you sort of, I guess, feed that creative impulse? Like, what do you draw upon?
Georgie Davies
I mean, my family, one of my biggest inspirations, kind of yeah, they're super creative. And my mum paints my dad is super handy with woodwork. And they're both landscape gardeners. And so they've always worked for themselves. So kind of when I knew that I wanted to kind of step out of the corporate world because even the fashion world has corporate you spend a lot of time in spreadsheets. I kind of that that wasn't an alien world to me. And so the fact that they've managed to do it, and they'd managed to bring up me and my brother I mean, semi decently we've turned out as, semi decent human beings. And I was like, Well, I can probably do it just me then that that will be alright. But yeah, they brought they brought us up in a really creative way. It was a very creative household. And we didn't have a huge amount, kind of when I was growing up, but with everything was books and paints and anything thing you could find to play with. Yeah, my both my grandmother's sewed there's milliners in the family. There's my great aunt is a seamstress like it's kind of it's kind of woven into into our family like art galleries are a place we adore. I'm never happier than when I'm in the V&A. I mean, the Victoria and Albert Museum is literally my happy place. If you've never been to the wrought iron gallery in the V&A, that is a particularly special area. I've spent many an hour just kind of sat there watching people and stuff. So yeah, it was that kind of like inspiration of if we was always surrounded by creativity. And that's probably where that all all started,
Harriet McAtee
perhaps. Yeah, perhaps there's something about it being not so much the sort of the things or the objects or the materials that you draw inspiration from, but more like it being a way of life a way of how you see and interact with the world, because it sounds like it was really formative for you.
Georgie Davies
Yeah, I think there's an element of that. And I think there's also an element of the human touch within creative objects. Like whether it be a painting, whether it be a sculpture, whether it be a piece of wrought iron, whether it be something so I think even in kind of literature, there's, there's definitely a human touch there. And that's something that I've always, always kind of loved that relationship between humanity and objects and what makes an object beautiful.
Harriet McAtee
I really hear you on that one of my favourite my Mum gave me I can't remember the name of the sort of, it's like fine china, like little dishes. And it's a pair but one of them has a fingerprint mark in it. And I love that, that it's this otherwise, like really finely painted like hand painted object. But there's this imperfection that's been allowed to remain, because it makes it totally unique.
Georgie Davies
Exactly. And I mean, that's what kind of drew me to working with the hand block printing with the fabrics that I work with, like I get distracted all the time, when I'm sewing things that like, oh, there's a little bit there where they didn't quite match the block up or one's been pressed down a lot harder than the one next to it. So it's a slightly paler colour and it's all got that kind of human human touch, which I think is so important and I think is what makes things things beautiful. And it's the same like Yeah, I mean, I love the theatre that inspires me. And again, there's that kind of deep human experience of that because it will be unique every night. But you're not you're not just going to see a film and I love films, but the theatre is something super special from that point of a view. And the same is with, kind of live music, which again is like another thing that really nourishes me is that that real human connection, and the ability for it to go wrong, which I think is is really important as a huge part of creativity. Like most likely, most of what you do as a creative is sorting things out that have gone wrong.
Harriet McAtee
And sometimes the most incredible things are mistakes.
Georgie Davies
Oh entirely.
Harriet McAtee
I think, as well, it makes me think of teaching yoga, and how this approach to sort of uniqueness and I think, I guess creativity sort of weaves into that as well. Because one of the things that I'm always very conscious of is if I make a mistake in my teaching, firstly, most of the time students don't notice. But also if they do, how we model our response to our own failure, I think is really interesting and useful. And you know, that acceptance around well, things go wrong all the time. And it's okay. Yeah, I think has the potential to be quite refreshing.
Georgie Davies
Oh, entirely, entirely. And yeah, I try to be as honest as possible. And I've got something wrong. When I'm teaching. I'm like, Oh, God, I got my lefts and my rights wrong again. But it's okay, because you're all doing the right thing anyway, in inverted commas. So I mean, it's fine. And I think, yeah, there's that invitation for exploration and creativity from that as well. Like, it's okay for things to go wrong, it's okay for you to fall out of a posture. It's totally alright, if you can stand on one leg on your right hand side and not on your left, like that's, that's fine. Or if one week, it's there, and one week, it's not.
Harriet McAtee
I think, as well, one of the things I love about yoga. And it's all of those things that you're saying. But I remember when I first really got sort of, I say serious with heavily like finger quotes here, like serious about my practice. I'd been practising swing for a long time at that point, but I really was like going with it. One of the things that I really noticed was that every time I stepped onto the mat, something was different. Like whether that was twice in the same day, and I was practising in the morning, and then in the evening, or if it was like, over the course of a week, every time I came to my mat, something had shifted, whether it was in my body or in my breath, or in my headspace. And that sort of way, measuring isn't the right word. But that way of sort of acknowledging what was going on, felt really important to me. And I guess as well, it might be something similar around, like, the sort of reproduction or like, the repetition of making props is that something's going to be a little bit different about every single prop, right? Every single print every stitch.
Georgie Davies
Yeah, but then what you were saying there about your practices, like that's being human, like we're not robots. So yeah it is going to be different every day it's going to be different every hour, if you did the same 10 minute practice every hour on the hour, it would be different every single time because the situation around you is different. And what's going on is different. And yeah, no, it's yeah, it's totally a huge part of creativity and a huge part of the art of making as well as yeah, as you said, like everything is different every single time. Unless you're literally in one of the super swanky factories where all the robots do it. But then sometimes they go haywire anyway, so, and sometimes it all goes a bit wrong.
Harriet McAtee
I sort of love the idea of a factory of robots just losing their shit.
Georgie Davies
I mean, it must happen. Surely, like down down the road, like the big old Mini plants, sorry, some days like the one that puts the doors on just has a fit. It's like no, not today. Not today.
Harriet McAtee
Give me a rest.
Georgie Davies
Yeah, like at some point. We all know there's that thing. We are like, Why is that not working? It's like bloomin printers, isn't it? Whenever you want them to do something, they don't do it. They just like make that whirring noise.
Harriet McAtee
Like why like I've changed the toner.
Georgie Davies
Yesterday, You were fine!
Harriet McAtee
Poor machines
Georgie Davies
I know
Harriet McAtee
We should give them a rest. Um, I think as well, I guess one of the things that I'm curious about maybe hearing from you on is Do you experience the same I guess mindfulness and presence that you do in yoga when you're sewing things like is there that drop into presence and flow and how like, how is it the same? How's it different?
Georgie Davies
I mean, yeah, entirely. And that kind of act of doing something with my hands is definitely a way that if I'm feeling ungrounded and anxious, I'm like, let's do that. And to be honest, for me, it often works a lot quicker doing something like that, then it does getting on my mat anyway, my mat is more confronting, if I cross stitch or sew for work, or paint or get out in the garden and get my fingernails dirty, like that will instantly kind of drop me in, because your mind can't really be on anything else.
Harriet McAtee
Oh, that's so interesting.
Georgie Davies
Whereas, I mean, correct me if I'm wrong, but I think as a teacher, when you're on your mat, it's very hard for your mind not to be in that explorative, well that worked quite well, or write that down, that was an interesting wriggle. Wonder if so and so would like that in that class. And I think that that can be quite a hard thing to switch off. And I think the thing that we often don't acknowledge as teachers, when we transfer from student to teacher, and you're okay, my practice, may well be the same in places, but it will never be exactly the same.
Harriet McAtee
I couldn't agree more, one of the things that I sort of, I warn my trainees a little bit about actually is your relationship to your practice will change, like you cannot move through a teacher training, and have the same relationship to your practice that you did before. And you need to be prepared for that. One of the things that I often suggest to them is start thinking about personal practice and teaching practices as two different things. And for me, this has worked really well. So I have things that I do in my personal practice, that never see the light of day in teaching practice, like they're just for me, they're sort of, they're private, they happen, you know, on my mat with nobody around. And then I have things that I teach, which, you know, also show up in my personal practice, but it helps me keep a separation, because you need Well, I think it's really important to maintain that connection to personal practice. But if you go into your teacher training, thinking that nothing will change, then, you know, you'll get to the end of your teacher training, you'll be like, Oh, I don't know what my practice is anymore. I know how to teach. But what am I going to teach? So you need to like, sort of have parallel paths happening at the same time,
Georgie Davies
Totally. And I don't necessarily think it's a bad thing at all, it's just that thing of I think once you've got more knowledge on something, it changes your relationship to it. And I think that, that that's what, that's what that is, is it, it is a a knowledge and an exploration that you're doing for yourself, rather than necessarily being guided by somebody else, which I think often when we move from interested students to teacher trainee to teacher, you kind of move from that place of often having quite a practice governed by particular teachers, to then teacher training, where some of that gets spun on its head, you learn new things, you explore new stuff. And then when you come out the other end, it's a different place. Because your mind has brought on new knowledge your body has brought on new knowledge, you're maybe listening to your body in different ways than you had done before. Because you've got knowledge to work your way through that. And yeah, I think that that's what that shift is, or that's definitely what that shift has been for me. But I can entirely agree with you on that thing of trying to keep your personal practice away from your teaching. But it's an interesting boundary to play with, and often convince yourself to find the find the time for
Harriet McAtee
Yeah, I I agree. And also that what is in your personal practice, maybe doesn't even necessarily have to be what we would think of as yoga. So it could be being in the garden, as you say, or, you know, other creative pursuits or cooking or walking or swimming. Like, for me, our definition of what practice is really needs to shift and I see it happening slowly. But I think whilst we're still sort of really embedded in this idea of yoga practice being you know, an hour a day every day on your mat. There are a whole lot of people who think that yoga or having a personal practice being interested in living well like just isn't for them because they don't fit into this. This box.
Georgie Davies
No, but it's entirely true and sort of from from the traditions of yoga, it's not 100% about being on your mat. That's the part of it that we've taken a run with so far.
Harriet McAtee
Well it's the most reproducible one in a sense, isn't it.
Georgie Davies
Oh yeah, it's the easiest one to stick a label on and teach and put somewhere. It's very difficult to teach some of the quieter, more introspective parts of it. Because you're probably not gonna get bums on mats, if you tell people to come in, like, sit quietly for three hours and just be so much harder to sell than movement and something that is obvious to, to people to do.
Harriet McAtee
I hear you on that, I think one of the things that I really see a lot in people's journeys with yoga, is that we get this sort of like, outside in approach to sort of personal practice. So you'll start with the really big things like movement, you'll go to, you know, so many people's first experience of yoga is something like a hot yoga class, or, you know, whatever. And like, I'm really here for that, like, if that's how you come to yoga, I'm happy, I'm not a snob about it at all. But we go from like, and this was my case, as well, I went from lots and lots of movement. Lots of like, I was like, Yeah, I'm gonna do all of the handstands. And, you know, and then slowly over time, the practice has, like, worked its way into me. And now, mostly, what I do is roll around on the floor, or I sit and meditate. But that's happened, like, over a process of, you know, actually nearly 20 years, like, it's taken me a long time to get to that, being happy to do the inside work. Yeah. And sometimes I still do the outside stuff. But it's that like progression in.
Georgie Davies
But that's because it is a practice, it is a journey. So it's going to change, it really is going to change and meld and kind of evolve as, as you do. And I mean, I was very similar, I definitely came at it from a physical point of view, mine through kind of injury in a knee condition that I've gotten, it was kind of the only exercise that I'd been told by a doctor would be possible and that kind of thing. And that's kind of how I came into it. And then once I started working, and was much more stressed, it was like, oh, okay, there's like some mental benefits here because I actually don't feel bad when I leave this. And then you gradually kind of figure that out. And I think we all have slightly different paths, but the physical is often kind of that gateway for most of us. And then you slowly begin to notice the other benefits the other things going on. And yeah, as you do get more in contact with your body, get more in contact with what's going on. Of course, that inner work is going to seem I think, more possible than anything else. And I think that's what it is. I think for a lot of us that starting of looking in you might look in and go Oh God, no, like open I'm not doing that.
Harriet McAtee
And then you're like, creak open the lid you're like, Ah!
Georgie Davies
Stick the lid back on again and ignore that. Yeah, because that's the easier thing to do. Yeah, it's totally the easier thing to do. It's what I still do. It's what most of us still do most of the time of like, Oh, should I do that today? No, maybe not today.
Harriet McAtee
But then slowly slowly over time, things feel more accessible, yeah. So juicy. We are approaching the sort of end of our time together. And I'm sorry to put you on the spot but I know that I want to come back to the books that we were talking about at the beginning and I would love to know what you're reading at the moment or what you've read recently that you like loved what are you
Georgie Davies
What I'm reading at the moment I'm currently reading Burnt Sugar by Avni Joshi I'm loving I've read it. Yeah, I'm like halfway through loving that. I do I can never remember what I've read you know that thing we are like Oh, I'm really I'm really visual so I can always see covers I read Antony Doerr's All the Light We Cannot See recently which I again adored
Harriet McAtee
That mood that book felt very cinematic to me I was like why haven't they made a movie of this? For people that haven't read it it's set during the Second World War in France
Georgie Davies
In France it's incredible, but I've I found it beautiful in a very quiet way. It's a quiet but and I think often books that are set in war obviously for obvious reasons are not. But it's got a real quiet drama. Yeah, it's got a weird real quiet drama about it that just kind of trickles away at you like it's not like there's a crescendo
Harriet McAtee
It was very I found it very evocative as well.
Georgie Davies
Totally.
Harriet McAtee
Wonderful. Well, we'll pop those in the show notes. If anybody wishes to check them out. But lastly, Georgie, where can our listeners find you? Where can they connect with you?
Georgie Davies
Where can they find me? They can find me on the joys of Instagram, @yogi_pod, I mean, unless it all disappears again, in which case I won't be there. But then none of the rest of us will be will all be outside with a book and it'll be delicious. And also, the website is yogipod.co.uk and that's got all the props, the blog on there, how to contact me how to book him for classes, kind of all the stuff is kind of housed there.
Harriet McAtee
Wonderful. Well, thank you so much, Georgie. It's been an absolute pleasure. And I'll see you soon. Thanks for listening to In Our Experience. Don't forget to subscribe rate and review the podcast. We love hearing what you think and it makes a really big difference. In the meantime until the next episode comes out, why not check us out on our Instagram account @nourishyogatraining will pop us an email via our website. See you soon!
The best way to support In Our Experience… is by subscribing, rating and reviewing the podcast wherever you listen to us! Share with a friend and tell them to rate & review as well. 
We'd love to hear your comments, thoughts and questions. Pop us an email to say hi!